Angelica KAUFFMANN
1741–1807, Switzerland/Austria
Name
Maria Anna, Angelica, Katharina KAUFFMANN
Maria Anna Angelica Katharina Kauffmann (October 30, 1741 – November 5, 1807) was a Swiss-Austrian neo classical painter.
She was born at Chur in Graubünden, Switzerland, but grew up in Schwarzenberg in Vorarlberg/Austria where her family originated.

Her father, Joseph Johann Kauffmann, was a relatively poor man but a skilled painter that was often traveling around for his works. He was apparently very successful in teaching his precocious daughter.

She rapidly acquired several languages from her mother Cleophea Lutz, read incessantly, and showed marked talents as a musician.

Her greatest progress, however, was in painting; and in her twelfth year she had become a notability, with bishops and nobles for her sitters.

In 1754 her father took her to Milan. Later visits to Italy of long duration followed: in 1763 she visited Rome, returning again in 1764. From Rome she passed to Bologna and Venice, being everywhere feted and caressed, as much for her talents as for her personal charms.

Writing from Rome in August 1764 to his friend Franke, Winckelmann refers to her exceptional popularity. She was then painting his picture, a half-length, of which she also made an etching.

She spoke Italian as well as German, he says; and she also expressed herself with facility in French and English, one result of the last-named accomplishment being that she became a popular portraitist for English visitors to Rome. \"She may be styled beautiful,\" he adds, \"and in singing may vie with our best virtuosi.\".....
Source: http://en.wikipedia.org/wiki/Angelica_Kauffmann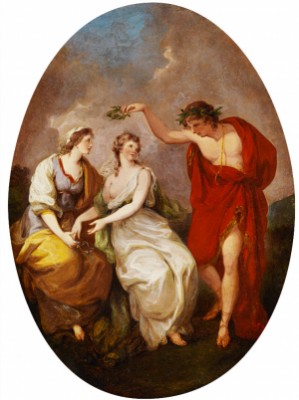 Apollo Krönt Die Musen Der Künste
Price EUR 0 Not sold
Estimated EUR 22,000–25,000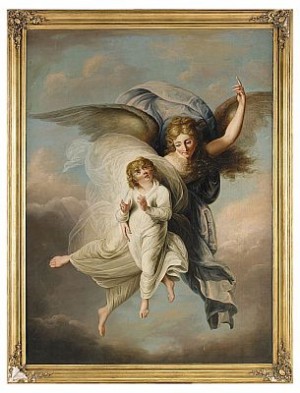 Price SEK 34,000 (€3,252)
Estimated SEK 12,000–15,000