Anna BOBERG
1864–1935, Sweden
Also known as: AB
Name:
Anna, Katarina BOBERG
Anna Boberg painted hundreds of paintings with particular landscape motifs. But she was also a designer and writer. Despite a life in society\'s upper strata, she was struggling to become recognized as an artist. She also designed ceramics for Rörstrand. The wife of architect and artist Ferdinand Boberg.
Represented: National Museum in Stockholm, Gothenburg and Malmö Art Museum Museum.
Source: Internet
Anna Boberg var dotter till arkitekt Fredrik Wilhelm Scholander och hustru till arkitekten och konstnären Ferdinand Boberg. Under sitt liv målade hon hundratals målningar med framförallt landskap som motiv. Men hon var även formgivare och författare. Trots ett liv i samhällets övre skikt fick hon kämpa för att bli erkänd som konstnär. Hon formgav även keramik för Rörstrand.
Offentlig utsmyckning:
Hôtel Rydbergs matsal och i Grand Hotel Saltsjöbaden. På världsutställningen i Paris år 1900.
Representerad:
Nationalmuseum i Stockholm, Göteborgs Konstmuseum och Malmö Museum.
Källa: Internet
---------------
Anna Boberg var en svensk bildkonstnär och konsthantverkare född i Stockholm, dotter till Fredrik Wilhelm Scholander. Hon är främst att betrakta som självlärd konstnär men studerade en period vid Académie Julian i Paris. Där träffade hon sin blivande man, konstnären och arkitekten Ferdinand Boberg. Som bildkonstnär är Boberg främst ihågkommen för sina motiv från Lofoten, en plats hon besökte ett flertal gånger med början 1901. Sin största framgång som målare hade hon med en separatutställning i Paris 1926. Boberg skapade även keramik för Rörstrand, bland annat den välkända "Påfågelvasen", konstglas för Kosta och Reijmyre, samt vävnader.
Källa: www.bukowskis.com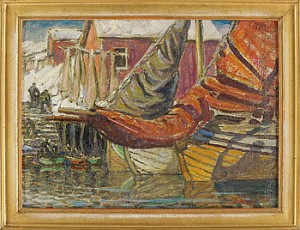 Lastskepp
Price SEK 1,500 (€180)
Estimated SEK 3,000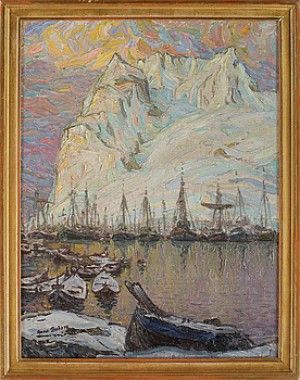 Vinterhamn Med Snöklädda Berg
Price SEK 12,000 (€1,442)
Estimated SEK 15,000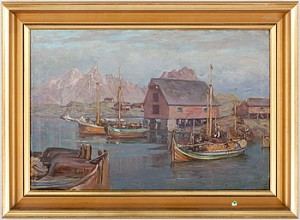 Lofoten
Price EUR 6,900
Estimated EUR 2,000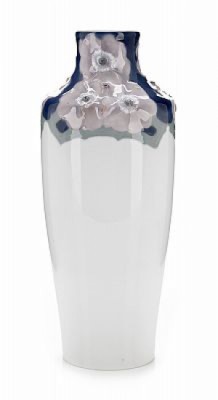 Vas, Rörstrand 1900-talets Början, Porslin, Låg Reliefdekor Av Blommor I Underglasyrfärgerna Rosa, Lila, Ljusblått Och Grönt
(ca. 1900)
Price SEK 4,000 (€434)
Estimated SEK 4,000–5,000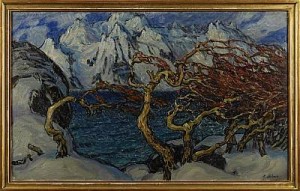 Motiv Från Svolvaer, Lofoten
Price SEK 4,500 (€462)
Estimated SEK 6,000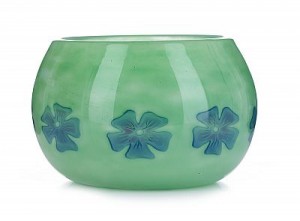 Price SEK 60,000 (€5,795)
Estimated SEK 75,000–100,000