Axel FAHLCRANTZ
1851–1925, Sweden
Also known as: AF, AFZ

Verdict of guilty
PHM Nr. 3
Oil on canvas, sea landscape, signed "A.Fahlkrantz -96", 45x66 cm. Technical examination revealed that the signature in the lower right corner have been painted there after the painting's original creation. painting is painted between the years 1900 and 1925. It is a typical landscape painting from the second half of the 1800s. It is skillfully painted but lacks some artistic qualities. The painting is not an original work of Axel Fahlkrantz. The district court's assessment: The painting is not done or signed by Axel Fahlkrantz. It is a forgery.
Oljemålning på duk, sjölandskap, signerad "A.Fahlkrantz -96", 45x66 cm. Teknisk undersökning visade att signaturen i nedre högra hörnet målats dit efter målningens ursprungliga tillkomst. Signaturen kan möjligen ligga utanpå en äldre signatur. målningen är målad mellan åren 1900 och 1925. Det är ett typiskt landskapsmåleri från 1800-talets senare hälft. Den är skickligt målad men saknar vissa konstnärliga kvaliteter. Målningen är inte ett originalverk av Axel Fahlkrantz. Tingsrättens bedömning: Målningen är ej utförd eller signerad av Axel Fahlkrantz. Det är en förfalskning.





Name
Axel, Erik Valerius FAHLCRANTZ
Axel Fahlcrantz var brorson till Axel Magnus Fahlcrantz. Studerade vid Konstakademien, först skulptur, sedan landskapsmåleri med P. Holm och Perséus som lärare.
Han målade landskap, ofta med vatten och oväder, dimma, skymning och månsken.

Representerad:
Nationalmuseum i Stockholm, Göteborgs Konstmuseum

Källa: Sammansatt av olika källor från internet.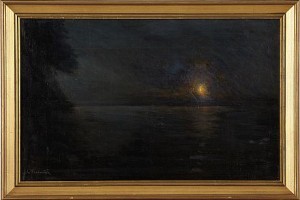 Insjömotiv
Price SEK 0 (€0) Not sold
Estimated SEK 3,000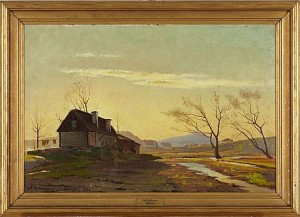 "träsket" - Insjö I Stockholm
Price SEK 1,300 (€156) Not sold
Estimated SEK 3,000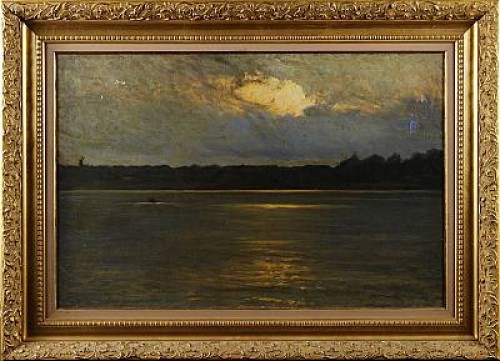 Price SEK 3,000 (€289)
Estimated SEK 1,500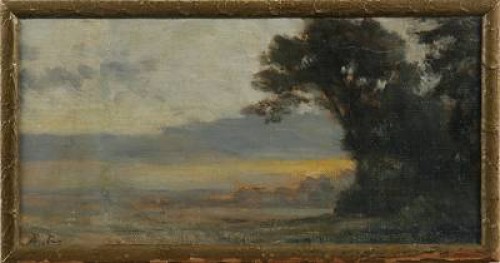 Skymningslandskap
Price SEK 900 (€88)
Estimated SEK 1,200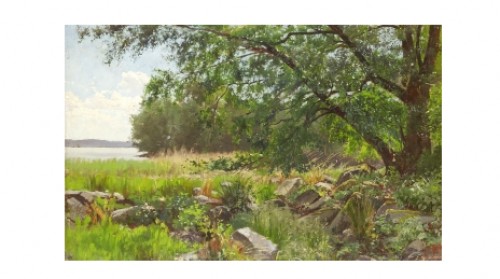 Price SEK 0 (€0)
Estimated SEK 6,000–8,000
Price SEK 0 (€0)
Estimated SEK 6,000–8,000