Axel JOHANSEN

1872–1938, Denmark
Axel Johansen was educated at the royal art academy in 1901 and worked as a decorator along with Aug. Jerndorff and Joakim skovgaard. Johansen was especially known for his very detailed harbor scenes from Copenhagen and Dragör. Johansens favorites motifs was seascapes and fishing boats so Johansen spent a long time studying the fishing boats at the channels of Copenhagen. Besides harbor sceneries, Johansen also worked with portraits. Johansen also worked and traveled in Italy, Germany and France from 1905-1921.
Exhibitions:
The artists fall exhibition: 1905-1910
Charlottenborg: 1922, 1930
Art union 18 Nov: 1933, 1942
Union of national arts: 1939.
Source: http://www.obro-artgallery.com/biographies.htm#axeljohansen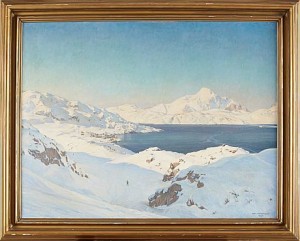 Motiv Från Grönland
(1930)
Price SEK 0 (€0) Not sold
Estimated SEK 7,000