Britt-Louise SUNDELL-NEMES
1928, Sweden
Name
Britt-Louise SUNDELL-NEMES
Britt-Louise Sundell-Nemes studied at Konstfackskolan and Higher School of Art and Design in Stockholm. She was employed as a designer at AB Gustavsberg factory Gustavsberg, Sweden. She\'s unique stoneware objects are often in rugged shapes and earth-colored glazes. She also works as illustrator and graphic artist Represented: National Museum in Stockholm, Trondheim and Museum in Vienna.
Britt-Louise Sundell-Nemes studerade vid Konstfackskolan och Högre Konstindustriella skolan i Stockholm. Hon var anställd som formgivare vid AB Gustavsbergs fabriker Gus­tavs­berg 1954-1982 och tog fram serviser i samarbete med KF:s provkök och gjorde Gus­tavs­bergs första sten­godsservis Rustik 1956, servisen Champinjon med dekor Ingarö, samt servisdekorerna Berit, Rosenbrun. Hon gjorde unika föremål i sten­gods ofta i robusta former och jordfärgade glasyrer, samt konstgodsserien Mykene 1965. Formgav en beredningsskål i plast 1960 för Gustavsberg, samt glas för Målerås glasbruk, stapelbara vasen Joker 1962. Hon var även verksam som tecknare och grafiker från 1977.

Offentlig utsmyckning:
Stengodsreliefer, emaljarbete och gallergrindar i järnsmide 1964 för tunnelbanestationen Mariatorget i Stockholm, samt dopfunt i keramik för Markaryd församling 1970.

Representerad:
Nationalmuseum i Stockholm, Trondheims Museum och i Wien.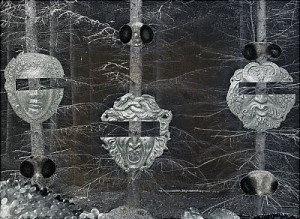 Price SEK 1,300 (€130)
Estimated SEK 1,000–2,000