Carl Fredrik KIÖRBOE

1799–1876, Denmark/France/Sweden
Also known as: FK

Verdict of guilty
PHM Nr. 47
Oil on canvas, scene with a dog. signed "C.Kjörboe", 27x44 cm. The painting is part of a large seizure of the 1980s. Technical examination by UV light shows an area in the lower left corner, which is corrected later than the painting's creation. The signature is applied on top of the painting, rather superficial. Kjörboe is a very famous and skilful animal painter who painted extremely detailed, even the hairs of animals' fur is apparent in his paintings. This painting was painted around 1900 by a mediocre painter, and not by Carl Fredrik Kjörboe. The district court's assessment: The painting is not done by Kjörboe nor signed by him. It is a forgery.
Oljemålning på duk, motiv med hund. signerad "C.Kjörboe", 27x44 cm. Målningen ingår i ett stort beslag från 1980-talet. Teknisk undersökning med UV-ljus visar ett område i nedre vänstra hörnet som är åtgärdat senare än målningens tillkomst. Signaturen är applicerad ovanpå målningen, ganska ytligt. Kjörboe är en mycket berömd och skicklig djurmålare som målade oerhört detaljerat, till och med håren på djurens päls kan urskiljas i hans målningar. Den här målningen är målad omkring 1900 av en medelmåttig målare och inte av Carl Fredrik Kjörboe. Tingsrättens bedömning: Målningen är ej utförd av Kjörboe ej heller signerad av denne. Det är en förfalskning.





Name
Carl Fredrik KIÖRBOE
Charles Frederick Kiörboe studied commerce doctrine in Germany and Holland. He moved to Sweden and began drawing animals and switched entirely to art. Drew and painted horses, dogs, deer, foxes. 1840 he moved to Paris where he remained living the rest of his life. His animal paintings are characterized by the nature and carefully executed. He was appointed to the Swedish court painter and member of the Swedish Royal Academy of Art. Represented: National Museum in Sweden.


Source: Art Signature Dictionary
Carl Fredrik Kiörboe studerade handelslära i Tyskland och Holland. Han flyttade till Sverige och blev Löjtnant vid Jämtlands hästjägarskvadron. Började på egen hand teckna djur och övergick så småningom helt åt konsten. Tecknade och målade hästar, hundar, hjortar, rävar. 1840 flyttade han till Paris där han förblev boende resten av sitt liv. Hans djurtavlor utmärks av karaktär, rask penselföring och säker teckning. Han blev utnämnd till svensk hovmålare och ledamot av Svenska Konstakademien.

Representerad: Nationalmuseum.


Source: Art Signature Dictionary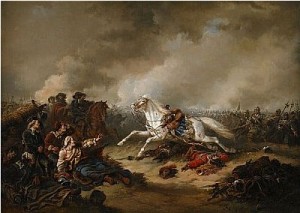 Gustaf Ii Adolfs Häst Streiff Vid Slaget I Lützen
Price SEK 50,000 (€5,400)
Estimated SEK 25,000–30,000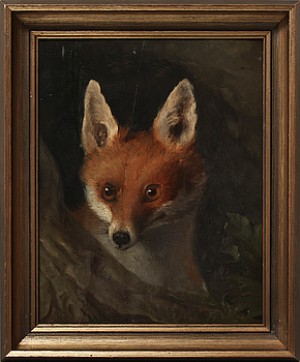 Räv
Price SEK 4,200 (€511)
Estimated SEK 3,000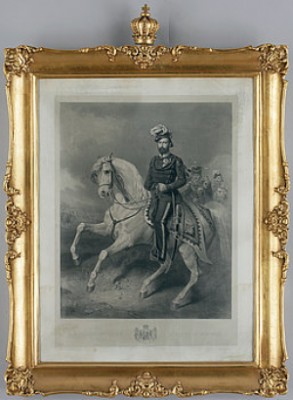 Porträtt Av Kung Karl Xv Till Häst
Price SEK 3,200 (€350)
Estimated SEK 4,000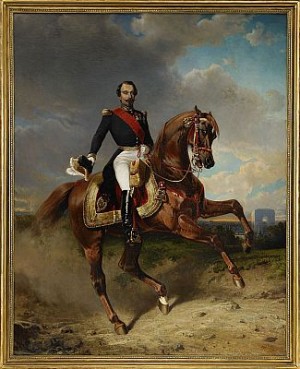 Kejsare Napoleon Iii - Ryttarporträtt
(1856)
Price SEK 125,000 (€14,000)
Estimated SEK 150,000–175,000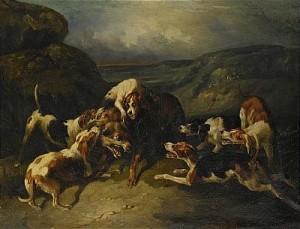 Jakthundar Och Varg
(1845)
Price SEK 28,000 (€3,071)
Estimated SEK 15,000–20,000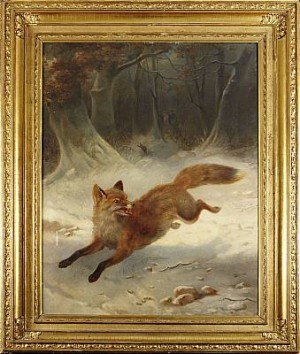 Räv, Olja På Duk
Price SEK 8,000 (€863)
Estimated SEK 10,000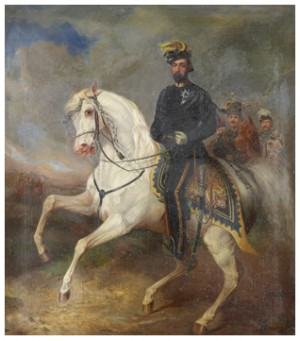 Karl Xv Till Häst (attrib.)
Price SEK 62,000 (€5,927)
Estimated SEK 20,000–25,000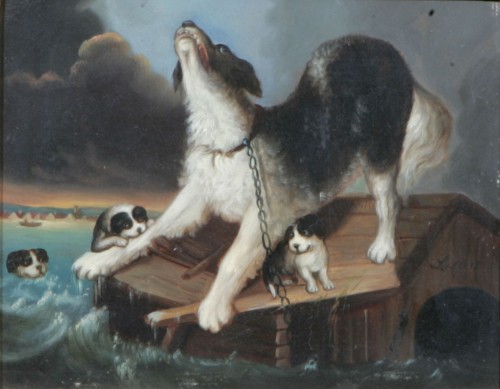 Tik Med Valpar I Landskap
Price SEK 4,000 (€357)
Estimated SEK 5,000–6,000