Carl Hampus BERGMAN
1921–1989, Sweden
Carl Hampus Bergman studied architecture at the Royal Institute of Technology and painting at Otte Sköld\'s painting school. He undertook study tours to Italy, Switzerland and France. He practiced for Corbusier in Paris and of Alvar Aalto in Helsinki. His paintings provide a symphonic and architectural sense. He was elected to the Artists\' Club in 1955 and its chairman from 1981 until his death 1989.
Represented: National Concerts, National Public Art. Private collections in Sweden and Switzerland.
Carl Hampus Bergman studerade arkitektur på KTH och måleri vid Otte Skölds målarskola. Han företog studieresor till Italien, Schweiz och Frankrike. Han praktiserade för Corbusier i Paris och hos Alvar Aalto i Helsingfors. Hans målningar ger en symfonisk och arkitektisk känsla. Han blev invald i Konstnärsklubben 1955 och dess ordförande från 1981 till sin död 1989.

Separata konstutställningar:
Gummesons konstgalleri, Stockholm 1980. Wolfensberg konstgalleri, Zürich 1980. Galleri Blå, Umeå 1980. Galleri Cupido, Stockholm 1982, 1984, 1986, 1988, samt en minnesutställning.

Representerad:
Rikskonserter, Statens konstråd. Privata samlingar i Sverige och Schweiz.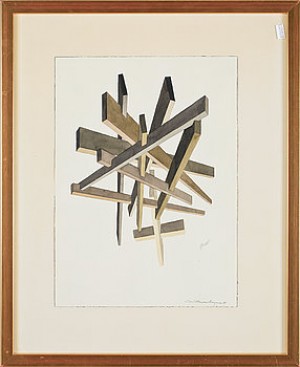 (2) Geometriska Kompositioner
Price SEK 950 (€106)
Estimated SEK 2,000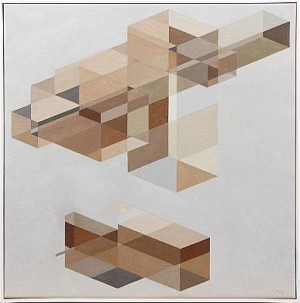 Price SEK 1,200 (€127)
Estimated SEK 1,000