Carl JOHANSSON
1863–1944, Sweden
Name
Carl, August JOHANSSON
Carl Johanssonvar studied at the Art Academy, and in France and Italy. He participated in the World Exhibition in Paris 1889. He was influenced by the impressionists in his landscape paintings, but also worked with mood paintings in old age with a noticeable blue tone. Most of its motifs are from the northern, mostly from Ångermanland. He has also painted landscapes from France, Tenerife and Italy.
Carl Johanssonvar studerade på Konstakademien, samt i Frankrike och Italien. Han deltog i Världsutställningen i Paris 1889. Han blev påverkad av impressionisterna i sitt landskapsmåleri, men arbetade även med stämningsmåleri på äldra dagar med en märkbar blå ton och fick smeknamnet Ultramarin-Johansson.
De flesta av sina motiv hämtade han från Norrland, från Ångermanland i såväl sommar som vinterskrud. Han har även målat landskap från Frankrike, Teneriffa och Italien.

Representerad:
Nationalmuseum i Stockholm, i Norrköping och Östersunds muséer och Svenska Statens porträttsamling på Gripsholms slott.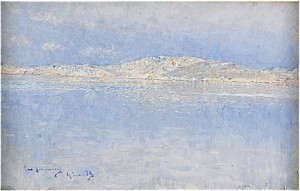 Price SEK 36,000 (€3,973)
Estimated SEK 20,000–25,000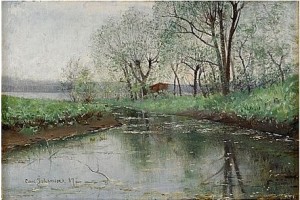 Price SEK 18,000 (€1,987)
Estimated SEK 18,000–20,000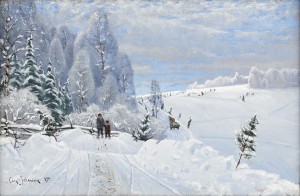 Price SEK 38,000 (€4,423)
Estimated SEK 30,000–40,000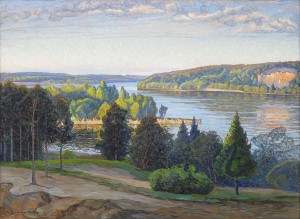 Price SEK 29,000 (€3,376)
Estimated SEK 20,000–25,000
Price SEK 7,800 (€881)
Estimated SEK 5,000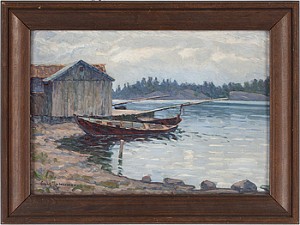 Strandparti Från Ulfön, Västernorrland
Price SEK 2,001 (€226)
Estimated SEK 2,000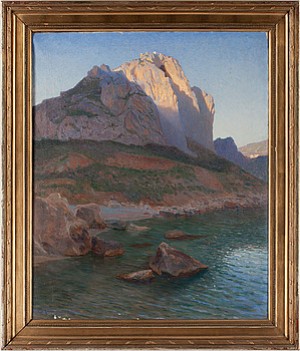 Solbelyst Klippa På Capri
(1901)
Price SEK 12,000 (€1,356)
Estimated SEK 15,000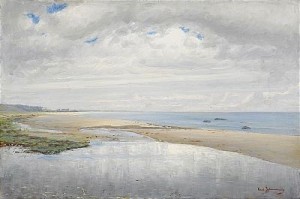 Efter Regn - Kustvy
Price SEK 15,000 (€1,693)
Estimated SEK 12,000–15,000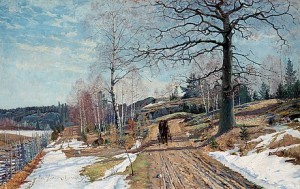 Price SEK 99,450 (€11,178)
Estimated SEK 50,000–60,000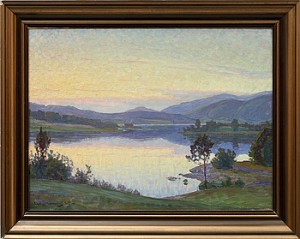 Landskap I Solnedgång
(-25)
Price SEK 4,100 (€463)
Estimated SEK 3,000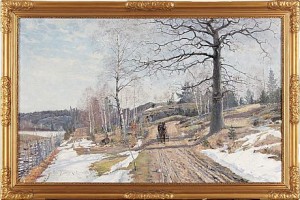 Vårvinterlandskap Med Hästskjuts
(-85)
Price SEK 32,000 (€3,616)
Estimated SEK 12,000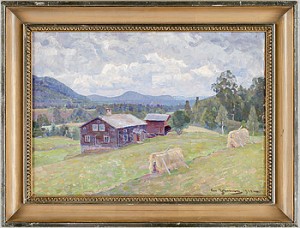 Price SEK 2,200 (€249)
Estimated SEK 3,000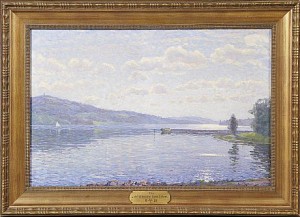 Price SEK 9,600 (€1,073)
Estimated SEK 12,000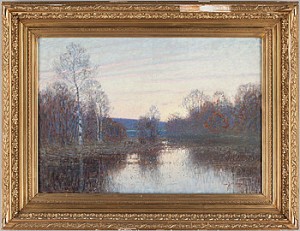 Landskap I Skymmningsljus
(-88)
Price SEK 4,450 (€503)
Estimated SEK 6,000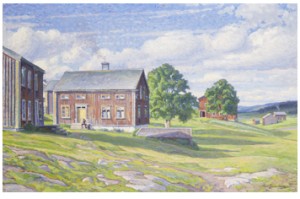 Sommarlandskap Med Norrländsk Bondgård
Price SEK 6,500 (€621)
Estimated SEK 8,000–10,000
Price SEK 7,000 (€670)
Estimated SEK 10,000–12,000
Soldis över Norrländskt älvlandskap
(1898)
Price SEK 10,000 (€957)
Estimated SEK 8,000–10,000
Vinterlandskap - Motiv Från Bollnästrakten
(1892)
Price SEK 23,000 (€2,200)
Estimated SEK 10,000–12,000
Blånande Berg - Norrländsk Landskapsvy
(1924)
Price SEK 10,000 (€957)
Estimated SEK 15,000–18,000
Landskapsvy - Teneriffa
(1894)
Price SEK 7,500 (€732)
Estimated SEK 6,000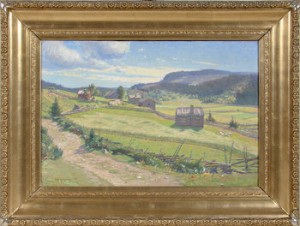 Motiv Av Fjällgård
(1900)
Price SEK 6,800 (€804)
Estimated SEK 8,000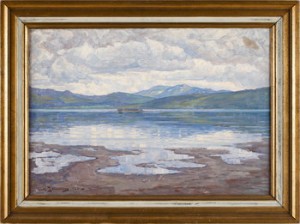 Price SEK 2,700 (€305)
Estimated SEK 3,500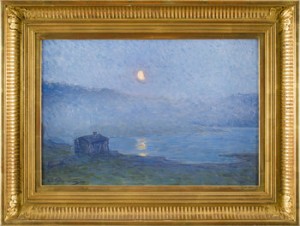 Landskap I Månsken
Price SEK 7,400 (€875)
Estimated SEK 5,000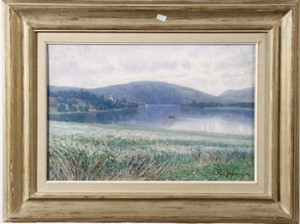 Price SEK 3,600 (€426)
Estimated SEK 1,500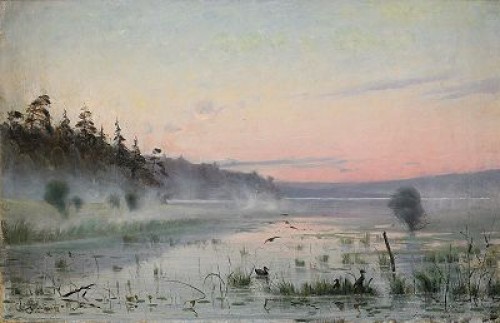 Morgondis över Sjön
(1884)
Price SEK 19,000 (€2,021)
Estimated SEK 20,000–25,000
Strandlandskap I Aftonljus
(1883)
Price SEK 4,000 (€425)
Estimated SEK 10,000–12,000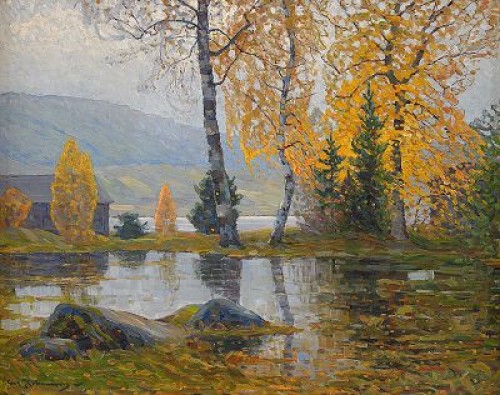 Sjölandskap Med Björkar I Höstfärger
Price SEK 10,000 (€1,063)
Estimated SEK 15,000–18,000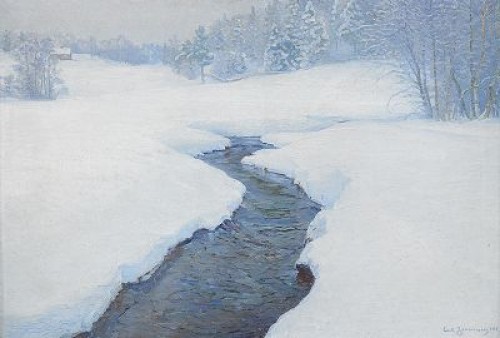 Vinterlandskap Med Vattendrag
(1910)
Price SEK 32,000 (€3,335)
Estimated SEK 30,000–35,000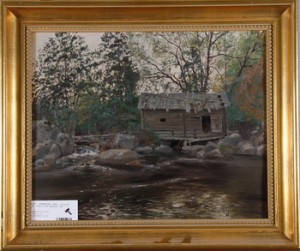 Vattenkvarnen I Myskje
(-88)
Price SEK 4,000 (€473)
Estimated SEK 5,000