Carl WILHELMSON

1866–1928, Sweden
Also known as: WC, CW

Verdict of guilty
PHM3823
Oil on board, signed "C. Wilhelmsson," motif "steamboat in lysekil", about 70x70 cm. The painting was seized in spring 1995 at a small auction house in Stockholm. The investigation revealed that the painting was originally named "Fish men on the bridge," and signed "Verner Holmqvist." Sold in September 1994 for 1900 SEK at an auction in Gothenburg. The painting was then sold to Mr. "N.N." for 150,000 SEK, it was then signed "C. Wilhelmsson." In April 1995, N.N. submitted the painting for sale in Stockholm, estimated price 195,000 SEK. Before the auction took place, it was found that the painting had a forged signature and were seized by the police.
Oljemålning på board, signerad "C. Wilhelmsson", motiv "Ångbåtsbrygga i lysekil", ca 70x70 cm. Målningen togs i beslag våren 1995 hos ett mindre auktionshus i Stockholm. Vid utredning framkom att målningen ursprungligen var benämnd "Fiskargubbar på bryggan" och signerad "Verner Holmqvist". Såld i september 1994 för 1.900 kronor hos ett auktionshus i Göteborg. Målningen såldes därefter till Herr "N.N." för 150.000 kronor, den var då signerad "C. Wilhelmsson". I april 1995 har N.N. lämnat målningen till försäljning i Stockholm, utropspris 195.000 kronor. Innan auktionen ägde rum konstaterades att målningen hade en förfalskad signatur, varför denna togs i beslag av polisen.

Verdict of guilty
C02-6-48-00/Beslag nr. 1311-04-10538 p.5 (int.nr.82)
Oljemålning på duk, bonde plöjer åker, signerad "C Wilhelmson". Skenbart föreställande en äkta målning utförd av konstnären Carl Wilhelmson. Målningen ingår i ett av de många bedrägerifall som polisen tog i beslag i början av 2000-talet i södra Sverige. Efter expertutredning och dom förklarades att målningen inte är äkta. Det är en förfalskning..
















Name
Carl, Wilhelm WILHELMSON
Carl Wilhelmsson,s (1866-1928) depictions of life on the Swedish west coast in the early 1900s constitute a focus point in Swedish ethnographical studies. The synthesised use of the surface is influenced by Paul Gauguin, and Wilhelmsson's technique of applying of colours in spots give hints of inspiration from the impressionists. In 1912, he was appointed professor at the Royal Academy of Arts in Stockholm in 1925.
Source: Art Signature Dictionary
Målaren Carl Wilhelmson föddes i Fiskebäckskil och fick sin konstnärliga utbildning vid Valand i Göteborg och i Paris. Vid Valand var han själv lärare mellan år 1897 och 1900. Wilhelmson flyttade sedermera till Stockholm och han hade vid 1910-talets mitt en egen målarskola i Stockholm som var mycket välbesökt. År 1925 blev han professor vid Konsthögskolan. Genom sin lärargärning kom Wilhelmson att betyda mycket för några generationer konstnärer.
Wilhelmsons huvudsakliga motiv blev barndomens västkustmiljö, där han inte främst fokuserade landskapet (som Karl Nordström) utan riktade sitt målaröga och sitt intresse mot människorna. Han skildrade företrädesvis fiskarbefolkningens vardag och människorna är präglade av sitt värv och av landskapets förutsättningar. Med sin kärvt realistiska detaljskildring framställde han det enkla och okonstlade hos modellerna. I svensk konsthistoria och i svensk folklivsskildring utgör Wilhelmsons västkustskildringar från 1890-talet och sekelskiftet en centralpunkt. Carl Wilhelmson har även målat ett antal porträtt, på Waldemarsudde finns exempelvis ett porträtt av gruvbolagsdisponenten Hjalmar Lundbohm. Klarhet och fast uppbyggnad är kännetecknande för hans konstnärliga produktion.
I prins Eugens konstsamling är Carl Wilhelmson företrädd med elva verk, som de flesta har införlivats med samlingen i nära anslutning till dess utförande. Prins Eugen har inte valt några av de för Wilhelmson kanske mest typiska verken, men som personligt urval är det en fin kollektion. På Waldemarsudde finns exempelvis den interiör från en fiskarstuga i Fiskebäckskil som målades 1895. Den inköptes av prinsen år 1913, i anslutning till att galleriet på Waldemarsudde byggdes. Målningen Kortspel, ännu en interiörbild, utfördes 1924 och Eugen förvärvade den samma år.
Source: http://www.waldemarsudde.se/manadens_konst_wilhelmsson.html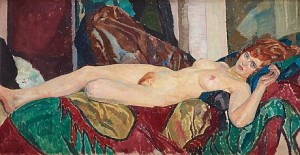 Interiör Med Liggande Modell
Price SEK 58,800 (€6,001) Incl. buyer's premium
Estimated SEK 60,000–70,000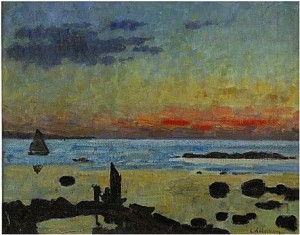 Segelbåt I Solnedgång
Price SEK 46,000 (€5,077)
Estimated SEK 60,000–80,000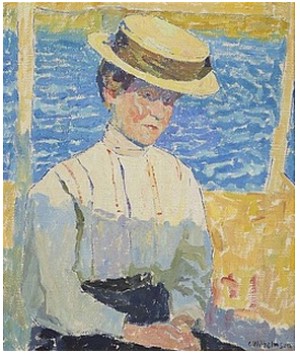 Nämndemansmor I Ljungkile Fiskeläge
(Executed in 1909)
Price SEK 40,000 (€4,415)
Estimated SEK 40,000–50,000

Studie Till "kyrkfolk"
Price SEK 120,000 (€13,896)
Estimated SEK 30,000–40,000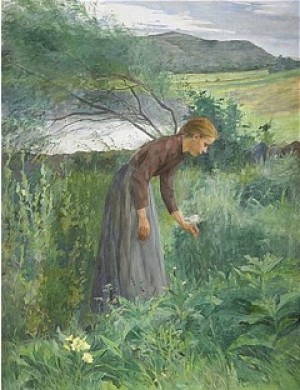 På En Gammal Kyrkogård (fiskebäckskil)
(1892)
Price SEK 720,000 (€81,245)
Estimated SEK 800,000–1,000,000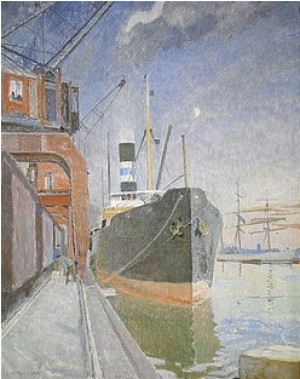 Götaångare I Hamn
(Executed in 1927)
Price SEK 120,000 (€13,541)
Estimated SEK 150,000–175,000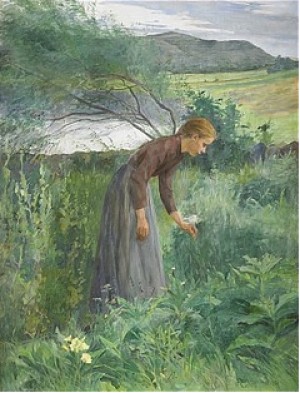 På En Gammal Kyrkogård (fiskebäckskil)
(1892)
Price SEK 720,000 (€81,245)
Estimated SEK 800,000–1,000,000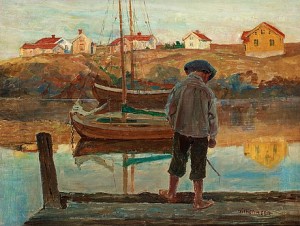 Pojke På Brygga
(Executed 1890's)
Price SEK 404,250 (€45,438)
Estimated SEK 300,000–350,000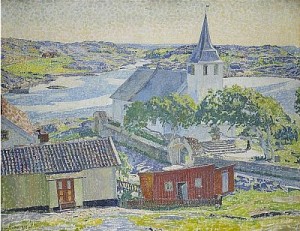 Kyrkan - Fiskebäckskil
Price SEK 180,000 (€19,888)
Estimated SEK 150,000–175,000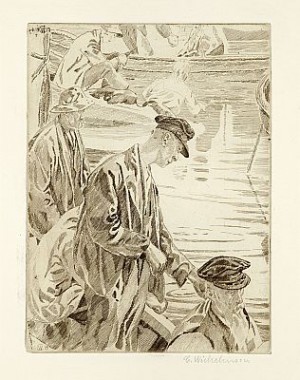 Fiskare
Price SEK 2,000 (€218)
Estimated SEK 2,000–3,000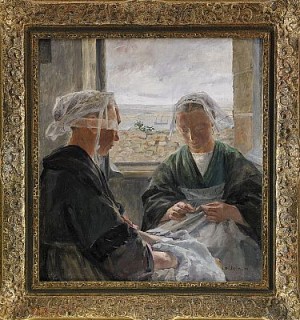 Flickor Som Lagar Segel, Bretagne
Price SEK 130,000 (€14,560)
Estimated SEK 150,000–175,000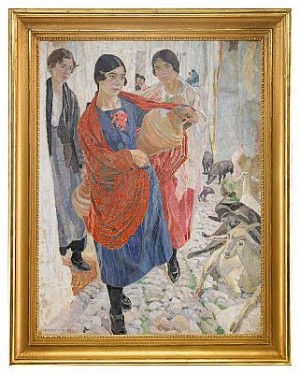 Price SEK 0 (€0) Not sold
Estimated SEK 1,200,000–1,500,000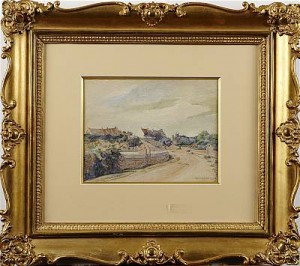 Price SEK 6,500 (€742)
Estimated SEK 8,000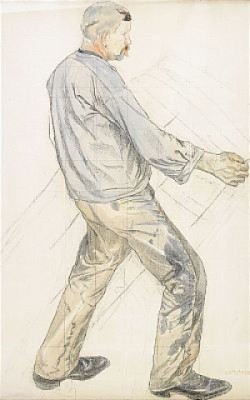 Studie Av En Hamnarbetare
Price SEK 12,000 (€1,316)
Estimated SEK 12,000–15,000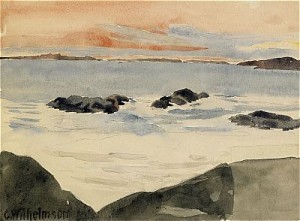 Havsutsikt I Solnedgång - Västkusten
Price SEK 12,000 (€1,316)
Estimated SEK 15,000–18,000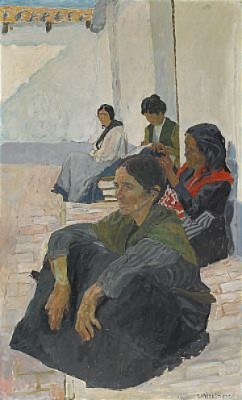 Spanjorska På Huk - Gata I Triana
(Executed 1910)
Price SEK 225,000 (€24,680)
Estimated SEK 250,000–300,000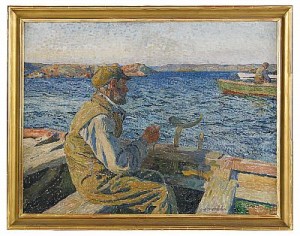 Price SEK 1,000,000 (€109,690)
Estimated SEK 800,000–1,000,000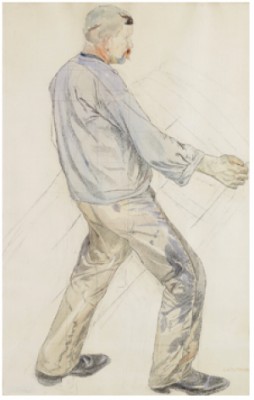 Studie Till Posthusmålningen
Price SEK 10,000 (€1,036)
Estimated SEK 10,000–12,000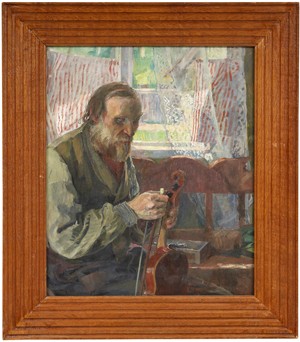 Den Blinde Spelmannen
(1897)
Price SEK 180,000 (€18,650)
Estimated SEK 80,000–100,000
Klipparti - Lysekil
Price SEK 65,000 (€6,766)
Estimated SEK 15,000–18,000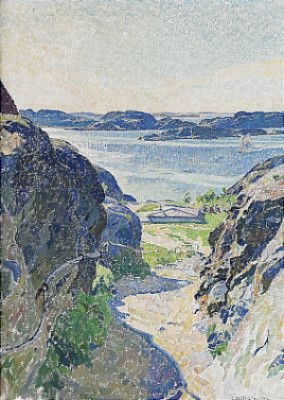 Brunnsvägen, Fiskebäckskil
Price SEK 350,000 (€36,432)
Estimated SEK 300,000–400,000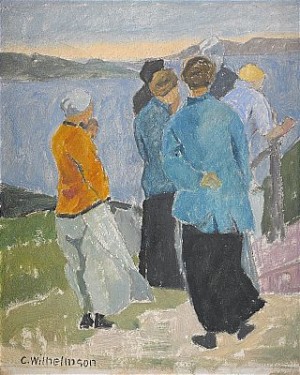 Vid Brunnen I
Price SEK 80,000 (€7,652)
Estimated SEK 20,000–25,000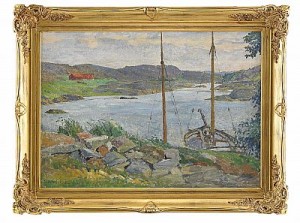 Båtar I Havsvik
Price SEK 280,000 (€26,782)
Estimated SEK 275,000–300,000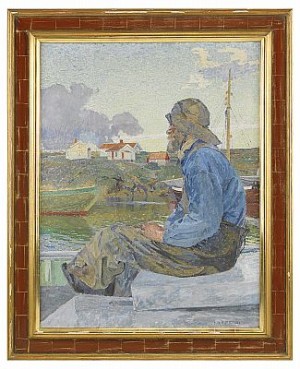 Skepparen
Price SEK 580,000 (€55,477)
Estimated SEK 500,000–600,000
Price SEK 1,500 (€144)
Estimated SEK 1,500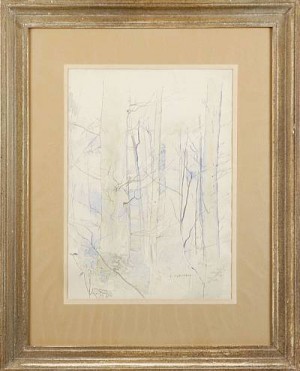 Skogslandskap
Price SEK 3,500 (€335)
Estimated SEK 5,000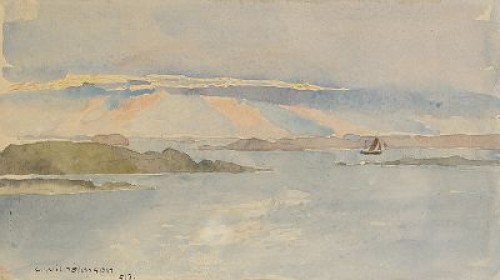 Motiv Från Fiskebäckskil
Price SEK 17,000 (€1,603)
Estimated SEK 8,000–10,000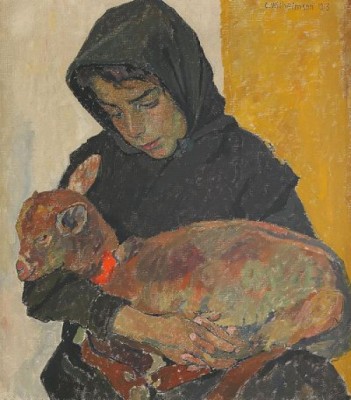 Den Goda Herdinnan
(1913)
Price SEK 320,000 (€29,091)
Estimated SEK 400,000–500,000