Christian Fredrik SWENSSON
1834–1909, Sweden
Name
Christian Fredrik SWENSSON
Christian Fredrik Swensson studied under Jacob Hägg and the etching of Albert Theodor Gellerstedt. He carried out most marine paintings, and graphics. Represented: National Museum in Stockholm, with etchings, Göteborg Museum of Art, Malmö Museum, the Royal Library in Stockholm and Linköping Museum.
Source: Art Signature Dictionary
Christian Fredrik Swensson studerade för Jacob Hägg och i etsning för Albert Theodor Gellerstedt. Han ägnade sig främst åt marinmålningar, samt grafik. Han blev agré vid Konstakademin 1883.
Representerad: Nationalmuseum i Stockholm med etsningar, Göteborgs Konstmuseum, Malmö Museum, Kungliga biblioteket i Stockholm och i Linköpings museum.
Source: Art Signature Dictionary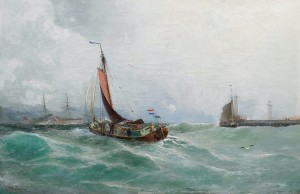 Båtar Vid Hamninlopp
Price EUR 24,000
Estimated EUR 40,000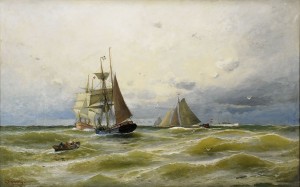 Price SEK 34,000 (€3,672)
Estimated SEK 30,000–40,000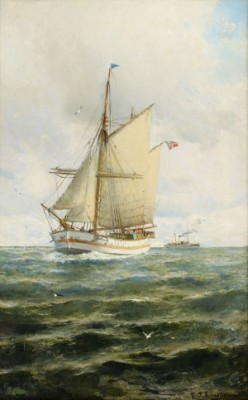 Norsk Skonare Med Unionsflagga
(-06)
Price SEK 30,000 (€3,240)
Estimated SEK 15,000–20,000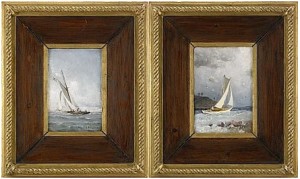 (2) Marint Motiv
Price SEK 18,000 (€1,987)
Estimated SEK 12,000–15,000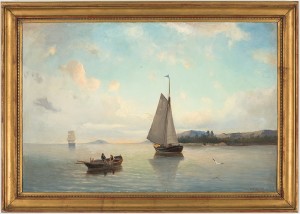 Price SEK 10,500 (€1,165)
Estimated SEK 4,000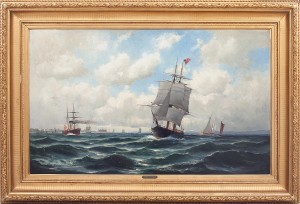 Price SEK 21,000 (€2,321) Incl. buyer's premium
Estimated SEK 25,000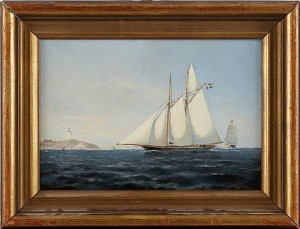 Price SEK 6,200 (€712)
Estimated SEK 8,000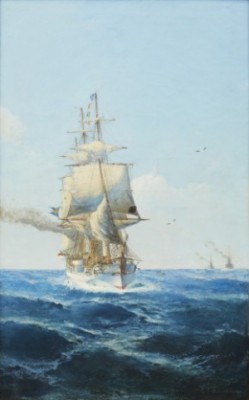 Saga Ii
Price SEK 16,000 (€1,838)
Estimated SEK 15,000–18,000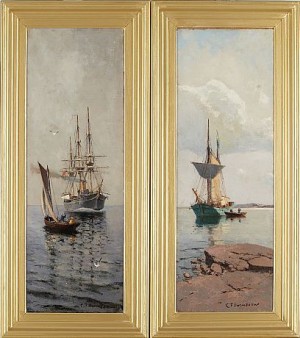 Brittisk Tremastad Fullriggare Samt Svensk Tvåmamstad Skonare
Price SEK 14,000 (€1,678)
Estimated SEK 18,000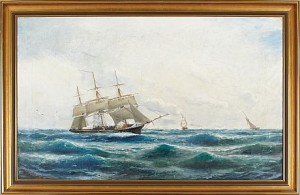 Tremastad Bark Till Havs
Price SEK 0 (€0) Not sold
Estimated SEK 20,000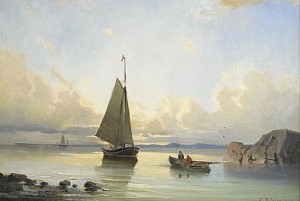 Marint Motiv Med Segelbåtar
Price SEK 8,500 (€959)
Estimated SEK 12,000–15,000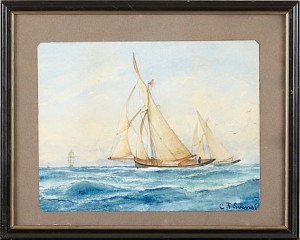 Strandmotiv Med Segelbåtar
Price SEK 3,200 (€360)
Estimated SEK 1,500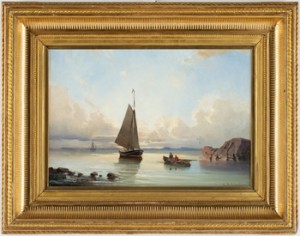 Segelbåt Samt Fiskare
Price SEK 6,000 (€678)
Estimated SEK 10,000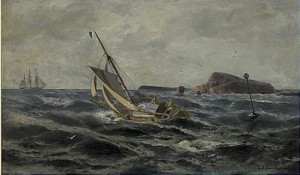 Lotsbåt På Böljande Vågor
Price SEK 19,000 (€2,099)
Estimated SEK 20,000–25,000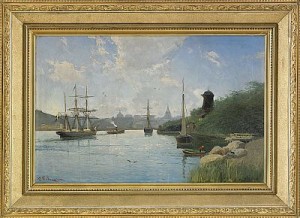 Stockholms Inlopp
Price SEK 17,000 (€1,904)
Estimated SEK 15,000–18,000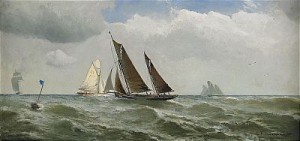 Segelbåtar På Havet
Price SEK 14,000 (€1,536)
Estimated SEK 15,000–18,000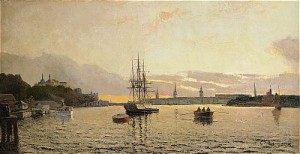 Stockholms Inlopp
Price SEK 15,000 (€1,645)
Estimated SEK 15,000–18,000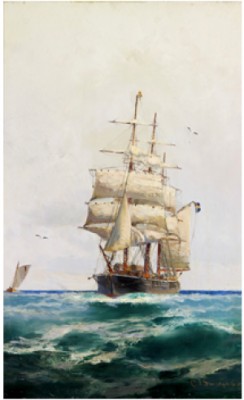 Fullriggare Till Havs
Price SEK 15,000 (€1,554)
Estimated SEK 12,000–15,000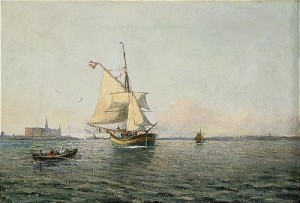 Dansk Segelskuta
Price SEK 7,000 (€729)
Estimated SEK 8,000–10,000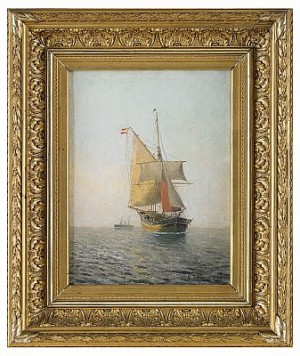 Danskt Segelfartyg I öresund
Price SEK 16,000 (€1,665)
Estimated SEK 12,000–15,000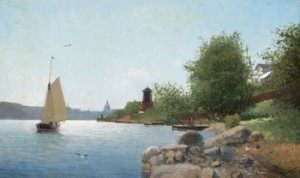 Waldemarsudden, Professor Malmstens Villa
Price SEK 55,000 (€5,715)
Estimated SEK 30,000–35,000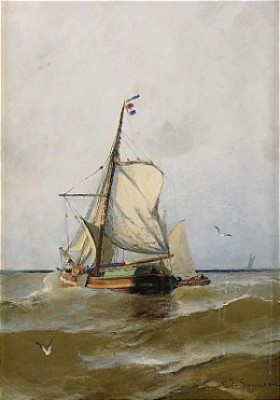 Fransk Segelskuta Vid Halländska Kusten
Price SEK 19,000 (€1,817)
Estimated SEK 20,000–25,000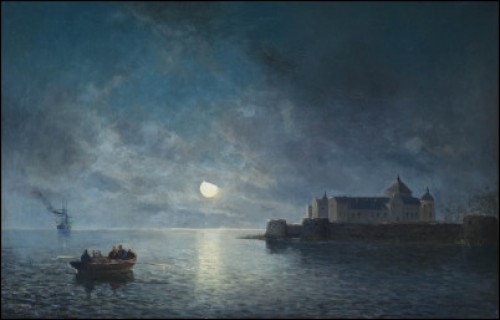 Månsken över Fästningen
Price EUR 1,300
Estimated EUR 1,500–1,800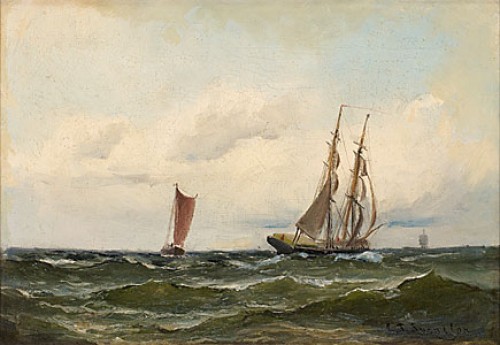 Stormande Hav
Price SEK 10,000 (€909)
Estimated SEK 15,000–18,000