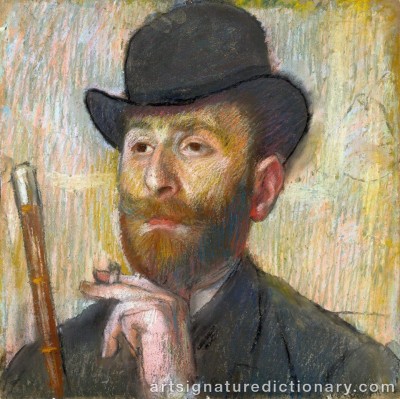 Edgar DEGAS

1834–1917, France

Verdict of guilty
DB 199, 1035-72 D. (int.nr.PHM3745:23)
Pastel on panel, interior with ballet dancers, signed "Degas", 55x46. Ostensibly depicting a genuine painting by the French artist Edgar Degas (1834-1917). The painting is part of a major fraud seizures of counterfeit art in Sweden known as "The Society of Art Friends": Three men, aged 30, 37, and 40 years old, were caught in Stockholm, Sweden after a reconnaissance tip from police in Ängelholm, Sweden. Shortly afterwards, another two men were caught. In total, 48 house searches were made through out the nation from which 83 forged paintings were confiscated. Forged art had already been sold for millions of Swedish crowns. Victims of the gang were well known businessmen with considerable incomes. League had good help from educated art experts who have written certificate of authenticity to many of the fake paintings, often at very small remuneration. On a door to a flat in Stockholm the men had displayed a sign with the text "The Society of Art Friends".
Pastell på pannå, interiör med balettdansöser, signerad "Degas", 55x46. Skenbart föreställande en äkta målning utförd av den franske konstnären Edgar Degas (1834-1917). Målningen ingår i ett stort bedrägeribeslag av förfalskad konst i Sverige kallat "Sällskapet Konstvännerna": Tre män, 30, 37 och 40 år gamla greps i Stockholm efter ett spaningstips från polisen i Ängelholm, kort därefter greps ytterligare två män. Totalt gjordes 48 husrannsakningar runt om i landet varvid 83 falska målningar togs i beslag. Falsk konst hade redan sålts för miljontals kronor och ligans offer var kända affärsmän med betydande inkomster. Ligan hade god hjälp av bildade konstexperter som för små pengar skrivit ut äkthetsintyg till många av de falska målningarna. Männen hade på en lägenhetsdörr i Stockholm satt upp en skylt med texten "Sällskapet Konstvännerna".







Name
Edgar, Hilaire Germain De Gas DEGAS
Edgar Degas biography:

Edgar Degas first studied law, but soon abandoned his studies to pursue a career as an artist. From 1853 onwards he took lessons from Louis Lamothe, one of Ingres' students. He briefly attended the École des Beaux-Art, but then decided to continue his artistic training on his own. He copied ancient reliefs and the old masters in the museums of Paris. In 1856 Degas took a study trip to Italy. Upon his return to Paris three years later, he worked primarily as a portrait painter and created several history paintings before consecrate to contemporary Parisian life as his preferred subject matter. Degas rejected plein air painting, instead he worked in his studio with models or from drawings. His models were mainly women, often from lower social classes. In addition, he also depicted social scenes on the racecourse, at the museum or the theater. But Degas' most popular theme were the ballet dancers. His oeuvre is defined by drawings and pastels, but he also created sculptures and developed an interest in photography in the 1890s. Thanks to the support of his gallerist Paul Durand-Ruel, his works found appreciation amongst collectors early on. The most important collections of works by Edgar Degas are nowadays held in the Musée d'Orsay in Paris and the Metropolitan Museum of Art in New York.
Source: http://auctionata.com/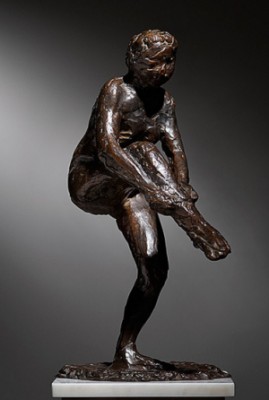 Danseuse Mettant Son Bas (première étude).
(1896-1911)
Price SEK 2,450,000 (€250,023) Incl. buyer's premium
Estimated SEK 2,000,000–3,000,000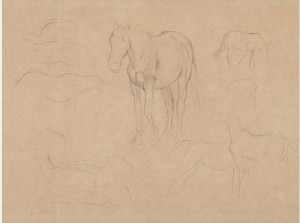 Horse Studies
Price EUR 15,000
Estimated EUR 11,000–22,000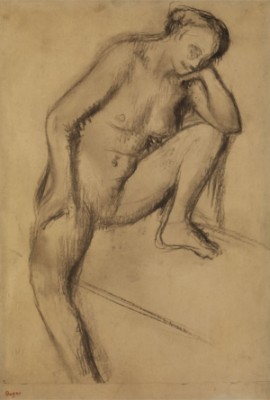 Femme Nue Assise
Price EUR 0 Not sold
Estimated EUR 120,000–150,000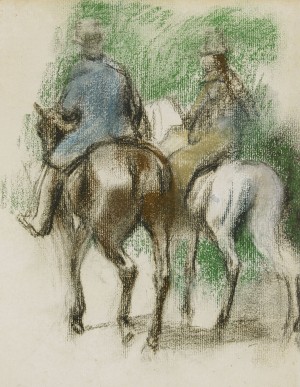 Cavalier Et Amazone
(Executed ca. 1881-1885)
Price SEK 1,220,000 (€142,008)
Estimated SEK 1,200,000–1,500,000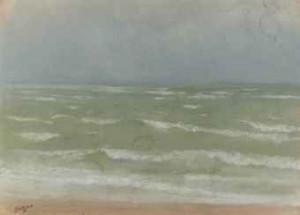 Marée Montante
(Executed ca. 1869)
Price GBP 55,250 (€63,840) Incl. buyer's premium
Estimated GBP 50,000–70,000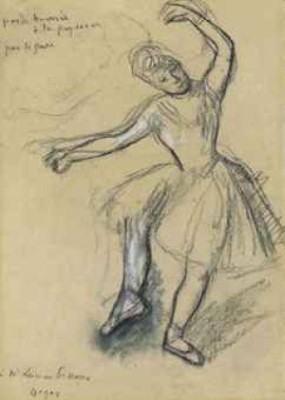 Danseuse
(Executed in 1880's)
Price GBP 51,650 (€64,008) Incl. buyer's premium
Estimated GBP 40,000–60,000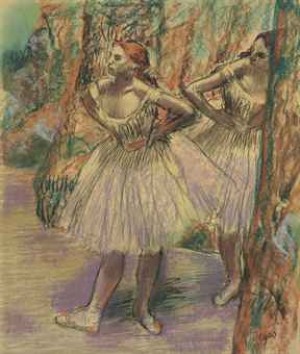 Danseuses
(Executed ca. 1893-98)
Price USD 2,546,500 (€2,222,970) Incl. buyer's premium
Estimated USD 1,500,000–2,500,000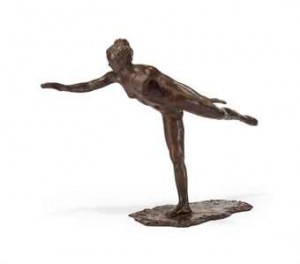 Grande Arabesque, Deuxième Temps
Price USD 1,022,500 (€772,485) Incl. buyer's premium
Estimated USD 500,000–700,000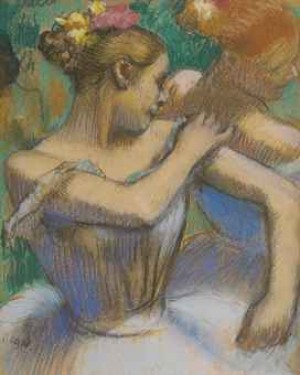 Danseuse Rajustant Ses épaulettes
(Executed ca. 1896-99)
Price GBP 2,281,250 (€2,750,950) Incl. buyer's premium
Estimated GBP 3,000,000–4,000,000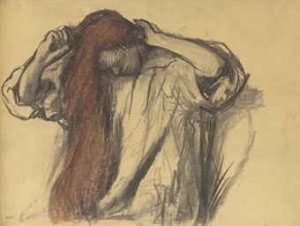 Femme Se Coiffant
(Executed ca. 1894)
Price GBP 421,250 (€507,983) Incl. buyer's premium
Estimated GBP 350,000–450,000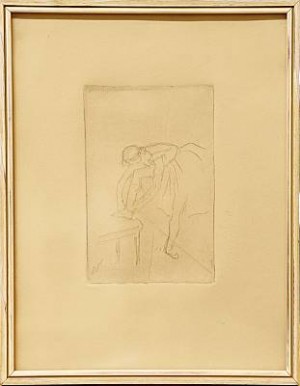 Danseuse Mettant Son Chausson
Price SEK 4,000 (€436)
Estimated SEK 5,000
Danseuse, Position De Quatrième Devant Sur La Jambe Gauche, Troisième étude
(Conceived ca 1882-1885)
Price GBP 433,250 (€496,851) Incl. buyer's premium
Estimated GBP 400,000–600,000