Edward Joseph 'Ed' RUSCHA

1937, USA
Name
Edward, Joseph 'Ed' RUSCHA
Edward Ruscha studied at the Chouinard Art Institute in Los Angeles under Richard Rubin from 1956 through 1960.
Edward Ruscha brukar ibland räknas som en av popkonstens frontfigurer, en etikett som kanske stämmer till en del men främst är han nog realist. Han har arbetat med många olika tekniker som måleri, fotografi, grafik och video. Ruscha blev känd under det tidiga 1960-talet för sina målningar, collage och fotografier och hade 1963 sin första separatutställning på Ferus Gallery i Los Angeles. Ruscha är sannolikt mest berömd för sina målningar innehållande ord och fraser och för hans fotoböcker, allt influerat av den gravallvarliga satir som genomsyrar popkonsten.
I slutet av 1950-talet studerade Edward Ruscha vid Chouirnard Art Institute (California Institute of the Arts), i Los Angeles. En dag 1957 fick han av en slump ögonen på ett verk av den då relativt okände Jasper Johns i tidskriften Print. Konstverket var Johns Target with Four Faces och det gjorde ett starkt intryck på Ruscha. Han menar att det var Jasper Johns förtjänst att han inspirerades att vända sitt konstintresse från grafik till måleri. Ruscha var också mycket influerad av bland andra Kurt Schwitters och Marcel Duchamp och under en resa i Europa intresserade han sig även för engelsmannen Sir John Millais.
1962 var Edward Ruscha en av deltagarna i den numera klassiska utställningen New Paintings of Common Objects på Pasadena Art Museum. Utställningen arrangerades av Walter Hopps och flera av de blivande storheterna inom Pop-Art deltog också i denna historiska och viktiga utställning, bland andra Roy Lichtenstein, Andy Warhol och Jim Dine. Utställningen betraktas idag som en av de första Pop-Art-utställningarna i USA.
Ruscha registrerar och dokumenterar vår samtids teaterscen, vår samtids landskap, dess doft och smak - dess bouquet! Men inte som någon topograf. Han väljer och sovrar bland de ofta triviala och enkla ting som omger vår vardag, ting som vi inte tänker på, kanske inte ens registrerar. Till exempel hans serie Twentysix Gasoline Stations från 1962, där han ger varje, noga utvald, station sin egen identitet och en personlig karaktär som ingen förbipasserande ens skulle kunna föreställa sig.
Då har han gjort sitt och överlämnar till betraktarna, nu ligger valet och tolkningen hos dem.
Hos dem som vill veta allt om tjugosex bensinstationer eller om alla byggnader längs Sunset Strip.
Source: Stockholms Auktionsverk, Stockholm Sweden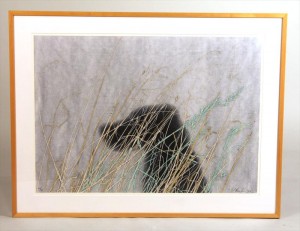 Price USD 13,801 (€10,024) Incl. buyer's premium
Estimated USD 400–600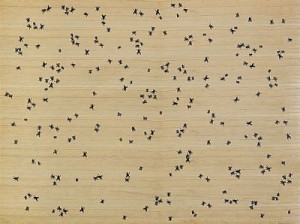 Price SEK 8,000 (€869)
Estimated SEK 5,000–6,000
Phalle
Price SEK 0 (€0)
Estimated –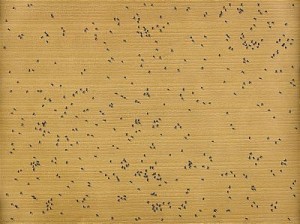 Insects: Black Ants
(1972)
Price SEK 8,500 (€889)
Estimated SEK 5,000–6,000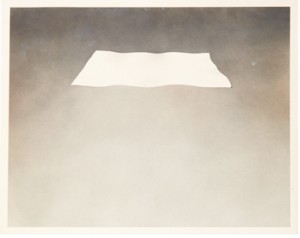 Sheet Of Paper Stained With Cinnamon Oil
(1973)
Price SEK 880,000 (€84,128)
Estimated SEK 600,000–800,000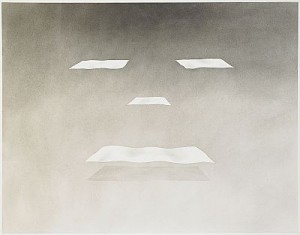 Four Sheets Stained With Egg White
(1972)
Price SEK 1,600,000 (€157,120)
Estimated SEK 2,000,000–3,000,000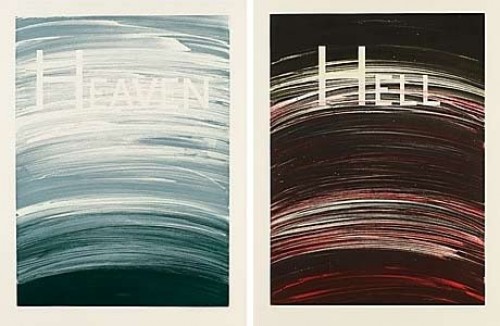 Price SEK 0 (€0)
Estimated SEK 80,000–100,000