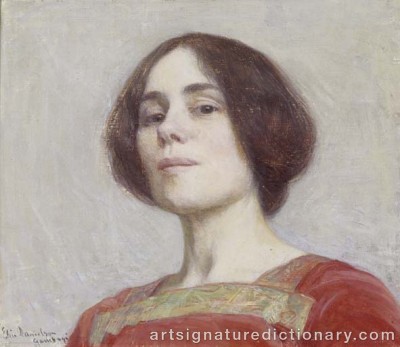 Elin 'E Dson' DANIELSON-GAMBOGI

1861–1919, Finland/Italy
Also known as: ED

Verdict of guilty
6070/R/154596/02/TVP/1
Oljemålning på duk, signerad "E. Danielson". Skenbart föreställande en äkta målning utförd av den Finska konstnären Elin Danielson-Gambogi, (1861-1919). Målningen ingår i ett av de många bedrägerifall som polisen tog i beslag under slutet av 1990-talet och början av 2000-talet i Finland. Efter expertutredning och dom förklarades att målningen inte är äkta. Det är en förfalskning.












Name
Elin, Cleopatra 'E Dson' DANIELSON-GAMBOGI
Elin Kleopatra Danielson-Gambogi (3 September 1861 – 31 December 1919) was a Finnish painter. She is best known for her realist works and portraits. Danielson-Gambogi was part of the first generation of Finnish women artists who received professional education in art, so called painter sisters' generation. The group also included artists like Helene Schjerfbeck.

Elin Danielson-Gambogi was born in the small village of Noormarkku, near the city of Pori in Western Finland. At the age of 15 she moved to Helsinki and started studying in the Academy of Fine Arts.

In 1883 Danielson-Gambogi left to Paris. She took lessons at Académie Colarossi and painted in Brittany during the summertime. Few years later Danielson-Gambogi came back to Finland and lived with his relatives in Noormarkku and Pori. In 1888 she opened an atelier in Noormarkku. During the 1880s and 1890s Danielson-Gambogi also worked as teacher in several art schools around Finland.

In 1895 she received a scholarship and traveled to Florence Italy. A year later Danielson-Gambogi moved to the village of Antignano and got married with an Italian painter Raffaello Gambogi (1874–1943). They had exhibitions in Paris, Florence and Milan and in many Finnish cities. The couple also had their paintings in world's fair 1900 in Paris.

Elin Danielson-Gambogi died of pneumonia in Antagnano and was buried in Livorno.
Elin Danielson-Gambogi var en finlandssvensk bildkonstnär född i Norrmark, Finland. Hon studerade vid Finska konstsällskapets ritskola i Helsingfors, för Carl Eneas Sjöström, Hjalmar Munsterhjelm, i Adolf von Beckers privata konstskola samt i Paris vid Académie Colarossi och hos Auguste Rodin. Danielson-Gambogi var utbildad inom klassisk teckning, landskapsmåleri, perspektivlära och porslinsmåleri och hon var en tid verksam vid porslinsfabriken Arabia. Hon ingick i den så kallade Önningebykolonin där bland andra Victor Westerholm, Fredrik Ahlstedt, J.A.G Acke och Nina Ahlstedt ingick. Danielson-Gambogi var kontroversiell, hennes utmanande kvinnoporträtt väckte stor uppmärksamhet och visade kvinnor i det vardagliga livet, ibland lättklädda. Hennes måleri anknyter till den naturalistiska och nationalromantiskta traditionen i en ljus palett och hon har även avbildat medelhavsmotiv med drag av både impressionismen och det akademiska måleriet.
Source: www.bukowskismarket.com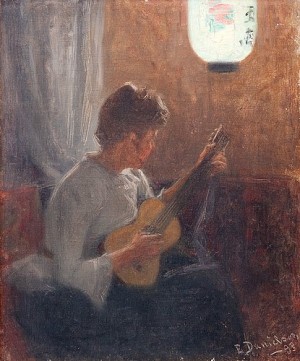 Price EUR 20,794 Incl. buyer's premium
Estimated EUR 20,000–25,000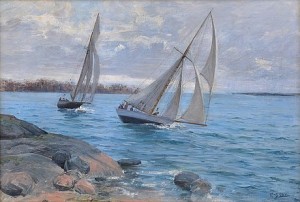 Sailing
Price EUR 37,863 Incl. buyer's premium
Estimated EUR 26,000–30,000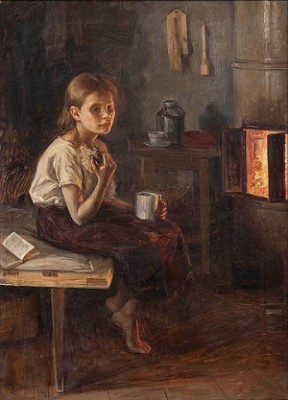 A Girl By The Oven
(1894)
Price EUR 0 Not sold
Estimated EUR 60,000–80,000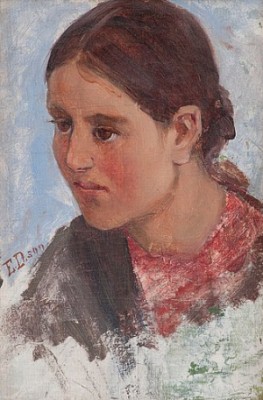 Portrait Of A Girl
(1919)
Price EUR 4,200
Estimated EUR 4,000–5,000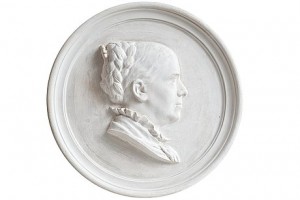 Price EUR 900
Estimated EUR 1,000–1,200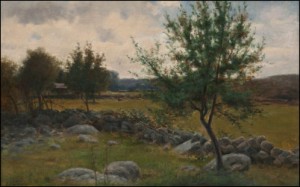 Vanha Kiviaita
Price EUR 16,000
Estimated EUR 18,000–22,000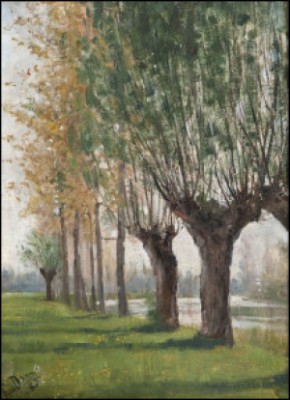 Price EUR 6,400
Estimated EUR 5,000–7,000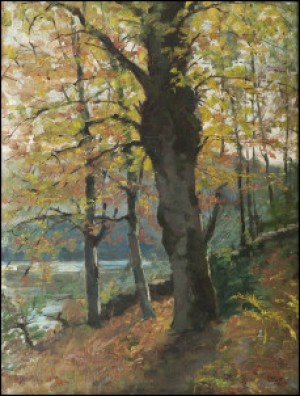 Höstfärger
Price EUR 7,200
Estimated EUR 3,000–5,000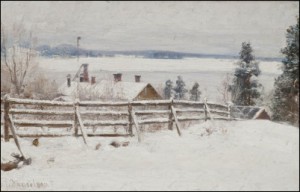 Vinterlandskap
Price EUR 11,500
Estimated EUR 6,000–8,000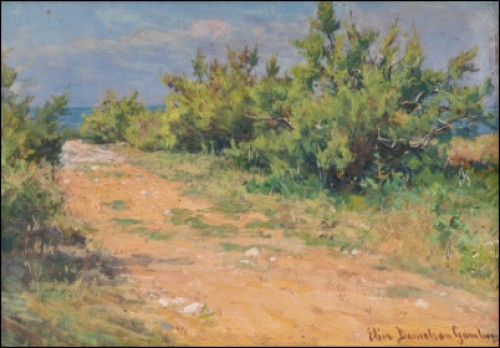 Motiv Från Italien
Price EUR 8,200
Estimated EUR 5,000–6,000