Elli HEMBERG
1896–1994, Sweden
Also known as: EH
Elli Hemberg studied with Carl Wilhelmson, and undertook study tours to Paris, Holland and Norway. She painted portraits, biblical motifs, seascapes and still lifes. Otto G. Carlsund see her work and the form will be crucial to her in the 1950s, leaving the painting and examines sculptural materials such as wood, glass, metal and concrete. From the mid-1960s she was included in the circle of Art Salon Collector with Olle Bærtling and KG Bejemark. During the 1970s and 1980s, bringing her attention to its architectural sculpture projects.
Public art: Sabbatsbergs nursing homes.
Represented at Moderna Museet in Stockholm, Malmo Museum, Kalmar, Vänersborg and Skövde Museum and The Museum of Sketches in Lund.
Elli Hemberg studerade för Carl Wilhelmson, samt företog studieresor till Paris, Holland och Norge. Hon målade porträtt, bibliska motiv, kustlandskap och stilleben. Otto G. Carlsund ser hennes formarbete och blir avgörande för att hon på 1950-talet lämnar måleriet och prövar skulpturalt material som trä, glas, metall och betong. Från mitten av 1960-talet ingår hon i kretsen kring Konstsalongen Samlaren med Olle Bærtling och K.G. Bejemark. Under 1970 och 1980-talen väcker hon uppmärksamhet med sina arkitektoniska skulpturprojekt.
Offentlig utsmyckning:
Sabbatsbergs vårdhem.
Representerad:
Moderna Muséet i Stockholm, Malmö Museum, Kalmar, Vänersborgs och Skövde museum, samt Skissernas museum i Lund.
Källa Internet
--------------
Elli Hemberg föddes i Skövde 1896 och började tidigt studera för Carl Wilhelmson 1918, samt senare i Paris, Holland och Norge. I började präglades hennes motivval av porträtt, interiörer, landskap och stadsbilder. I början kännetecknas hennes måleri av en saklighet men utvecklas senare till ett finstämt, blont valörmåleri. I slutet av 1930-talet lärde hon känna Otto G. Carlsund som blev en nära vän och det var även Otto som uppmuntrade till hennes första utställning 1942. Senare under slutet av 1940-talet inspireras Hemberg av konstkritikern Jay Hanbridges "The elements of dynamic symmetry" och omsätter hans teorier till tredimensionella verk och därmed lämnar hon måleriet för att börja skulptera. Hemberg är mest känd för sina offentliga skulpturala verk i bl. a. Lund, Norrköping, Stockholm och Skellefteå. Elli Hemberg är representerad på Moderna Museet, Malmö Konstmuseum, Kalmar, Vänersborgs och Skövde museer samt skissernas museum i Lund.
Källa: Bukowskis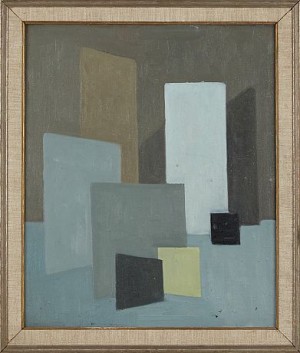 Composition 14
Price SEK 5,200 (€607)
Estimated SEK 8,000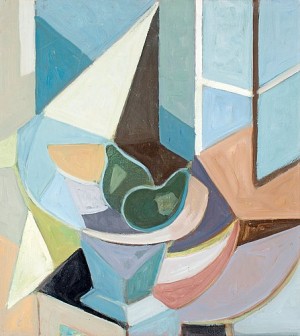 Kubistisk Stilleben
(Executed in the 1930's)
Price SEK 25,500 (€2,955) Incl. buyer's premium
Estimated SEK 20,000–25,000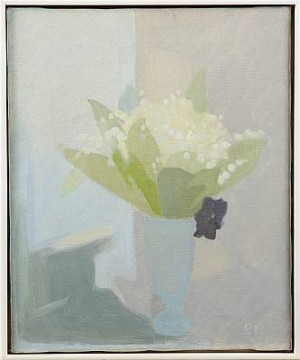 Blomsterstilleben
Price SEK 3,000 (€308)
Estimated SEK 2,500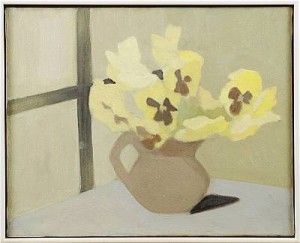 Gula Penséer
Price SEK 3,700 (€380)
Estimated SEK 2,500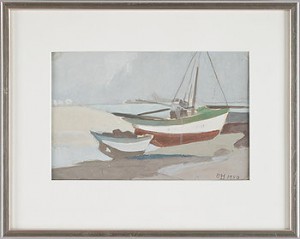 Båtar Vid Strandkant
(-50)
Price SEK 750 (€84)
Estimated SEK 1,500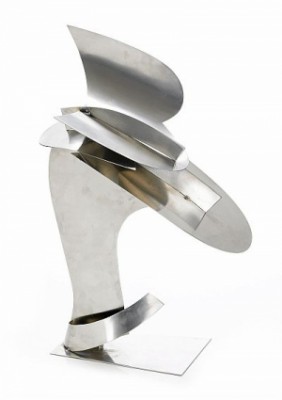 Komposition
Price SEK 4,800 (€471)
Estimated SEK 4,000–5,000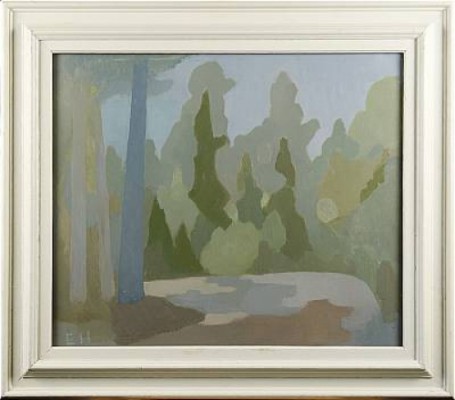 Skogsdunge
Price SEK 1,100 (€110)
Estimated SEK 2,000