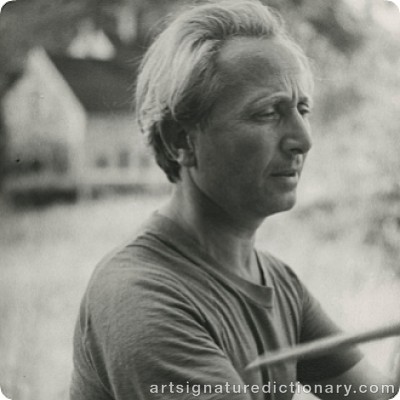 Emmanuel MANÉ-KATZ

1894–1962, Ukraine/Israel/France
Also known as: MK

Verdict of guilty
0201-K305565-06. (2008-0201-BG14179)
Watercolour. Motif: Landscape with houses and figures, signed Mané-Katz, 38x33 cm. The painting was seized in a small auction house in Stockholm, May 2008. The painting was submitted by a Swedish Pawn shop in Malmo, loan value 32,500 SEK. It had pledged by a private person. At the police questioning states that he bought the painting by a private family in Malmö, Sweden. He states further that he is self-taught art expert since many years and he is now a partner in an antique shop in Malmö, Sweden. The painting has gone through a technical examination by Moderna Museet in Stockholm, which revealed that it is not performed by the Ukrainian artist Emmanuel Mané-Katz. The district court's decision. Signature forgery and aggravated fraud. The painting has not been conducted by Emmanuel Mané-Katz nor signed by him.
Akvarell. Motiv: Landskap med hus och figurer, signerad Mané-Katz, 38x33 cm. Målningen togs i beslag på ett mindre auktionshus i Stockholm, maj 2008. Målningen var inlämnad av Svensk Pantbelåning i Malmö, lånevärde 32.500 kr. Den hade belånats av en privatperson som vid polisförhör uppger att han köpt målningen av en privat familj i Malmö. Han uppger vidare att han är självlärd konstkännare sedan många år och att han numera är delägare i en antikhandel i Malmö. Målningen har genomgått en teknisk undersökning av Moderna Museet i Stockholm varvid framkom att den inte är utförd av den Ukrainske konstnären Emmanuel Mané-Katz. Tingsrättens beslut. Signaturförfalskning och grovt bedrägeri. Målningen har ej utförts av Emmanuel Mané-Katz ej heller signerats av denne.











Mané-Katz: Milestones

1894
Born June 5th, Kremenchuk, Ukraine, to a traditional and poverty-stricken Jewish family. His father was the beadle of the synagogue. Mané-Katz studied in a heder and a yeshiva until the age of 16.

1911-13
Studied at the Kiev Art School.

1913
Arrived in Paris, studied at the the École des Beaux-Arts, in the studio of the academic painter Fernand Cormon.

1914
At the outbreak of World War I, tried to enlist in the Foreign Legion but was rejected because of his shortness. Returned to Kremenchuk.

1916
Studied at the School of Art in St. Petersburg (then Petrograd); was attracted to avant-garde art, and participated in an exhibition organized by the "Jewish Society for the Encouragement of Arts", which supported Jewish artists.

1917
Returned to Kremenchuk at the outbreak of the revolution; appointed Professor at the Kharkov Academy.

1919
Married Esther (Stera) Pikelna (divorced in 1932).

1921
Settled in Paris and made his home in Montparnasse.

1923
First one-man exhibition at Galerie Percier in Paris; participated in annual exhibitions at the Salon d'Automne, Salon des Indépendants, and Salon des Tuileries.

1927
Acquired French citizenship.

1928
First visit to Palestine, Egypt, and Syria. Visited the State of Israel frequently in the years that followed.

1939
Escaped from Paris to America at the outbreak of World War II, lived in New York.

1945
Returned to Paris, rented a studio in Montparnasse.

In the years that followed, he travelled widely and exhibited in Paris, Brazil, Geneva, London, New York, Los Angeles, Montreal, Sao Paolo, Tokyo, Johannesburg, Jerusalem, Tel Aviv, Haifa, &c.

1948
Came to Israel during the War of Independence and had a one-man exhibition at the Tel Aviv Museum.

1951
Awarded decoration "Chevalier de la Légion d'Honneur " by the French Government, for his artistic activities.

1958
Received a house in Panorama Road from the Haifa Municipality, which would become a museum containing his works and his collection.

1962
Died September 9th after illness, and was buried in Haifa.

1977
The Mané-Katz Museum opened to the public.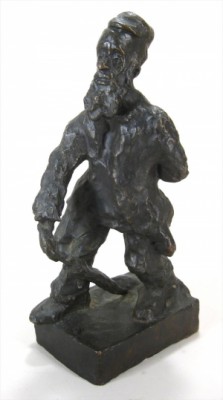 Man With Umbrella
Price USD 2,281 (€1,718) Incl. buyer's premium
Estimated USD 1,000–1,500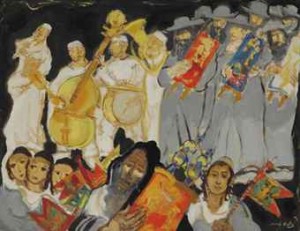 Simha Torah
(Executed ca.1950)
Price USD 188,500 (€148,256) Incl. buyer's premium
Estimated USD 80,000–120,000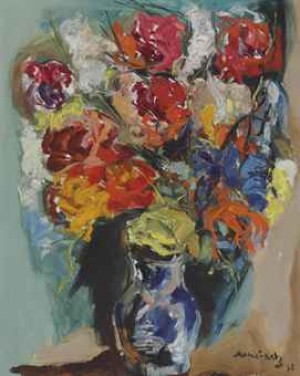 Price USD 35,000 (€27,527)
Estimated USD 35,000–45,000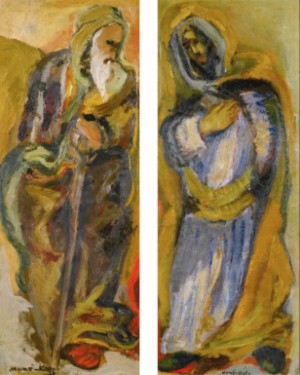 Two Walking Figures: Two Works
Price USD 21,250 (€16,401) Incl. buyer's premium
Estimated USD 15,000–20,000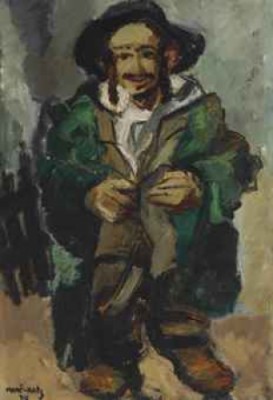 Price USD 22,500 (€16,987)
Estimated USD 20,000–30,000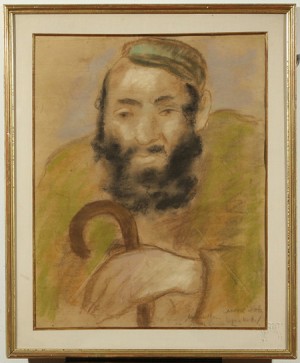 Jewish Man With Cane
Price USD 0 (€0) Not sold
Estimated USD 5,000–7,000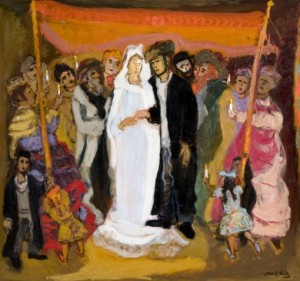 Price EUR 155,438
Estimated EUR 80,000–100,000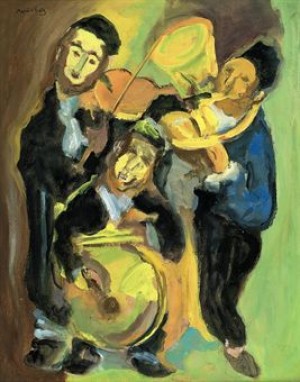 The Musicians
Price GBP 10,000 (€11,576)
Estimated GBP 5,000–7,000