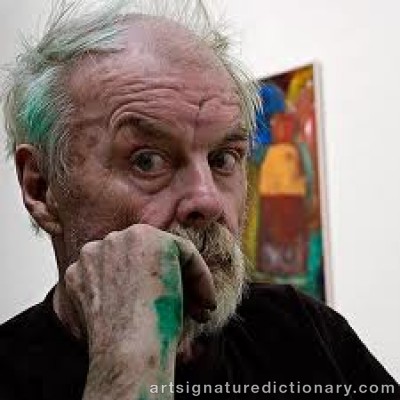 Erland CULLBERG

1931–2012, Sweden
Also known as: EC
Lived & Active In
Sollentuna, Sweden
Erland Cullberg paints in an expressive style with violentbrush strokes. He uses strong colours and images of strong psychological depth. His peculiar habit of sometimes painting over the same painting several times has given him the nickname "The overpainter".
Source: Internet
Erland Cullberg studerade vid Konstakademien 1955-1957, och Valands konstskola 1956. Han målar starkt expressionistiska skildringar i starka oljefärger och med våldsamma penseldrag. Motiven har ofta starkt psykologiskt djup. Hans egenhet att ibland måla över samma tavla flera gånger har gett honom namnet "Övermålaren".

Utställningar, (urval)
Debututställning \\\"Hos Petra\\\" Stockholm 1961.
Separatutställningar i Sverige och utomlands:
Thielska Galleriet 1980
Centre Culturel Suedois Paris 1982
Åbo Konstmuséum\\\" 1984
Scanart Berlin 1984
Moderna Muséet, Malmö Konsthall, Göteborgs Konsthall
och Aarhus Konstmuséum 1986
Konstakademien 1994
Tomarps Kungsgård 1999
Uppsala Domkyrka 2001
Konstakademien i stockholm 2008.

Representerad (urval)
Inköpt av de flesta konstmuséerna i landet såsom Moderna Muséet, Nationalmuséum och muséerna i Göteborg, Norrköping, Borås och Västerås.
Dessutom Åbo Konstmuséum, Statens Muséum for kunst, Köpenhamn, Aarhus Konstmuséum, Muséum fur Kunst- und Kulturgeschichte der Hansesteadt Lubeck.
Source: Internet