Ernst JOSEPHSON
1851–1906, Sweden
Also known as: EJN, EJ

Verdict of guilty
PHM Nr. 36
Oil on canvas, musical figurines, signed "Ernst Josephsson 1879." 36x51 cm. Part of a large seizure of counterfeit art from the 1980s. The painting's lower left corner was the victim of inept washing with a strong medium. Subsequently, the signature Ernst Josephsson påmålats. The painting gives the impression of being a genuine Ernst Joseph's son, but it is not done in his style but more in the style that was common at the turn of the century, 1890-1910. It's too "wet" painted with too much color. The district court's assessment: The painting is not done or signed by Ernst Josephson. It is a forgery.
Oljemålning på duk, musicerande figurer, signerad "Ernst Josephsson 1879". 36x51 cm. Ingår i ett stort beslag av förfalskad konst från 1980-talet. Målningens nedre vänstra hörn har utsatts för en oskicklig tvättning med något starkt medel. Därefter har signaturen Ernst Josephsson påmålats. Målningen ger sken av att vara en äkta Ernst Josephsson men den är ej utförd i dennes stil utan mer i den stil som var bruklig omkring sekelskiftet, 1890-1910. Den är för "blött" målad med för mycket färg. Tingsrättens bedömning: Målningen är ej utförd eller signerad av Ernst Josephson. Det är en förfalskning.

Oil on canvas, 69x57 cm. The painting is signed Ernst Josephson and provided with certificates of authenticity on the back of Gustav Jaensson. The signature in the lower left corner is painted afterwards and is located outside of the painting. The varnish is washed away under the signature. Frenchman Bonnard had a painting school in Paris where many Swedes came and learned the nude painting, the painting should be painted around 1860-1870 by someone less talented student of Bonnard. This painting is too amateurish to be conducted by Ernst Josephson. Conservator Gustav Jaensson denies that he signed certificate of authenticity on the back of the painting. The District Court's assessment: The painting is a "spurious" forgery. Ernst Josephson has not been painted or signed it.
Oäkta förfalskning. Oljemålning på duk, 69x57 cm. Målningen är signerad Ernst Josephson och försedd med äkthetsintyg på baksidan av Gustaf Jaensson. Signaturen i vänstra nedre hörnet är ditmålad i efterhand och sitter utanpå övrig målning. Under signaturen är fernissan borttvättad. Fransmannen Bonnard hade en målarskola i Paris dit många svenskar kom och lärde sig rustikare naketmåleri, tavlan torde vara målad 1860-1870 av någon mindre duktig elev till Bonnard. Även Ernst Josephson gjorde liknade arbeten men denna tavla är alltför amatörmässig för att vara utförd av honom. Konservatorn Gustav Jaensson har bestridit att han skrivit äkthetsintyget på baksidan. Tingsrättens bedömning: Målningen är en s.k. oäkta förfalskning som varken målats signerats eller signerats av Ernst Josephson.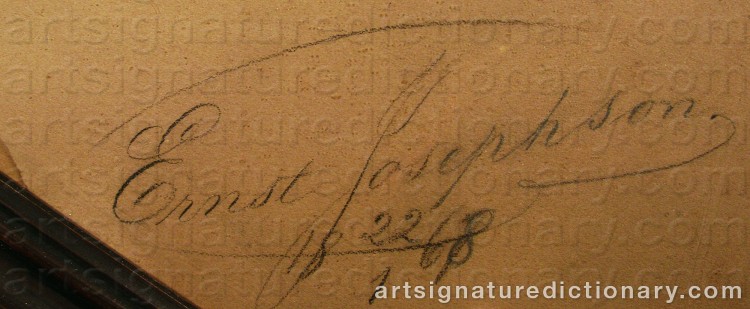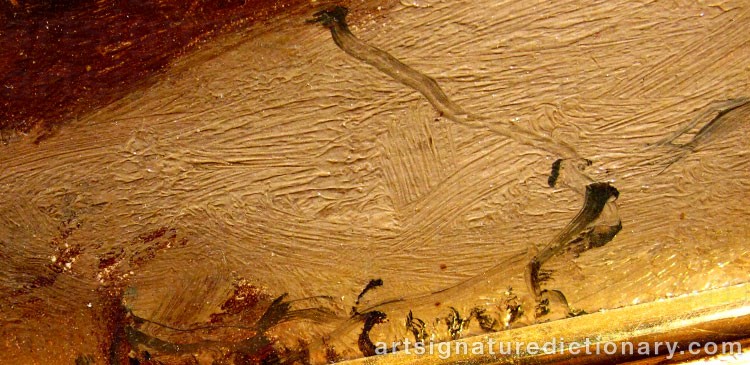 Name
Ernst, Abraham JOSEPHSON
Ernst Josephson studied at the Art Academy in Stockholm. He undertook trips to Norway, France, Holland, Italy and Spain. At the Academy he devoted himself to history painting he was influenced by Rembrandt\'s painting but also by Manet. He painted numerous portraits and figurative motifs. He organized and led opponents movement 1885th He gathered the names of Düsseldorf and Gothenburg and the letter was submitted to the Art Academy in Stockholm on 27 March. He leaves Paris and settles at Allan Osterlind in Gargilesse and painting landscapes and genre subjects. In 1887 he goes out Artists Association and resettling destitute on the island of Il Bréhat. During the winter he paints his last paintings before his severe illness. In 1889 he began again to paint in a studio as Carl Larsson and Richard Bergh subordinate to him. He participated in the World Exhibition in Paris with seven paintings, and was rewarded with a silver medal, 1889th 1891 he moved to the sisters Sjoberg and stay there until his death. Represented: Thiel gallery. Oslo National Gallery. HMK, Athemeum Helsinki, Malmo Museum.

Source: Composed of a variety of sources from the internet.

Ernst Josephson studerade vid Konstakademien i Stockholm. Han företog resor till Norge, Frankrike, Holland, Italien och Spanien. Vid akademien ägnade han sig åt historiemåleri han påverkats av Rembrandts måleri men också av Manet. Han målade ett stort antal porträtt och figurmotiv. Han organiserade och ledde opponentrörelsen 1885. Han samlade namn i Düsseldorf och Göteborg och skrivelsen överlämnades till Konstakademien i Stockholm den 27 mars. Han lämnar Paris och bosätter sig hos Allan Österlind i Gargilesse och målar landskap och genremotiv.
1887 går han ur Konstnärsförbundet och bosätter sig utfattig på ön Il de Bréhat. Under vintern målar han sina sista tavlor före sitt svåra insjuknande.
1889 börjar han på nytt att måla i en ateljé som Carl Larsson och Richard Bergh ordnat till honom. Han deltog i Världsutställningen i Paris med 7 målningar och blev belönad med en silvermedalj, 1889. 1891 flyttar han till systrarna Sjöberg och stannar där till sin död.

Representerad:
Thielska galleriet. Oslo Nationalgalleri. H.M.K., Athemeum Helsingfors, Malmö Museum.

Källa: Sammansatt av olika källor från internet.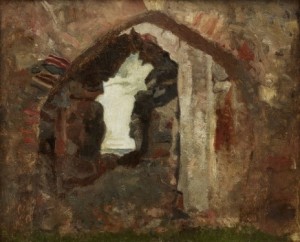 S:t Olofs Ruin, Visby
Price SEK 42,000 (€4,536)
Estimated SEK 30,000–40,000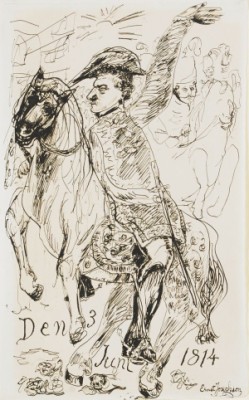 Den 3 Juni 1814 - Kronprins Karl Johan
Price SEK 22,000 (€2,368)
Estimated SEK 30,000–35,000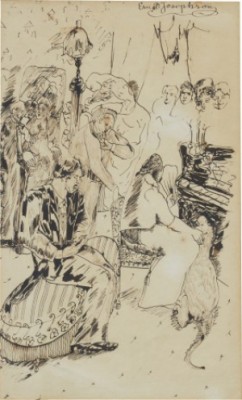 Surrealistisk Drömscen
Price SEK 20,000 (€2,153)
Estimated SEK 25,000–30,000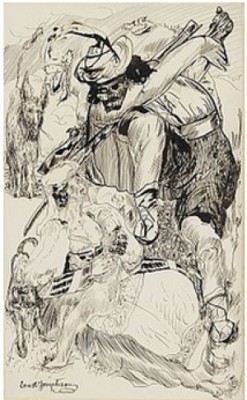 Komposition Med Figurer
Price SEK 120,000 (€13,244)
Estimated SEK 15,000–18,000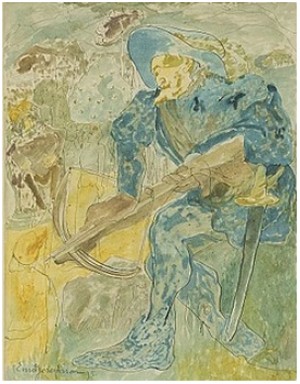 Price SEK 250,000 (€27,593)
Estimated SEK 80,000–100,000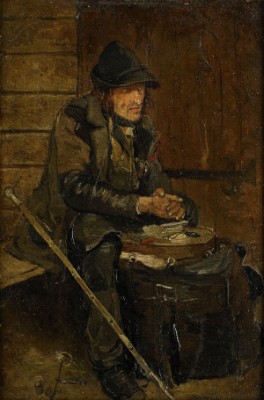 Gårdfarihandlare
Price SEK 16,000 (€1,862)
Estimated SEK 12,000–15,000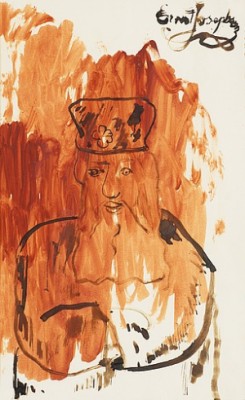 Patriarken
Price SEK 24,500 (€2,754)
Estimated SEK 25,000–30,000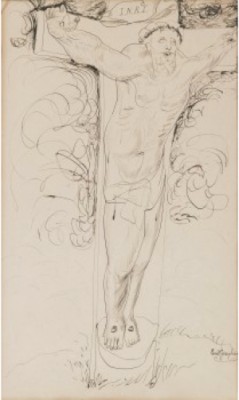 Kristus På Korset
Price SEK 15,000 (€1,686)
Estimated SEK 10,000–15,000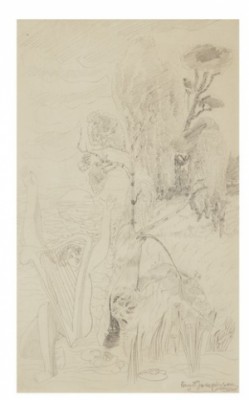 Näcken
Price SEK 42,875 (€4,819) Incl. buyer's premium
Estimated SEK 40,000–50,000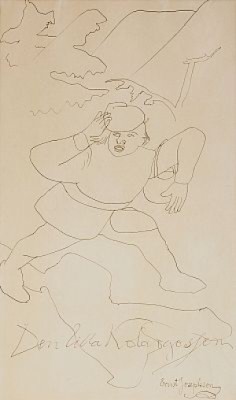 Den Lilla Kolargossen
Price SEK 10,000 (€1,117)
Estimated SEK 12,000–15,000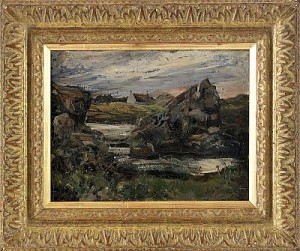 Roches Louvigny, Il De Bréhat
(Executed 1887)
Price SEK 250,000 (€27,913)
Estimated SEK 250,000–300,000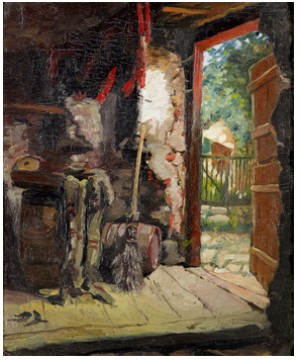 Interiör Av Ett Uthus, Visby
Price SEK 36,000 (€3,730)
Estimated SEK 40,000–50,000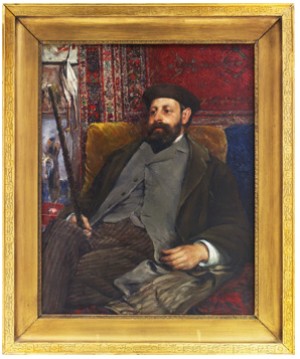 Porträtt Föreställande Konstnären Axel Borg
(1883)
Price SEK 1,200,000 (€124,332)
Estimated SEK 600,000–800,000
Hermes
Price SEK 18,000 (€1,722)
Estimated SEK 20,000–25,000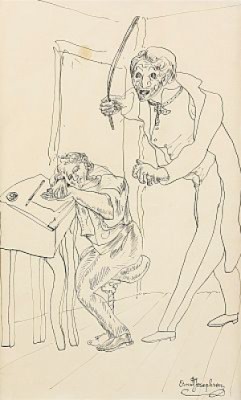 Den Förgrymmade Fadern
Price SEK 32,000 (€3,061)
Estimated SEK 12,000–15,000
Broderande Dam
Price SEK 4,800 (€471)
Estimated SEK 6,000–8,000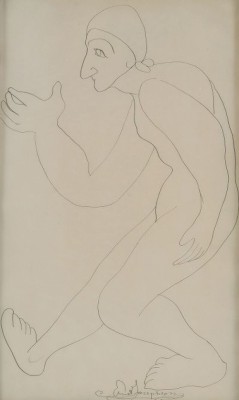 Figurstudie
Price SEK 10,000 (€943)
Estimated SEK 10,000–12,000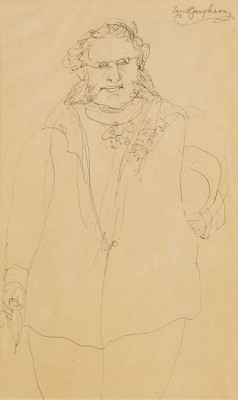 Mansfigur
Price SEK 8,500 (€801)
Estimated SEK 8,000–10,000