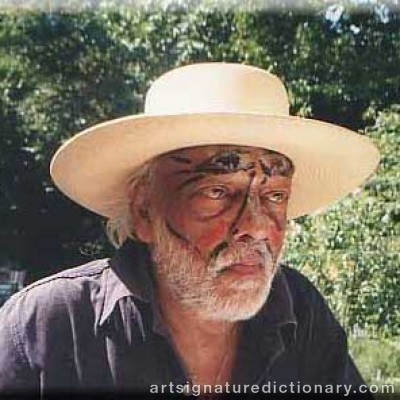 Francis Newton SOUZA

1924–2002, India
Name
Francis Newton SOUZA
Francis Newton Souza was born in 1924 in Saligao, Goa. After losing his father at a very young age and being afflicted by a serious bout of small pox, he vowed to go about life his own way. Souza was expelled for participating in the Quit India Movement while studying at the Sir J.J. School of Art in Mumbai. In 1947 he founded the Progressive Artist's Movement along with S.H. Raza, M.F Husain and K.H. Ara, among others. Of all his contemporaries from the Progressive Artists' Group, of which he was the main ideologue, Souza was perhaps the single real international success. An articulate genius, he augmented his disturbing and powerful canvases with his sharp, stylish and provocative prose.

Francis Newton Souza's unrestrained and graphic style creates thought provoking and powerful images. His repertoire of subjects covers still life, landscape, nudes and icons of Christianity, rendered boldly in a frenzied distortion of form. Souza's paintings express defiance and impatience with convention and with the banality of everyday life. Souza's works have reflected the influence of various schools of art: the folk art of his native Goa, the full-blooded paintings of the Renaissance, the religious fervor of the Catholic Church, the landscapes of the 18th and 19th century Europe and the path-breaking paintings of the moderns. A recurrent theme in his works is the conflict in a man - woman relationship, with an emphasis on sexual tension and friction. In his drawings, he uses line with economy, while still managing to capture fine detail in his forms; or he uses a a profusion of crosshatched strokes that make up the overall structure of his subject.

In 1949 he left for London where after a few years of struggle he began to make a mark on the art scene. In the 1950's Souza shot to fame with his one-man show at Gallery One in London, which is also when his autobiographical essay "Nirvana of a Maggot" was published. In 1967 he migrated to New York where he received the Guggenheim International Award. He was settled there till he passed away in 2002. Francis Newton Souza has exhibited all over the world. His works are in the collections of the Tate Gallery, London and the National Gallery of Modern Art, New Delhi. He has also exhibited at the Gallery Creuze, Paris, in 1954; at Arts 38, London, in 1975 and 1976, and at Bose Pacia Modern, New York, in 1998.
Source: http://www.saffronart.com