Frans Wilhelm ODELMARK

1849–1937, Sweden
Also known as: FWO

Verdict of guilty
C02-6-48-00/K246292-02/Beslag nr.0221-02-6421 p.1 (int.nr.59)
Oil on canvas, 47x58 cm. The visual inspection was found that the signature was done in an already dry surface. With the help of UV-light was also noted that the color of the signature was of a different material, and later painted.
Oljemålning på duk, 47x58 cm. Vid okulär besiktning kunde konstateras att påskriften var utförd på ett redan genomtorkat underlag. Med hjälp av UV-ljus kunde också konstateras att färgen i signatur och påskrift var av avvikande material och senare påförda.

Oil painting on canvas signed FW Odelmark, 70x43 cm. The painting has been restored and in the lower right corner reacts color of a suspicious manner when it is illuminated with UV light. It is possible that these are merely a reinforcement of the signature. The choice of subjects is like Odelmark but the painting is not painted by Odelmark. This painting is painted with an opaque color. Odelmark used a technique where paint is not opaque. In particular, the stones are not like Odelmark way to paint. The painting lacks Odelmark quality and use of materials. Although signature appears incorrect. The District Court's assessment: The painting gives the wrong impression of being carried out by Odelmark. It is a forgery.
Oäkta förfalskning. Oljemålning på duk signerad F W Odelmark, 70x43 cm. Målningen har restaurerats och i målningens nedre högra hörn fluorescerar färgen på ett misstänksamt sätt. Det är möjligt att det enbart rör sig om en förstärkning av signaturen. Valet av motiv är likt Odelmarks men målningen är ej målad av Odelmark. Denna målning är målad med en täckande färgbehandling. Odelmark använde däremot en slags schumrande stil, vilket innebär att färgen inte är täckande. Särskilt stenarna är olikt Odelmark. Målningen saknar Odelmarks kvalitet och materialanvändning. Även signaturen förefaller felaktig. Tingsrättens bedömning: Tavlan ger felaktigt sken av att vara utförd av Odelmark. Den är en förfalskning.

Verdict of guilty
PHM Nr. 78
Oil painting on canvas,28x23 cm, signed F.W.O. 1910. Lower right corner has been painted over and the signature has been moved to the lower left corner. Color and material indicates that the painting dates from the late 1800's, but the painting itself seems fresher than the material. The painting is made in Odelmark style. It is a direct study or copy without technological ambitions. It can be painted by a professional artist in the 1900s. The District Court's assessment: The painting has a new signature and therefore become a forgery.
Oäkta förfalskning. Oljemålning på duk, 28x23 cm, signerad F W O 1910. Nedre högra hörnet har målats över och signaturen har flyttats till det nedre vänstra hörnet. Målningsmaterialet tyder på att den är från sent 1800-tal, men själva målningen verkar färskare än materialet. Målningen är gjord i Odelmarks stil. Den är en direkt studie eller kopia utan tekniska ambitioner. Den kan vara gjord av en professionell konstnär på 1900-talet. Beträffande denna tavla har åberopats fotografi från belysning med infrarött ljus utvisade fragment av bokstäver från det bearbetade högra hörnet. Tingsrättens bedömning: Tavlan har genom övermålning och signaturtransport blivit en förfalskning.













Name
Frans Wilhelm ODELMARK
Frans Wilhelm Odelmark studerade vid Konstakademien i Düsseldorf och i München, samt under resor i södern. Han målade vanligen arkitekturmotiv, särskilt gårdsinteriörer eller partier från kyrkor, t.ex. Interiör av S:t Lorenskyrkan i Nürnberg (Nationalmuseum, Stockholm), salar med haremskvinnor, trånga gränder med kläder på tork etc. Odelmakrs rika produktion omfattar främst akvarell och olja. Odelmark har själv levt som munk i Assisi.

Representerad:
Nationalmuseum i Stockholm, Interiör av S:t Lorenzkykan i Nürnberg, Malmö Museum, Uppsala Universitetsbibliotek, Stockholms Stadshus och Nordiska Muséet.
Source: Internet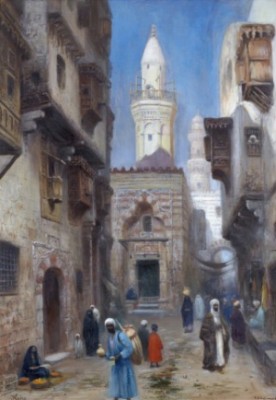 Gatuscen Från Bazar Khan Al Khalili, Kairo
Price SEK 23,000 (€2,663)
Estimated SEK 15,000–18,000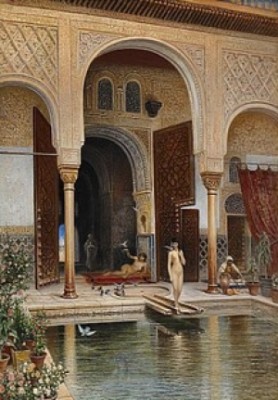 Palatsinteriör Med Haremskvinnor
(1887)
Price SEK 36,000 (€4,062)
Estimated SEK 40,000–50,000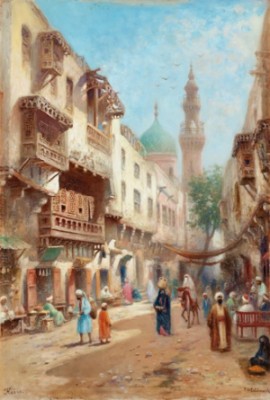 Gatuscen Från Kairo
Price SEK 34,300 (€3,855) Incl. buyer's premium
Estimated SEK 30,000–35,000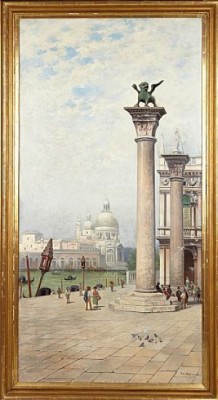 Markusplatsen, Venedig
Price SEK 7,200 (€796)
Estimated SEK 15,000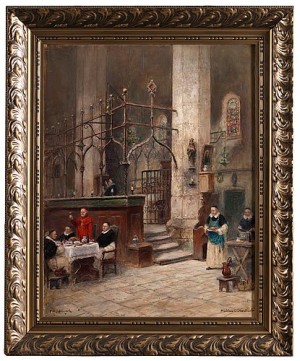 Middag För Kardinalen
Price SEK 7,000 (€746)
Estimated SEK 8,000–10,000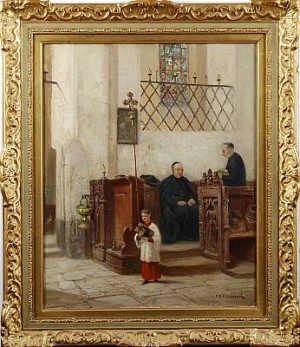 Kyrkointeriör
Price SEK 3,000 (€293)
Estimated SEK 4,000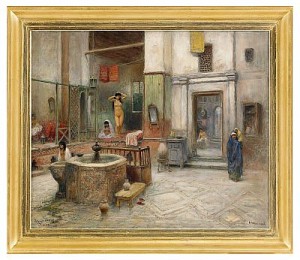 österländskt Bad - Kairo
Price SEK 37,000 (€3,539)
Estimated SEK 30,000–40,000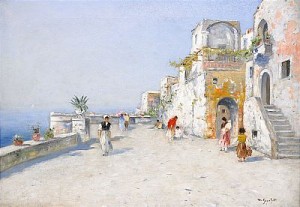 Motiv Från Venedig
Price SEK 30,000 (€2,870)
Estimated SEK 40,000–50,000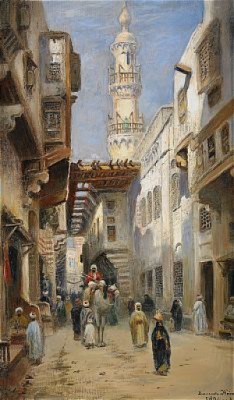 Bazargata, Kairo
Price SEK 28,000 (€2,678)
Estimated SEK 30,000–40,000
Motiv Från Falsterbo
Price SEK 4,000 (€383)
Estimated SEK 5,000
Stadsbild
Price SEK 1,300 (€129)
Estimated SEK 1,500
Bikt
Price SEK 7,000 (€687)
Estimated SEK 10,000–15,000
Köksinteriör Med Munkar
Price SEK 10,500 (€1,030)
Estimated SEK 10,000–15,000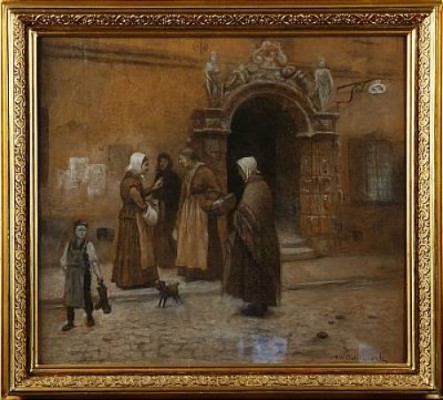 Stora Nygatan 2 Gamla Stan Stockholm
Price SEK 1,200 (€120)
Estimated SEK 3,000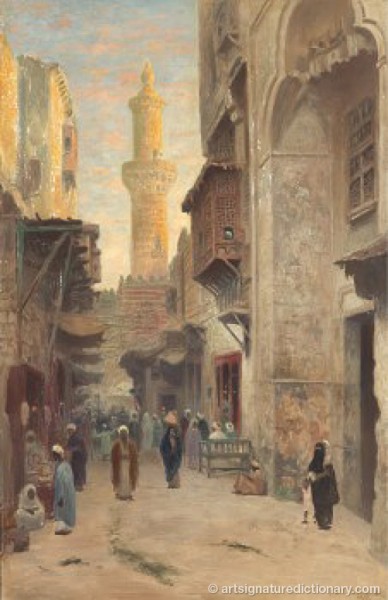 Nordafrikansk Stadsmiljö
(1899)
Price SEK 14,000 (€1,489)
Estimated SEK 8,000–10,000
Marcusplatsen, Venedig
(1889)
Price SEK 25,000 (€2,660)
Estimated SEK 12,000–15,000