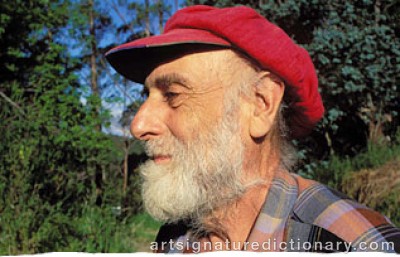 Friedensreich HUNDERTWASSER

1928–2000, Austria/New Zealand
Name
Friedensreich HUNDERTWASSER
Friedensreich Hundertwasser biografie

Wien 1928 -
auf dem Schiff "Queen Elizabeth II" vor Neuseeland 2000


Am 15. Dezember 1928 wird einer der exzentrischsten Vorzeigekünstler Wiens, als Friedrich Stowasser geboren. Erst 1949 gibt er sich den Künstlernamen Hundertwasser. Ein "außergewöhnlicher Farben- und Formensinn" wird dem Künstler schon in der Jugendzeit zugesprochen.
Der Künstler verbringt nach der Matura drei Monate an der Akademie der Bildenden Künste bei Prof. Robin Christian Andersen.
Mehr jedoch als das kurze Studium prägen Hundetwasser die Werke der Künstler Egon Schiele und Walter Kampmann, deren Ausstellungen er besucht. Lange Reisen führen den Künstler nach Italien, wo er René Brô kennenlernt, dem er nach Paris folgt. Seine künstlerische Ausbildung will Hundertwasser dort an der Ecole des Beaux-Arts fortsetzen, verlässt diese aber bereits am ersten Tag. Seit den 1950er Jahren erhält der Künstler richtungsweisende Eindrücke auf seinen zahlreichen, zum Teil abenteuerlichen Reisen, u.a. nach Marokko, Tunesien, Nepal, Tokio und Sibirien.
Friedensreich Hundertwasser entwickelt, ausgehend vom Wiener Jugendstil, Klee und den orientalischen Miniaturen, einen abstrakt-dekorativen, flächigen und farbenprächtigen Malstil mit den charakteristischen, ornamentalen Spiral- und Labyrinthformen, Kreisen, Mäandern und biomorphen Formen.
Große Erfolge kann der Künstler in den 1960er Jahren verbuchen: u.a. 1962 mit einer Retrospektive im österreichischen Pavillon auf der Biennale in Venedig oder 1964 mit einer Retrospektive in der Kestner-Gesellschaft Hannover.
Zudem erscheint der erste Oeuvre-Katalog. Der Maler ist in der ökologischen Bewegung aktiv. Sein Engagement für ein Leben in einer menschlichen und naturnahen Umwelt äußert sich neben seiner Kunst in Manifesten und provozierenden Auftritten. So zum Beispiel in der "Nacktrede" (1968) in Wien. In den Werften in der Lagune von Venedig erfolgt 1968-1972 der Umbau des alten Segelschiffs "San Giuseppe T" zur "Regentag", mit dem Hundertwasser mehrfach in See sticht. Seit Mitte der 1970er Jahre entwirft der vielseitige Künstler auch Münzen und Briefmarken, u.a. für Österreich, den Senegal und die UNO. Zudem ist Friedensreich Hundertwasser der erste europäische Künstler, dessen Werke von japanischen Meistern geschnitzt werden.
1981 erfolgt Hundertwassers Berufung zum Leiter der Meisterschule für Malerei an die Akademie der Bildenden Künste in Wien. Das bekannte Hundertwasserhaus in Wien legt sichtbares Zeugnis seiner architektonischen Vorstellungen ab, mit dessen Bau 1983 begonnen wird.
Ein Jahr vor seinem Tod arbeitet Hundertwasser an seinem Catalogue Raisonné mit. Der Künstler präsentiert das Architekturprojekt Bahnhof Uelzen.
Der Künstler stirbt im Jahre 2000 auf einem Kreuzfahrtschiff vor Neuseeland.


Friedensreich Hundertwasser biography:

Wien 1928 - auf dem Schiff "Queen Elizabeth II" vor Neuseeland 2000


The eccentric and playfully self-advertising Viennese artist known as Friedensreich Hundertwasser was born as Friedrich Stowasser on 15 December 1928. He did not assume his nom d'artiste until 1949 ("sto" meaning "one hundred" in Slavic languages and "Wasser" meaning "water").
Even in adolescence Stowasser brought home reports from school attesting to his "exceptional feeling for colour and form". After taking the examinations qualifying for university entrance, Hundertwasser spent three months at the Viennese Art Academy studying under Professor Robin Christian Andersen. Hundertwasser was, however, more indebted to the work of Egon Schiele and Walter Kampmann, which he saw at their exhibitions, than to the brief period of academic instruction.
Hundertwasser travelled extensively in Italy, where he met René Brô, whom he accompanied to Paris. Hundertwasser had thought of continuing formal training at the École des Beaux-Arts but spent only one day at that institution. Instead he found the numerous and adventurous trips he took to Morocco, Tunisia, Nepal, Tokyo and Siberia inspirational for the path he intended to follow. Taking Viennese Jugendstil as his point of departure, Hundertwasser developed an abstract, decorative, two-dimensional and vibrantly colourful, utterly distinctive style distinguished by ornamental spiral and labyrinth forms, circles, meanders and biomorphic shapes.
During the 1960s Friedensreich Hundertwasser was extremely successful, with a 1962 retrospective in the Austrian pavilion at the Venice Biennale and a 1964 retrospective mounted by the Kestner Gesellschaft in Hannover. In addition, the first comprehensive catalogue of his œuvre was published.
Active in the ecological movement, Hundertwasser was committed to making life liveable in a humane environment that was close to nature. He furthered his aims by issuing manifestos and making provocative public appearances, for instance giving a speech in the nude (1968) in Vienna. Between 1968 and 1972 Hundertwasser rehauled the old sailing vessel "San Giuseppe "' at docks in the Venice lagoon, rechristened it "Regentag" ["Rainy Day"], and going to see in it several times.
So versatile and prolific was Hundertwasser that he also designed coins and stamps for Austria, Senegal and the UN from the 1970s. Moreover, Hunderwasser was the first European artist to have work carved by Japanese master carvers. In 1981 Hundertwasser was appointed head of the master classes for painting at the Viennese Art Academy. The famous Hundertwasser House in Vienna, begun in 1983, attests to Hunderwasser's skill as an architect. The year before he died, Hundertwasser was working on a catalogue raisonné of his works and presented the Uelzen Station architectural project.
Friedensreich Hundertwasser died on a cruise ship off New Zealand in 2000.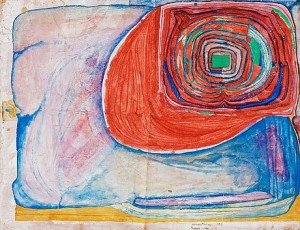 Price SEK 760,000 (€81,320)
Estimated SEK 350,000–400,000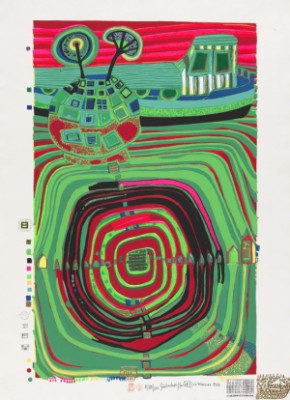 La Barca - Regentag
(1969)
Price EUR 5,250 Incl. buyer's premium
Estimated EUR 4,000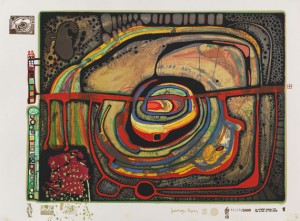 Regentag Mappe. The Portfolio Comprising 10 Silkscreen In Colors With Metal Embossings
(1971)
Price EUR 10,000 Incl. buyer's premium
Estimated EUR 9,000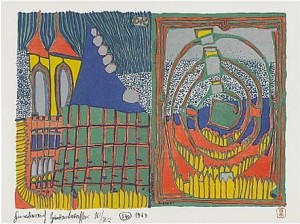 Haus Und Spirale Im Regen
(1962)
Price SEK 20,000 (€2,178)
Estimated SEK 20,000–25,000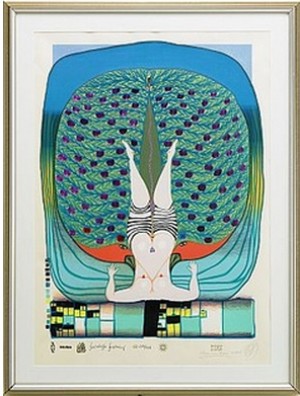 Hommage To Schröder-sonnenstern
(1972)
Price SEK 10,000 (€1,105)
Estimated SEK 12,000–15,000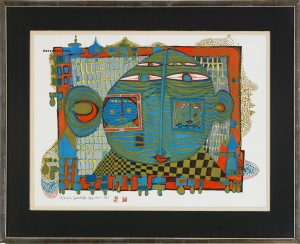 Good-bye From Africa
(Executed in 1967)
Price SEK 36,000 (€4,194)
Estimated SEK 20,000–25,000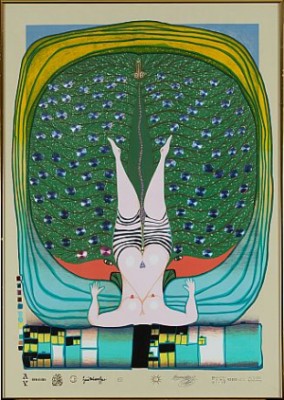 Hommage To Schröder-sonnenstern
Price SEK 2,600 (€304)
Estimated SEK 4,000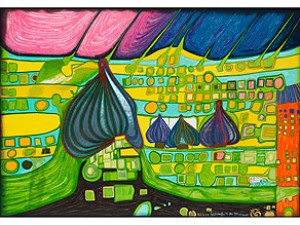 Price EUR 4,400
Estimated –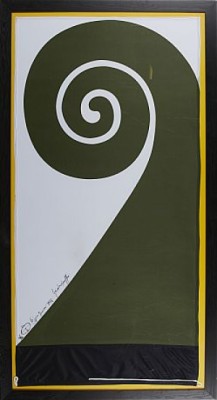 Price SEK 9,000 (€1,013)
Estimated SEK 12,000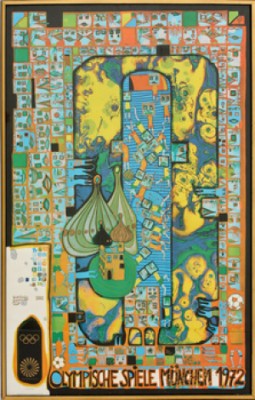 Olympiska Spelen, München 1972
Price SEK 1,500 (€170)
Estimated SEK 1,500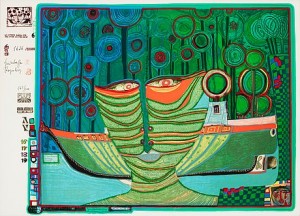 Look At It On A Rainy Day (the Regentag Portfolio) The Complete Portfolio Comprising 10 Silkscreens
Price SEK 60,000 (€6,402)
Estimated SEK 60,000–80,000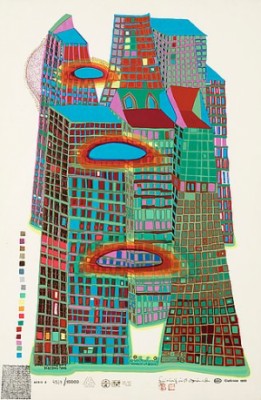 Good Morning City
(1969-70)
Price SEK 17,000 (€1,814)
Estimated SEK 8,000–10,000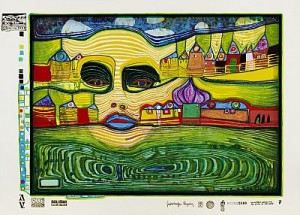 Irinaland Over The Balkans (regentag Portfolio, Plate 7)
(1971/72)
Price SEK 8,500 (€927)
Estimated SEK 5,000–6,000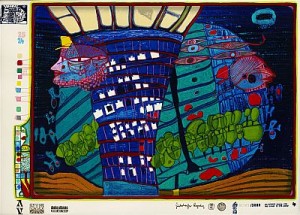 Flucht Ins All (regentag Portfolio, Plate 4)
(1971/72)
Price SEK 8,000 (€873)
Estimated SEK 5,000–6,000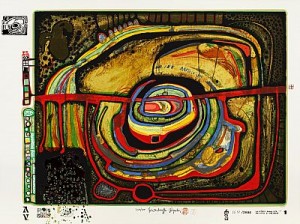 Eyebalance Number Five (regentag Portfolio, Plate 1)
(1971/72)
Price SEK 16,000 (€1,745)
Estimated SEK 12,000–15,000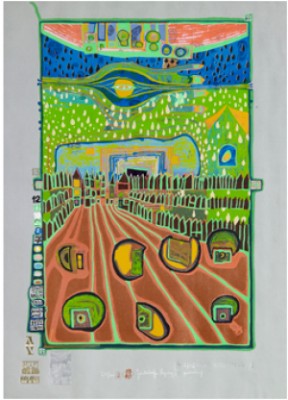 Street For Survivors". Plate 2 From Look At It On A Rainy Day
Price SEK 14,000 (€1,451)
Estimated SEK 8,000–10,000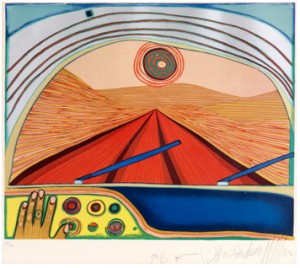 La Route éternelle
(1967)
Price SEK 27,000 (€2,797)
Estimated SEK 20,000–25,000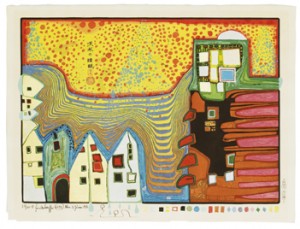 Midori No Namida - Tears Of Green. Portfolio Comprising Of 5 Colur Woodcuts (in 38 Colours). Original Box In Wood.
(1971 / 1976)
Price SEK 120,000 (€11,472)
Estimated SEK 125,000–150,000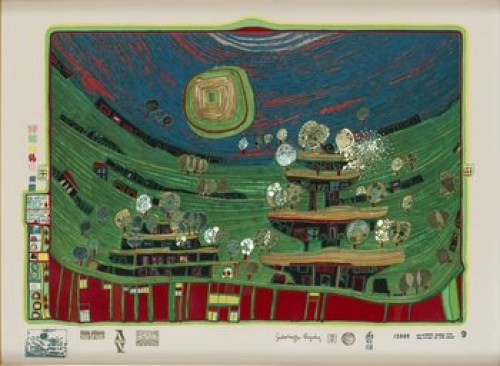 Die Häuser Hängen Unter Den Wiesen
(1971-72)
Price SEK 7,200 (€707)
Estimated SEK 5,000