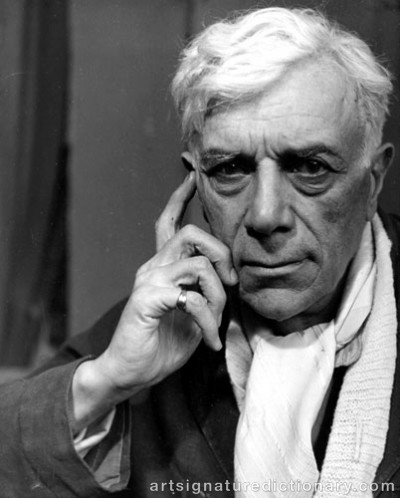 Georges BRAQUE

1882–1963, France
Also known as: GB

Verdict of guilty
0201-K115312-11
Etching, sitting nude model, Signed "GB" numbered 12/30. Ostensibly depicting a original artworks made by Georges Braque. The painting was submitted to a small auction house in Stockholm by a man from England to be sold online. But the auction house staff became suspicious of the painting's authenticity and summoned the police who took the painting seized for further investigation. When the police would interrogate the Englishman, he had disappeared - he had left the country! After the expert investigation and judgment declared that the painting is not genuine. It is a forgery. The man had also submitted two other paintings for sale. One painting signed "Zorn" and the other was signed "Olle Baertling". Although these were forged and can be seen on the respective artist page.
Etsning, sittande naken modell, Signerad "GB" numrerad 12/30. Skenbart föreställande ett äkta konstverk utförd av Georges Braque. Målningen lämnades in till ett mindre auktionshus i Stockholm av en man från England för att säljas online. Men auktionshusets personal blev misstänksamma på målningens äkthet och tillkallade polis som tog målningen i beslag för vidare utredning. När polisen skulle förhöra Engelsmannen hade han försvunnit – han hade lämnat landet! Efter expertutredning och dom förklarades att målningen inte är äkta. Det är en förfalskning. Mannen hade även lämnat in två andra målningar för försäljning. En målning signerad "Zorn" och den andra var signerad "Olle Baertling". Även dessa var falska och kan ses på respektive artistsida.

Verdict of guilty
0201-K10482-07
Gouache, signed "G. Braque", 39,4X47,3 cm, were seized in a small auction house in Stockholm in January 2007. The painting had been submitted by a woman (NB) who received the painting as collateral for a loan of 200,000 SEK. Background: The painting real owner was a man (MS) at the moment are indebted to the enforcement agency. He needs to borrow money to pay off its debt and says to the woman (NB) that the painting has been submitted to Sotheby's in London and that he will soon receive a large sum of money for the painting. The painting will not be sold! According to loan documents between the NB and MS, dated August 8, 2006 indicated that NB had the painting as collateral because MS has not paid his debt to her. He claims that the painting is valued at SEK 500.000 to 1000.000 and that NB is able to sell the painting alone. The police investigation revealed, according to a receipt, that the painting came to Sotheby's in London in December 2005. Sotheby's sent the painting to Quentin Laurens in Paris to study painting. They announced that the painting is not an authentic works of George Braque. The painting is returned to the MS in Sweden without action. Although the Modern Museum in Stockholm has studied the painting and found it to be a forgery. As provenance had MS attached art salon Liljevalchs exhibition catalog of 1954 (without pictures) and then selected a painting whose description is similar to this painting. Police investigation shows that the catalog refers to a completely different painting, in oil, which at the time was owned by a private individual. The district court's assessment: It has been found through investigation that the painting is not an authentic works of George Braque nor signed by him. The offense is aggravated fraud. The penalty was one year in prison.
Gouache, signerad "G. Braque", 39,4x47,3 cm, togs i beslag hos ett mindre auktionshus i Stockholm i januari 2007. Målningen hade lämnats till försäljning av en kvinna (NB) som erhållit målningen i pant för ett lån på 200,000 SEK. Bakgrund: Målningens egentliga ägare var en man (MS) som vid tillfället står i skuld till kronofogdemyndigheten. Han behöver låna pengar för att betala sin skuld och påstår för kvinnan (NB) att målningen har lämnats till auktionshuset Sotheby's i London för försäljning och att han inom kort kommer att få en stor summa pengar för målningen. Försäljningen blir dock aldrig av. Enligt lånehandlingen mellan NB och MS, daterad 8 augusti 2006 anges att NB fått tavlan som pant eftersom MS inte betalat sin skuld till henne. Han påstår att målningen värderats till 500,000-1.000,000 SEK och att NB har möjlighet att ensam försälja målningen. Vid polisutredningen uppger Sotheby's, enligt inlämningskvitto, att målningen kom till London i december 2005. Sotheby's lät Braqueexperten Quentin Laurens i Paris expertifiera målningen som meddelar att målningen inte är ett äkta verk av George Braque. Målningen återsänds till MS i Sverige utan åtgärd. Även Moderna Museet i Stockholm har undersökt målningen och funnit den vara en förfalskning. Som proveniens hade MS bl.a. bifogat Liljevalchs utställningskatalog från 1954 (utan bilder) och däri prickat för en målning vars beskrivning påminner om denna målning. Polisutredningen visar emellertid att katalogen avser en helt annan målning, i olja, som vid tillfället ägdes av en privatperson. Tingsrättens bedömning: Det har framkommit genom utredning att målningen inte är ett äkta verk av George Braque ej heller signerad av denne. Brottet är grovt bedrägeri. Straffpåföljd, ett års fängelse.

















Georges Braque was born in Argenteuil, Val-d'Oise. He grew up in Le Havre and trained to be a house painter and decorator like his father and grandfather. However, he also studied serious painting in the evenings at the École des Beaux-Arts, in Le Havre, from about 1897 to 1899. In Paris, he apprenticed with a decorator and was awarded his certificate in 1902. The following year, he attended the Académie Humbert, also in Paris, and painted there until 1904. It was here that he met Marie Laurencin and Francis Picabia.

His earliest works were impressionistic, but after seeing the work exhibited by the Fauves in 1905, Braque adopted a Fauvist style. The Fauves, a group that included Henri Matisse and André Derain among others, used brilliant colors and loose structures of forms to capture the most intense emotional response. Braque worked most closely with the artists Raoul Dufy and Othon Friesz, who shared Braque's hometown of Le Havre, to develop a somewhat more subdued Fauvist style. In 1906, Braque traveled with Friesz to L'Estaque, to Antwerp, and home to Le Havre to paint.

In May 1907, he successfully exhibited works in the Fauve style in the Salon des Indépendants. The same year, Braque's style began a slow evolution as he came under the strong influence of Paul Cézanne, who died in 1906, and whose works were exhibited in Paris for the first time in a large-scale, museum-like retrospective in September 1907. The 1907 Cézanne retrospective at the Salon d'Automne greatly impacted the direction that the avant-garde in Paris took, leading to the advent of Cubism.

Braque's paintings of 1908–1913 began to reflect his new interest in geometry and simultaneous perspective. He conducted an intense study of the effects of light and perspective and the technical means that painters use to represent these effects, appearing to question the most standard of artistic conventions. In his village scenes, for example, Braque frequently reduced an architectural structure to a geometric form approximating a cube, yet rendered its shading so that it looked both flat and three-dimensional by fragmenting the image. He showed this in the oil painting "House at L'estaque". In this way, Braque called attention to the very nature of visual illusion and artistic representation.

Beginning in 1909, Braque began to work closely with Picasso, who had been developing a similar approach to oil painting. At the time Pablo Picasso was influenced by Gauguin, Cézanne, African tribal masks and Iberian sculpture, while Braque was mostly interested in developing Cézanne's idea's of multiple perspectives. "A comparison of the works of Picasso and Braque during 1908 reveals that the effect of his encounter with Picasso was more to accelerate and intensify Braque's exploration of Cézanne's ideas, rather than to divert his thinking in any essential way." The invention of Cubism was a joint effort between Picasso and Braque, then residents of Montmartre, Paris. These artists were the movement's main innovators. After meeting in October or November 1907, Braque and Picasso, in particular, began working on the development of Cubism in 1908. Both artists produced paintings of monochromatic color and complex patterns of faceted form, now called Analytic Cubism.

A decisive moment in its development occurred during the summer of 1911, when Georges Braque and Pablo Picasso painted side by side in Céret, in the French Pyrenees, each artist producing paintings that are difficult—sometimes virtually impossible—to distinguish from those of the other. In 1912, they began to experiment with collage and papier collé.

Their productive collaboration continued and they worked closely together until the outbreak of World War I in 1914 when Braque enlisted in the French Army, leaving Paris to fight in the First World War.

French art critic Louis Vauxcelles first used the term Cubism, or "bizarre cubiques", in 1908 after seeing a picture by Braque. He described it as 'full of little cubes', after which the term quickly gained wide use although the two creators did not initially adopt it. Art historian Ernst Gombrich described cubism as "the most radical attempt to stamp out ambiguity and to enforce one reading of the picture - that of a man-made construction, a colored canvas." The Cubist movement spread quickly throughout Paris and Europe.

Braque was severely wounded in the war, and when he resumed his artistic career in 1917 he moved away from the harsher abstraction of cubism. Working alone, he developed a more personal style, characterized by brilliant color and textured surfaces and—following his move to the Normandy seacoast—the reappearance of the human figure. He painted many still life subjects during this time, maintaining his emphasis on structure. During his recovery he became a close friend of the cubist artist Juan Gris.

He continued to work throughout the remainder of his life, producing a considerable number of distinguished oil paintings, graphics, and sculptures, all imbued with a pervasive contemplative quality. Braque, along with Matisse, is credited for introducing Pablo Picasso to Fernand Mourlot, and most of the lithographs and book illustrations he himself created in the 1940s and '50s were produced at the Mourlot Studios. He died on 31 August 1963, in Paris. He is buried in the church cemetery in Saint-Marguerite-sur-Mer, Normandy, France. Braque's work is in most major museums throughout the world.
Source: http://www.georgesbraque.org/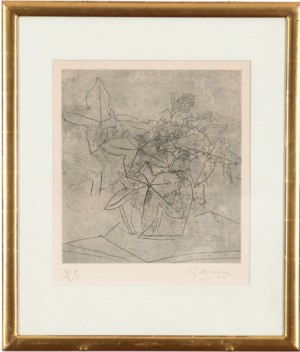 Le Lierre
(Executed in 1955)
Price EUR 850
Estimated EUR 700–1,400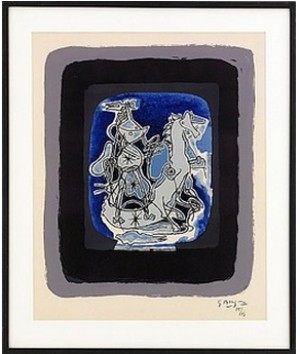 Price SEK 45,000 (€4,973)
Estimated SEK 35,000–40,000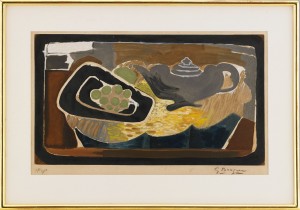 Théière Et Raisins
(1956)
Price SEK 16,000 (€1,864)
Estimated SEK 20,000–25,000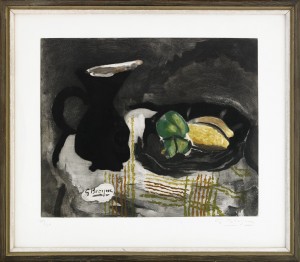 Pichet Noir Et Citrons
Price SEK 10,000 (€1,165)
Estimated SEK 15,000–18,000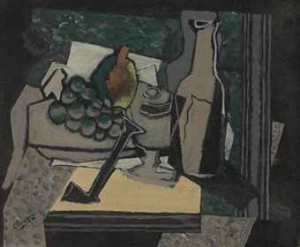 Nature Morte à La Pipe
(1919)
Price USD 650,500 (€508,268)
Estimated USD 700,000–1,000,000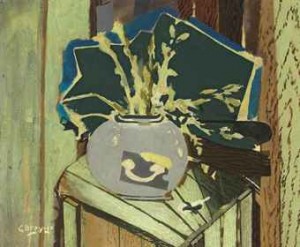 Price USD 2,882,500 (€2,252,241)
Estimated USD 3,000,000–5,000,000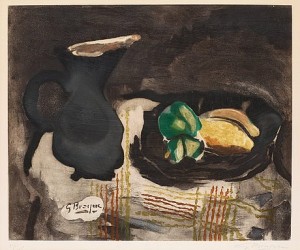 Pichet Noir Et Citrons
(Executed ca.1955)
Price SEK 22,950 (€2,671) Incl. buyer's premium
Estimated SEK 15,000–18,000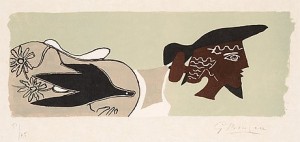 Le Poète, Ur: "cinq Poésies En Hommage à Georges Braque"
(1958)
Price SEK 0 (€0) Not sold, incl. buyer's premium
Estimated SEK 20,000–30,000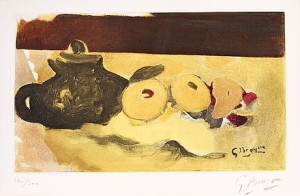 Price SEK 25,500 (€2,968) Incl. buyer's premium
Estimated SEK 18,000–20,000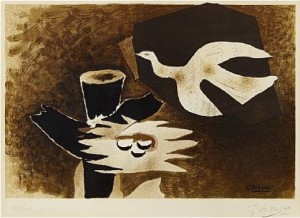 L'oiseau Et Son Nid
(1956)
Price SEK 7,000 (€769)
Estimated SEK 8,000–10,000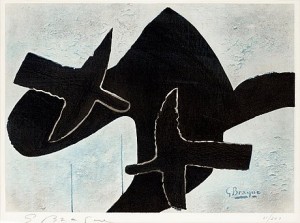 Les Oiseaux Noirs" (the Black Birds)
(1958)
Price SEK 11,500 (€1,227)
Estimated SEK 12,000–15,000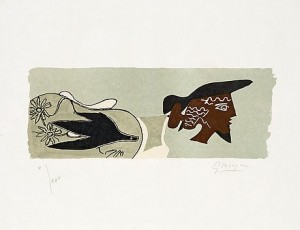 Le Poète", From: "cinq Poésies En Hommage à Georges Braque
(1958)
Price SEK 24,000 (€2,561)
Estimated SEK 12,000–15,000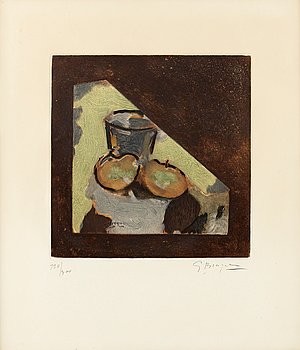 Nature Morte Oblique
(Executed ca. 1950)
Price SEK 6,200 (€679)
Estimated SEK 6,500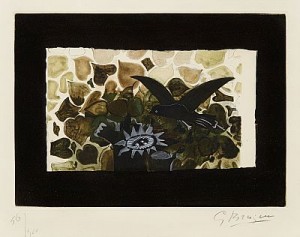 Le Nid Vert
Price SEK 26,000 (€2,836)
Estimated SEK 25,000–30,000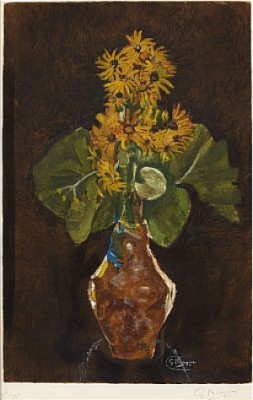 Les Marguerites
(Executed ca. 1950)
Price SEK 13,000 (€1,418)
Estimated SEK 8,000–10,000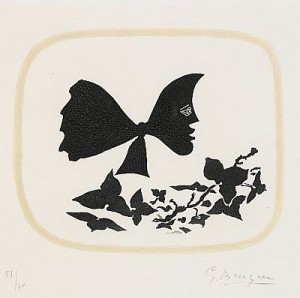 Price SEK 16,000 (€1,745)
Estimated SEK 10,000–12,000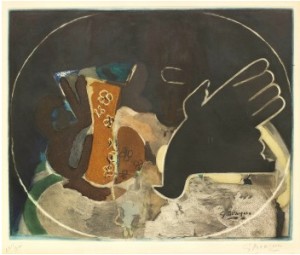 Pichet Et Oiseau
Price SEK 8,000 (€880)
Estimated SEK 10,000–12,000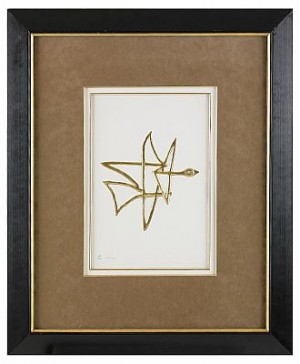 Price SEK 8,000 (€836)
Estimated SEK 10,000–12,000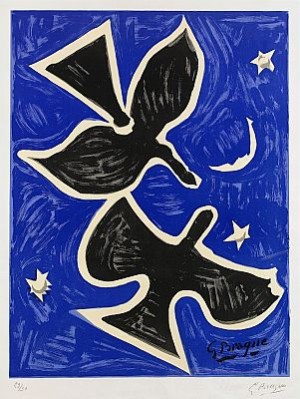 Deux Oiesaux (richesse De La France)
(1961)
Price SEK 110,000 (€11,498)
Estimated SEK 90,000–110,000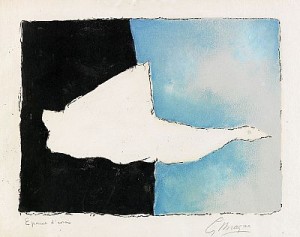 Price SEK 26,000 (€2,718)
Estimated SEK 20,000–25,000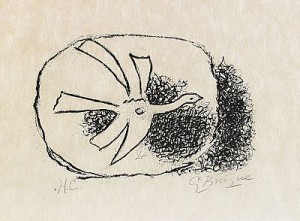 Price SEK 8,000 (€836)
Estimated SEK 7,000–9,000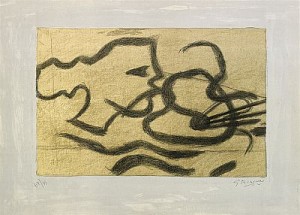 Profil à La Palette
(1953)
Price SEK 28,000 (€2,927)
Estimated SEK 30,000–40,000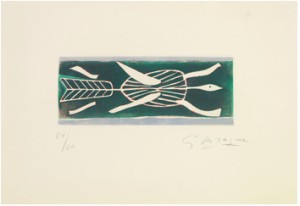 Thalassa I
Price SEK 16,000 (€1,658)
Estimated SEK 12,000–15,000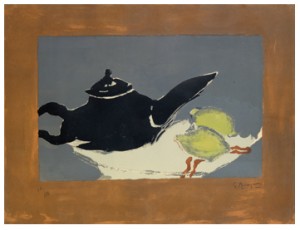 Théière Et Citrons
Price SEK 70,000 (€6,692)
Estimated SEK 70,000–80,000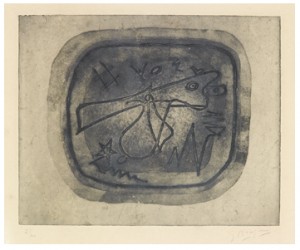 Théogonie Ii
Price SEK 4,300 (€411)
Estimated SEK 5,000–7,000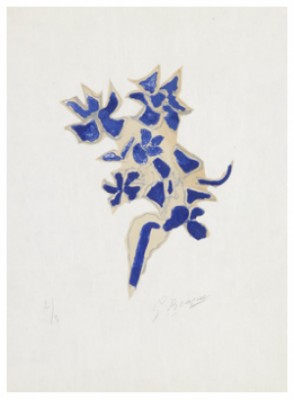 Giroflée Bleue
Price SEK 16,000 (€1,530)
Estimated SEK 12,000–15,000
Si Je Mourais Là-bas
Price SEK 12,000 (€1,147)
Estimated SEK 12,000–15,000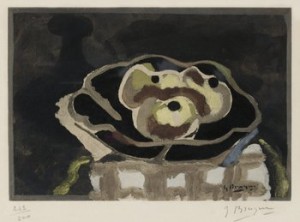 Nature Morte
Price SEK 11,500 (€1,100)
Estimated SEK 10,000–15,000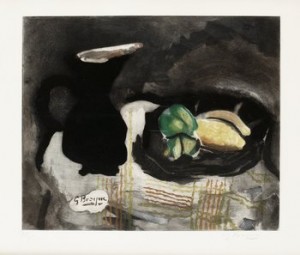 Pichet Noir Et Citrons
(c. 1960)
Price SEK 15,000 (€1,435)
Estimated SEK 2,000–25,000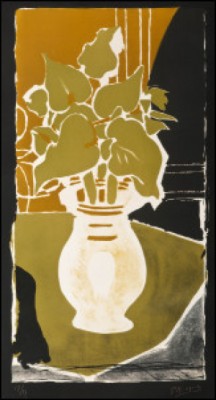 Feuilles, Couleur Lumière
Price EUR 13,500
Estimated EUR 8,000–12,000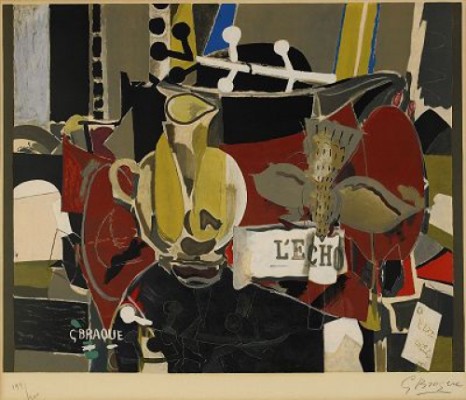 L Echo, (lit:vallier, Maeght 1041)
(1960)
Price SEK 28,000 (€2,601)
Estimated SEK 20,000–25,000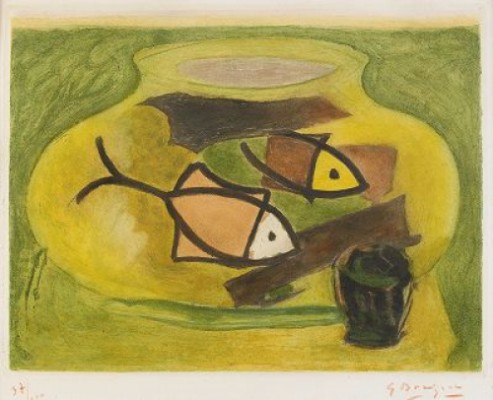 Aquarium, (lit:allier, Maeght 1007)
(1955)
Price SEK 11,000 (€1,022)
Estimated SEK 8,000–10,000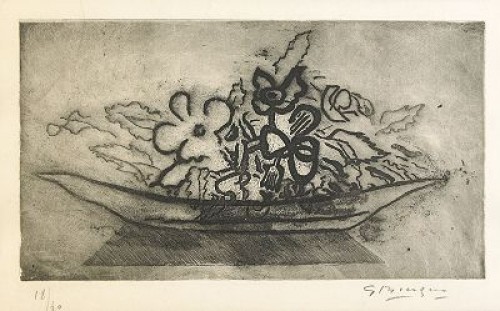 Corbeille De Fleurs, (lit: Vallier 71)
(1951)
Price SEK 9,000 (€836)
Estimated SEK 8,000–10,000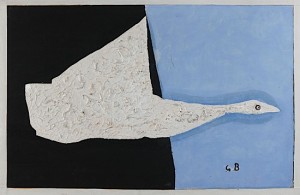 Price EUR 335,122
Estimated EUR 120,000–160,000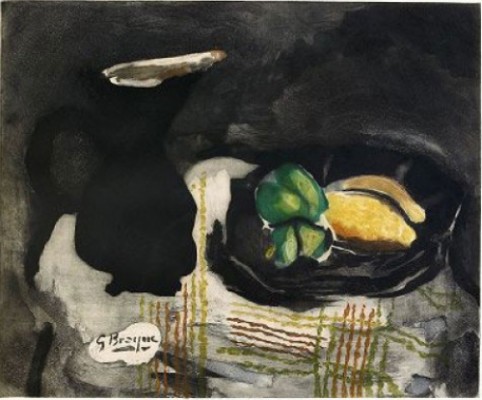 Pichet Noir Et Citrons
Price SEK 11,000 (€1,183)
Estimated SEK 12,000–15,000