Gerald STEFFE

1939, Austria/Sweden
Lived & Active In
Stockholm, Sweden
Gerald Steffe studied at Konstfackskolan in Linz, Austria, at the Academy in Vienna and the Art Academy in Stockholm. He is heavily influenced by Viennese post-war surrealism with deformations in vivid colors.
Gerald Steffe studerade vid Konstfackskolan i Linz, Österrike, vid Konstakademin i Wien och Konstakademien i Stockholm. Han är starkt påverkad av Wiensk efterkrigs-surrealism med deformationer i kraftiga färger.

Separatutställningar:
1965 Galleri Karlsson, Stockholm. 1967 Galerie Sigmundshof, Berlin. 1970 Konstforum, Norrköping. A.H. Grafik, Stockholm. 1973 Västerås Konstmuseum. 1974 E.P. Galleri, Düsseldorf, Tyskland. 1975 Galleri Unicorn, Köpenhamn, Danmark. Galleri latina, Palma de Mallorca, Spanien. 1976 L.I.A Surabaya, Indonesien, Balai Budaya, Jakarta, Indonesien. 1980 Galleri Herrgårdsvillan, Furusund. 1982 Grafiska Sällskapet, Stockholm. Taller Galleria Fort, Cadaques, Spanien. 1986 Asociacion Latinoamericana de Baleares, Galerie de Arta, Palma de Mallorca. 1987 C.D.B. Landeskulturzentrum Linz, Österrike. 1988 Utställningshallen, Lycksele Kulturnämnd. Lidingögalleriet, Lidingö Kulturnämnd. 1989 Vetlanda museum. Konstnärshuset, Stockholm. 1990 Galeria Habana del Este, Havanna, Cuba. Galleri Joker, Norrtälje. Nacka konsthall, Nacka Forum, Nacka. 1991 Centro Provincial de Artes Plasticas Y Diseno, Havanna, Cuba. 1992 Galeria de Arte Municipal, Alamar, Havanna, Cuba.Taller Exerimental de Grafika de la Habana, Cuba. Casa de la Cultura, Haydee Santamaria, Moron, Cuba. 1994. Musikmuseum, Stockholm. 1996 Väsby konsthall, Upplands Väsby. 1998 Galleri José Marti, Stockholm. 2001. Bohusgalleri, Uddevalla. 2006 Salas de Exposiciones, Teatro Presidente, San Salvador. Tornby konsthall, Linköping.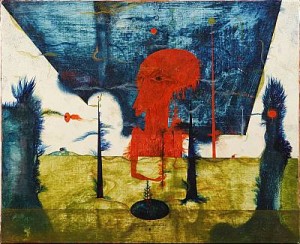 Komposition Med Röd Figur
(1963)
Price SEK 1,500 (€150)
Estimated SEK 2,000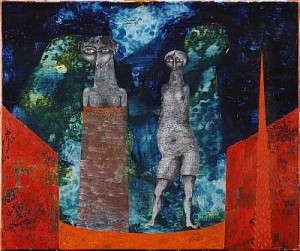 Komposition Med Figurer
(1964)
Price SEK 2,000 (€200)
Estimated SEK 2,000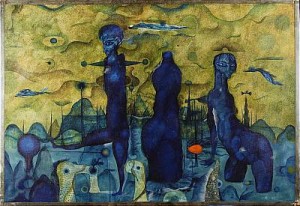 Komposition Med Figurer
(1964)
Price SEK 4,200 (€419)
Estimated SEK 4,000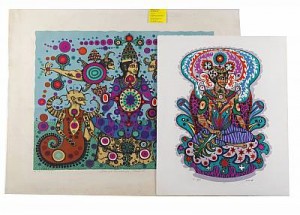 (3), Figurkompositioner
Price SEK 1,000 (€101)
Estimated SEK 1,200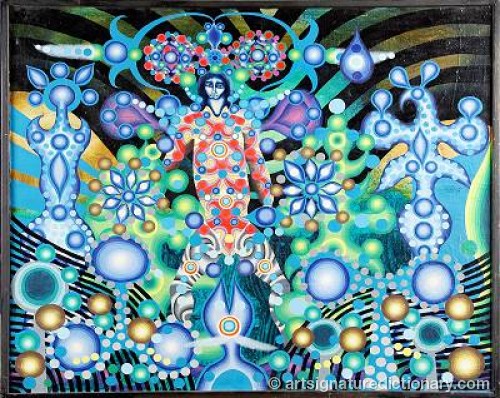 Price SEK 9,000 (€952)
Estimated SEK 4,000