Greta GERELL
1898–1982, Sweden
Also known as: GG
Name
Anna Margareta Ulrika GERELL
Greta Gerell Studied at the Art Academy in Stockholm and at Althin painting school and in Paris. She undertook trips to most countries in Europe but it was to France, especially Paris, which she always returned. She paints realistic urban environments often cafe from Paris, being also natural environments, especially with horses and she received many scholarships and awards. She had studios in central Stockholm, the Hemmarö in Stockholm archipelago and in Paris.
Source: Art Signature Dictionary
Anna Margareta Ulrika (Greta) Gerell Studerade vid Konstakademien i Stockholm samt vid Althins målarskola samt i Paris. Hon företog resor till de flesta länder i Europa men det var till Frankrike, särskilt Paris, som hon alltid återvände. Hon målar realistiska stads- cafémiljöer ofta från Paris, därtill även naturmiljöer med djur ofta hästar och hon fick många stipendier och utmärkelser. Hon hade ateljéer i centrala Stockholm, på Hemmarö i Stockholms norra skärgård och i Paris.
Source: Art Signature Dictionary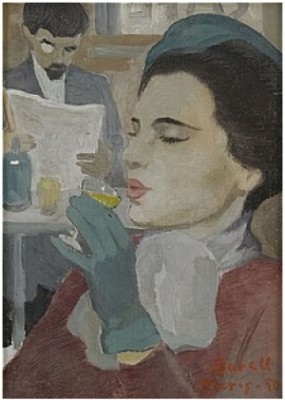 Price SEK 32,000 (€3,444)
Estimated SEK 15,000–18,000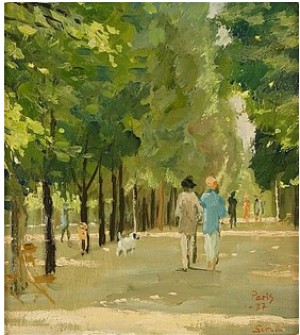 Price SEK 32,000 (€3,444)
Estimated SEK 10,000–12,000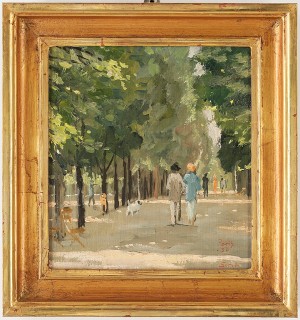 Price SEK 8,700 (€937)
Estimated SEK 6,000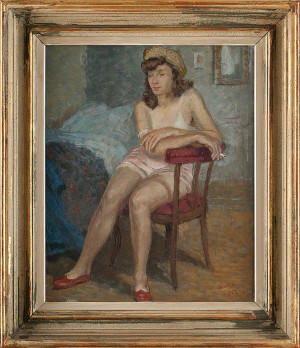 Sittande Modell
Price SEK 13,100 (€1,412)
Estimated SEK 3,000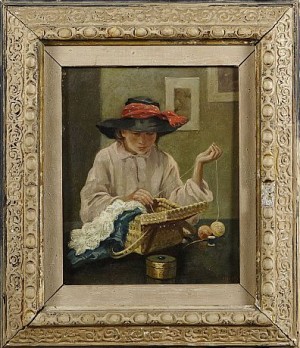 Handarbete
Price SEK 13,500 (€1,482)
Estimated SEK 6,000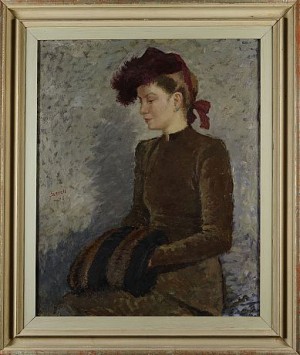 Price SEK 4,500 (€503)
Estimated SEK 6,000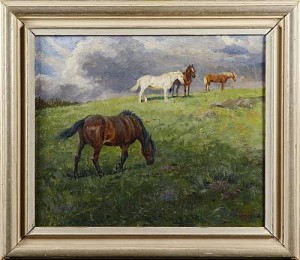 Price SEK 3,000 (€329)
Estimated SEK 3,000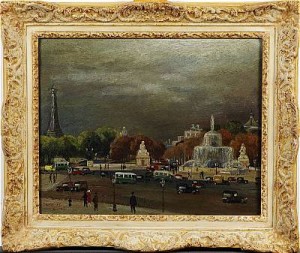 Ovädersstämning - Paris
(-35)
Price SEK 8,000 (€893)
Estimated SEK 12,000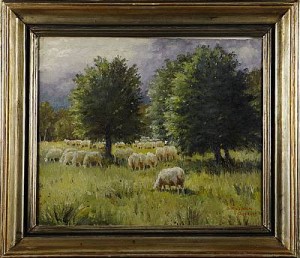 Motiv Från Drottningholm, Landska Med Får
(-34)
Price SEK 7,500 (€848)
Estimated SEK 8,000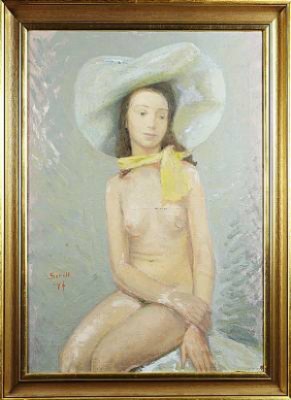 Price SEK 7,000 (€794)
Estimated SEK 6,000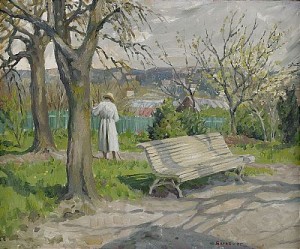 Tidig Vår - Drottningholm
(-35)
Price SEK 20,000 (€2,194)
Estimated SEK 20,000–25,000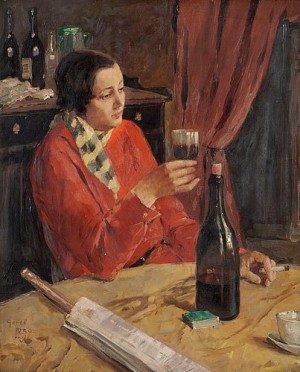 Självporträtt På Café I Paris
(1930)
Price SEK 20,000 (€2,172)
Estimated SEK 20,000–25,000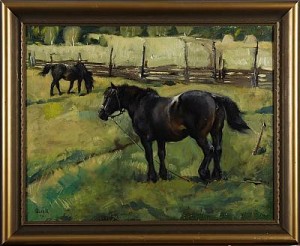 Price SEK 4,200 (€446)
Estimated SEK 4,000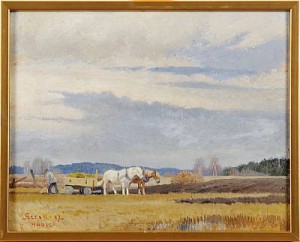 Arbetshästar På Höståker
(1947)
Price SEK 2,500 (€250)
Estimated SEK 3,000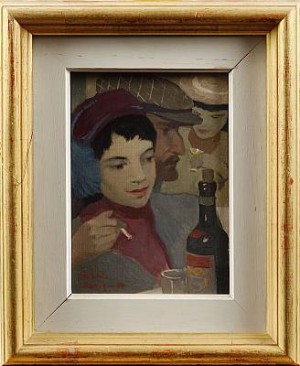 Price SEK 9,000 (€910)
Estimated SEK 2,500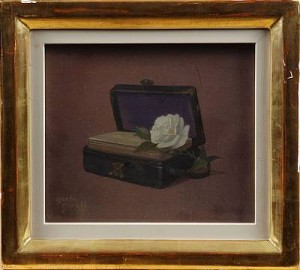 Stilleben Med Bibel
Price SEK 2,700 (€273)
Estimated SEK 2,000
Liten Flicka Med Tunnband - Parkbild Från Paris
(1939)
Price SEK 15,000 (€1,435)
Estimated SEK 10,000–12,000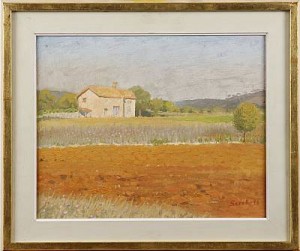 Sommarlandskap Med Hus
(1946)
Price SEK 3,000 (€288)
Estimated SEK 1,500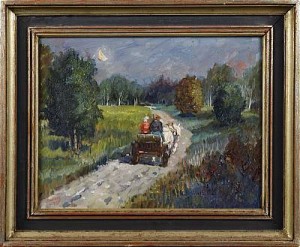 Price SEK 3,000 (€288)
Estimated SEK 1,200
Läsande Flicka
Price SEK 1,400 (€137)
Estimated SEK 1,000
"det Bördiga Provence
Price SEK 1,000 (€99)
Estimated SEK 1,500
Price SEK 0 (€0)
Estimated SEK 3,000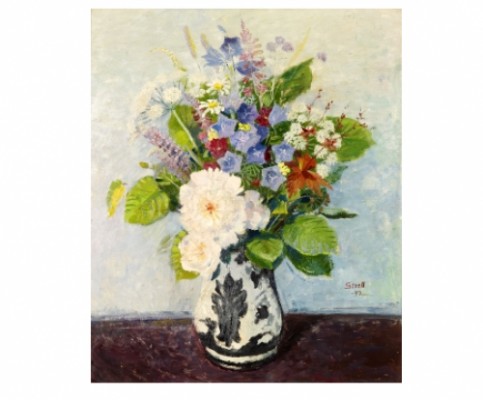 Stilleben Med Sommarblomster
(1942)
Price SEK 5,000 (€471)
Estimated SEK 5,000–6,000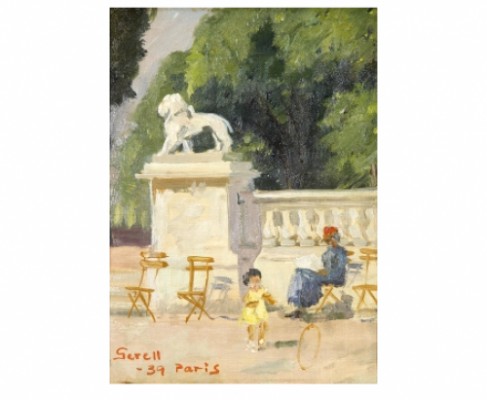 Lekande Flicka I Luxemburgträdgården
(1939)
Price SEK 5,000 (€471)
Estimated SEK 6,000–8,000