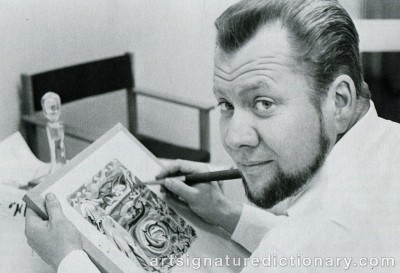 Gunnar BRUSEWITZ

1924–2004, Sweden
Also known as: GBZ

Verdict of guilty
0201-K55715-12
Watercolor, Swans on ice, signed "G Brusewitz 6-4-76", 24,5 x30 cm. The painting had been submitted to an auction house in Stockholm for sale via the internet. The auction house assessed the painting as uncertain as regards of the authenticity and contacted police who took the painting seized for further investigation. Investigation showed that the painting was a forgery. According to several experts was paintings as well as signature not performed by the artist Gunnar Brusewitz, however, the painting was well executed and could easily be mistaken for a genuine work. Court: The painting has not been performed by Gunnar Brusewitz nor signed by him. The painting shall be forfeited.
Akvarell, Svanar på is, signerad "G Brusewitz 6-4-76", 24,5x30 cm. Målningen hade lämnats in till ett auktionshus i Stockholm för försäljning via internet. Auktionshuset bedömde målningen som osäker vad gäller äktheten och kontaktade polis som tog målningen i beslag för vidare undersökning. Utredningen visade att målningen var en förfalskning. Enligt flera experter var såväl måleri som signatur inte utförda av konstnären Gunnar Brusewitz, dock var målningen väl utförd och kunde lätt förväxlas med ett äkta verk. Domstolens beslut: Målningen har inte utförts av Gunnar Brusewitz ej heller signerats av denne. Målningen skall förverkas.










Name
Kurt, Gunnar, BRUSEWITZ
Gunnar Brusewitz (bror till Anita Bruzewitz). Känd som djurmålare, oftast akvareller.

Utbildning:
Började måla privat för Zacha Faith-Ell i Strängnäs 1941. Lena Börjessons skulpturskola 1941-1942. Signe Barths målarskola 1943, Konstakademien 1949.

Började illustrera i tidningar och tidskrifter 1942. Reportagetecknare och journalist i Stockholmstidningen 1947-1950. Medarbetare i Svenska Dagbladet sedan 1961. Medarbetare i Sveriges Radio-TV sedan 1968 framförallt med naturprogram.

Brusewitz utformade diplomen till Nobelpriset i litteratur mellan åren 1963 och 1988.

Separatutställningar:
London, Helsingfors, Raumo, Reykjavik, Melbourne, Mainau, Chicago, San Francisco, Philadelphia och utställningar på Naturhistoriska Riksmuseet, Sjöhistoriska museet och Stockholms stadsmuseum.

Representerad: Nationalmuseum.

Source: http://birds.nu http://sv.wikipedia.org/wiki/Gunnar_Brusewitz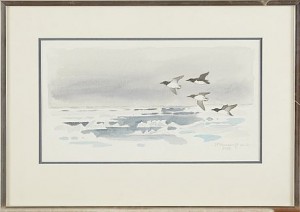 Flygande Fåglar över Islandskap
(-80)
Price SEK 4,800 (€546)
Estimated SEK 4,000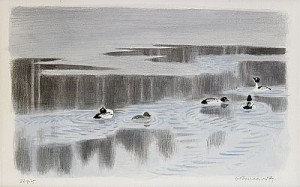 Price SEK 8,000 (€896)
Estimated SEK 12,000–15,000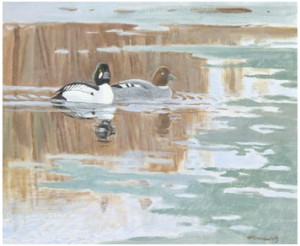 Simmande Knipor
Price SEK 18,000 (€1,948)
Estimated SEK 20,000–25,000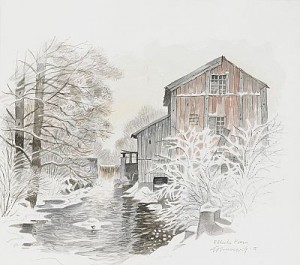 Price SEK 17,000 (€1,770)
Estimated SEK 18,000–20,000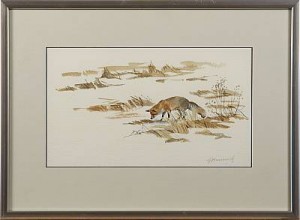 Räv I Vinterlandskap
Price SEK 5,500 (€564)
Estimated SEK 3,000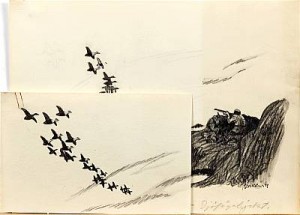 Sjöfågeljakt
Price SEK 1,400 (€138)
Estimated SEK 1,500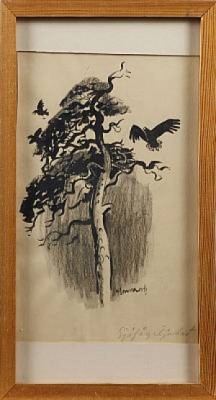 Sjöfågeljakt
Price SEK 1,500 (€147)
Estimated SEK 1,500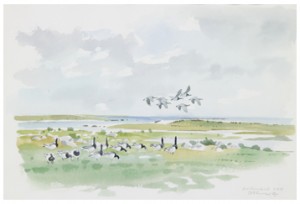 Sträckande Fåglar
Price SEK 11,000 (€1,052)
Estimated SEK 8,000–10,000
Vätö - Stockholms Skärgård
Price SEK 30,000 (€2,870)
Estimated SEK 25,000–30,000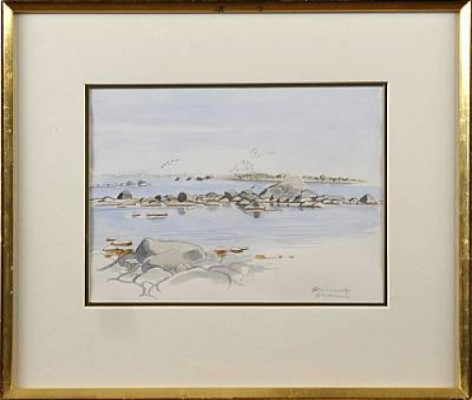 Valsöarna
Price SEK 2,600 (€254)
Estimated SEK 3,000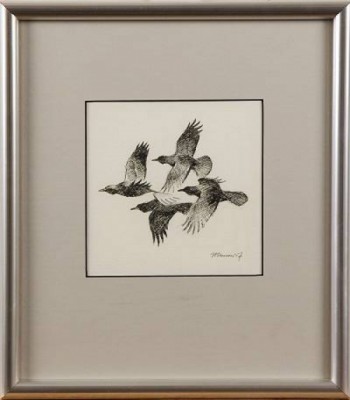 Korp
Price SEK 1,000 (€98)
Estimated SEK 1,500