Hans Fredrik GUDE

1825–1903, Norway/Germany
Also known as: HFG

Verdict of guilty
K181385-08
Oil on canvas, landscape with cows, signed "HF Gude", dated -92. The police Stockholm City was called by one Scndinaviskt auction for internet commerce. They had two paintings submitted for sale, signed Hans Gude and Fritz Winter.
Oljemålning på pannå. Polisen Stockholm City blev uppringd av ett Scndinaviskt auktionshus för internethandel. De hade fått två tavlor inlämnade för försäljning, signerade Hans Gude och Fritz Winter.

Verdict of guilty
K134512-08
Oil on canvas, Norwegian landscape with running water, signed "HF Gude" dated 94, approx. 75x90 cm. The painting was submitted to a major auction house in Stockholm for sale. The auction house contacted Hans Gude's son to examine the painting. It was found to be a forgery, police were called who took the painting seized. The owner had bought the painting at an auction in Värmland. Cataloged as the unidentified artist. The auction house had thus transferred to the buyer to investigate its authenticity. After an expert assessment and judgment declared that the painting is not genuine. It is a forgery.
Oljemålning på duk, Norskt landskap med rinnande vatten, signerad "HF Gude" daterad 94, ca. 75x90 cm. Målningen lämnades till ett stort auktionshus i Stockholm för försäljning. Auktionshuset kontaktade Hans Gude´s son för att granska målningen. Den konstaterades vara en förfalskning, polis tillkallades som tog målningen i beslag. Ägaren hade köpt målningen på en auktion i Värmland. Katalogiserad som som oidentifierad konstnär. Auktionshuset hade därmed överlåtit på köparen att undersöka äktheten. Efter expertutredning och dom förklarades att målningen inte är äkta. Det är en förfalskning.

Verdict of guilty
0201-K142931-13
Oil painting on panel with motifs depicting Norwegian landscape with mountains in the background, signed "H. Gude -81" size 52x65 cm. The painting was purchased by an individual from an online auction house in Stockholm in spring 2013. After having inspected the painting returned the buyer the painting when it was probably not genuine. Police contacted several experts who examined the painting in which it was established that it was a forgery. The owner (GB) who submitted the painting to the auction house said in a police interrogation that he received the painting in 1990 by a person (SE) as partial payment for a debt. (SE) had a criminal background and now deceased.
Oljemålning på pannå med motiv föreställande Norskt landskap med fjäll i bakgrunden, signerad "H. Gude -81", storlek 52x65 cm. Målningen köptes av en privatperson från ett online auktions hus i Stockholm våren 2013. Efter att ha inspekterat målningen återlämnade köparen målningen då den troligen inte var äkta. Polisen kontaktade experter som undersökte målningen varvid kunde konstateras att det var en förfalskning. Ägaren (GB) som lämnat in målningen till auktionshuset uppgav i polisens förhör att han fått målningen 1990 av en person (SE) som delbetalning för en skuld. (SE) hade ett kriminellt förflutet och numera avliden.









Hans Fredrik Gude började tidigt studera i Tegneskolen i Kristiania samt för Johan Flintoe, som bland annat målade stilsäkra fjällutsikter. 1841 kom han till Düsseldorf. Han tänkte utbilda sig till historiemålare, men påverkades i realistisk riktning av Andreas Achenbach och specialiserade sig på landskapsmåleri. Han gick i lära hos Johann Wilhelm Schirmer och påverkades även av denne lyriskt inställda målare.
1843 gjorde Gude en studieresa i sitt hemland och blev efter återkomsten till Düsseldorf för första gången uppmärksammad; det var med ett högfjällsmotiv, som inköptes av Kristiania konstförening. Under resan lärde han känna Adolph Tidemand. Under åren som följde vistades Gude mer i Norge, än i Düsseldorf. Under de oroliga åren 1848-49 blev konstnärerna tvungna att hålla sig hemma. Under denna tid utförde Gude ett beställningsarbete på uppdrag av Oskar I: fyra utsikter från Sognefjord att hänga på slottet Oscarshall på Bygdøy. 1851 återvände Gude till Düsseldorf. Många unga målare från Norge och Sverige samlades där.
Gude efterträdde Schirmers som professor 1854 vid Düsseldorfs konstakademi, en befattning han lämnade 1862, då han slog sig ner i Wales.1864-1880 var han professor i Karlsruhe, 1880-1901 professor i Berlin där han var föreståndare för en av akademiens mästarateljéer. Mycket eftersökt som målare, vann han många utmärkelser i Tyskland och andra länder, och som lärare utövade han ett starkt inflytande på den närmast yngre generationen. Karlsruhe blev under hans vistelse där en samlingsplats för en krets av unga norska målare. I början av 1870-talet bodde där bland andra Eilif Peterssen, Christian Krohg, Otto Sinding och Fritz Thaulow.
Gude gjorde studieresor till Rhenlandet, Sydtyskland,Skottland och Wales. Norge besökte han fortfarande upprepade gånger, och mer än någon annan målare på sin tid väckte han inom och utom Norge kunskap om och intresse för landets natur. Från att till en början ha varit högfjällens, dalarnas och fjordarnas målare blev han havskustens. Hans sätt att komponera sina landskap liksom att utarbeta dem var det för Düsseldorfskolan typiska, men han bidrog onekligen till att föra skolan framåt. Hans studier i Wales och vid norska kusten medförde mera omedelbarhet i blick och känsla. Under sitt Berlinskede fann han en ny motivkrets vid Östersjöns södra kust. Han målade marinmotiv med staffage av båtar och fiskare. Han utförde även raderingar. Hans Fredrik Gude begravdes på Vår Frelsers gravlund i Oslo.
Source: From Wikipedia, the free encyclopedia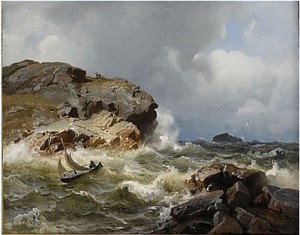 Price SEK 50,000 (€5,400)
Estimated SEK 60,000–80,000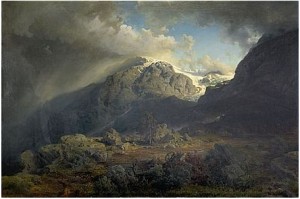 Price SEK 280,000 (€30,904)
Estimated SEK 350,000–400,000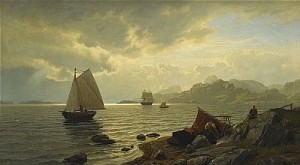 Price SEK 360,000 (€40,622)
Estimated SEK 350,000–400,000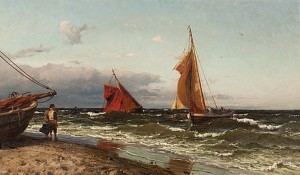 Price SEK 0 (€0) Not sold
Estimated SEK 400,000–500,000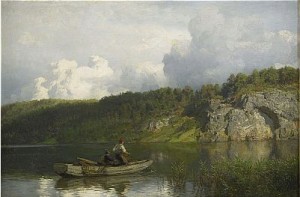 Price SEK 85,000 (€9,392)
Estimated SEK 70,000–80,000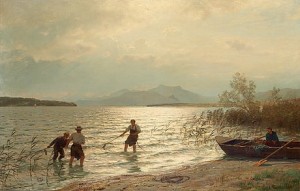 Price SEK 500,000 (€54,000)
Estimated SEK 400,000–600,000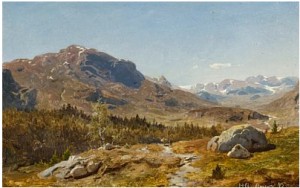 Price NOK 66,000 (€8,258)
Estimated NOK 35,000–40,000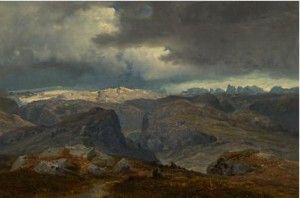 Høyfjell
Price NOK 80,000 (€10,010)
Estimated NOK 100,000–150,000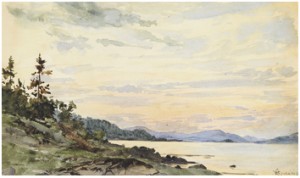 Kustlandskap Vid Solnedgång
Price SEK 6,000 (€622)
Estimated SEK 8,000–10,000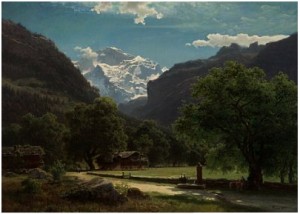 Nøttealléen Ved Interlaken Med. Die Jungfrau I Bakgrunnen
(1853)
Price NOK 750,000 (€89,535)
Estimated NOK 1,000,000–1,200,000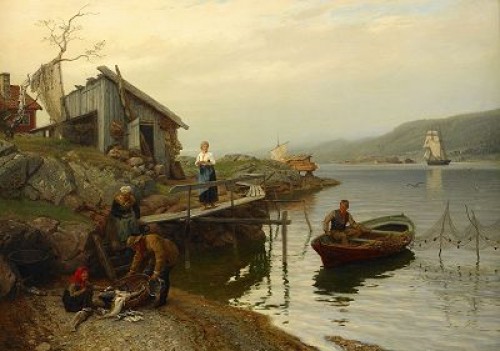 Fiskarfamilj Vittjar Fångsten
(1877)
Price SEK 620,000 (€58,447)
Estimated SEK 600,000–800,000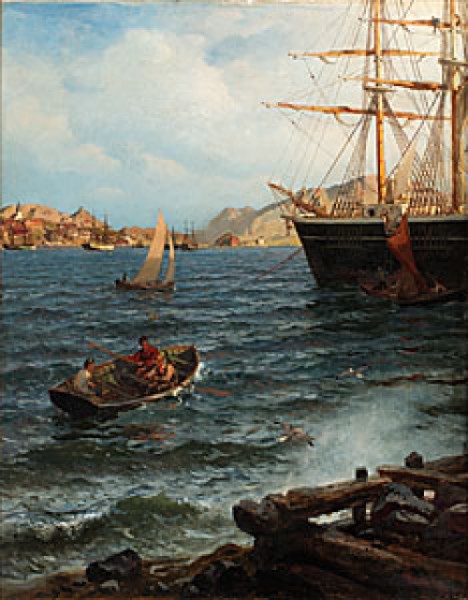 Price SEK 195,000 (€17,727)
Estimated SEK 300,000–350,000