Hans DAHL

1849–1937, Norway

Oil on canvas, Landscape with boat and figures, 58x82 cm, signed "Hans Dahl." Analysis of the painting did not show any changes, but in the lower right corner seems slightly duller than the painting in general. Microscopic examination shows that the signing is fused with the painting. This indicates that the signature is painted there, then the painting was performed. The signature would then be original. It is probably a copy made ​​in the 1890s. The painting is performed on a type of canvas started to be used from 1870 to 1880. It is naive painted by, probably, a provincial painter who lacked an eye for detail. The painting is thus a copy without it having stated. Hans Dahl was a famous Norwegian artist. He was a pupil of Hans Gude, who belonged to the Dusseldorf School, active 1840-60. This painting is typical Norwegian. The District Court's assessment: The painting has not been described as a copy. Therefore, it is a counterfeit.
Oljemålning på duk, landskap med båt och figurer, 58x82 cm, signerad "Hans Dahl". Analys av målningen har ej visat några förändringar men i dess högra nedre hörn förefaller något mattare än målningen i övrigt. Undersökning i mikroskop visar att signeringen smält ihop med målningen i övrigt. – Detta tyder på att signaturen sattes dit då den var nymålad. Den skulle sålunda ha kvar sin ursprungliga signering. Det är troligen en kopia gjord på 1890-talet. Målningen är utförd på en typ av duk som man började använda 1870-1880. Den är naivt målad av, troligen, en landsortsmålare som saknade sinne för detaljer. Målningen är sålunda en kopia utan att det har angivits. Hans Dahl var en välkänd Norsk konstnär. Han var elev till Hans Gude, som tillhörde Düsseldorfskolan, aktiv 1840-60. Denna målning är typisk Norsk. Tingsrättens bedömning: Målningen har ej har redovisats som en kopia. Det är en förfalskning.

Verdict of guilty
0201-K337554-13
Oil painting on panel, portrait of a young woman, signed "Hans Dahl", size 15,5x10 cm. The painting was sold at an online auction house in Stockholm Sweden autumn 2013, price SEK 2,200 (about 240 euros). The purchaser who lived in Norway doubted the authenticity and contacted experts for examination of the painting that immediately noted that the signature was painted later. The purchaser returned the painting to the auction house branch in Gothenburg and got the purchase price back. The painting was handed over to the police.
Oljemålning på pannå, porträtt av kvinna, signerad "Hans Dahl", storlek 15,5x10 cm. Målningen såldes hos ett online auktionshus i Stockholm hösten 2013, pris SEK 2,200 (ca. 240 euro). Köparen som var bosatt i Norge tvivlade på äktheten och lämnade målningen till expertis som genast konstaterade att signaturen var påmålad i efterhand. Köparen reklamerade målningen hos auktionshusets filial i Göteborg och fick köpesumman återbetald. Målningen överlämnades till polisen.

Verdict of guilty
0201-K146386-14
Oil on canvas, motif with man and young woman in a sailboat, signed "Hans Dahl", size 100,5x150,5 cm. The painting was for sale at a major auction house in Stockholm, Sweden in spring 2012. cataloged as "På fjorden" Estimated price SEK 80.000-100.000 (8.800-11.000 euro). The staff at the auction house suspect, however, that the painting was not genuine and contacted the police for further investigation. Both the technical investigation and experts have examined the painting. The motif of the sailboat is a copy of Albert Edelfelt painting "At sea" located at the Gothenburg Museum in Sweden. The painting has been provided with a forged signature in order to lull potential buyers in the belief that it is a genuine painting by Hans Dahl. It is a forgery and has been forfeited.
Oljemålning på duk, motiv med man och ung kvinna i segelbåt, signerad "Hans Dahl", storlek 100,5x150,5 cm. Målningen var till salu hos ett större auktionshus i Stockholm våren 2012. Katalogiserad "På fjorden" till ett utropspris av 80.000-100.000 kronor. Personalen hos auktionshuset misstänkte dock att målningen inte var äkta och kontaktade polisen för vidare utredning. Såväl teknisk undersökning som sakkunnig expertis har granskat målningen. Motivet med segelbåten är en kopia efter Albert Edelfelts målning "At sea" som finns på Göteborgs konstmuseum. Målningen har försets med en förfalskad signatur i syfte att invagga eventuella köpare i tron att det är en äkta målning utförd av Hans Dahl. Det är en förfalskning.











Hans Dahl of Hardanger, Norway, passed the greater part of his youth in the National Military Academy. A line officer in the regular army for several years, he resigned in 1871 to become a painter.

He entered the art school at Carlsruhe, where he was a pupil of Riefstahl and Hans Gude.
Source: Art Signature Dictionary
\"Dahl bodde i Berlin fra 1888, men reiste hver sommer til Balestrand for å lage skisser av Vestlandsnaturen. Fra 1919 var han bosatt i Balestrand.\" Gaustad side 436

Hans Dahl var utdannet offiser, men bestemte seg istedet for å bli maler. Han gikk i lære hos Hans Gude i Karlsruhe 1872-73. Han bosatte seg senere i Berlin i 1888 og bodde der frem til 1919. Dahls tilknytning til Norge og da spesielt til Balestrand gjorde at han hvert år så lenge han bodde i Berlin, reiste til Balestrand for å lage skisser av Vestlandsnatur. Dahls bilder stod høyt i kurs hos Keiser Wilhelm I og særlig hos Keiser Wilhelm II som kjøpte mange
av bildene hans og besøkte ham på sine Norgesreiser.
Source: www.blomqvist.no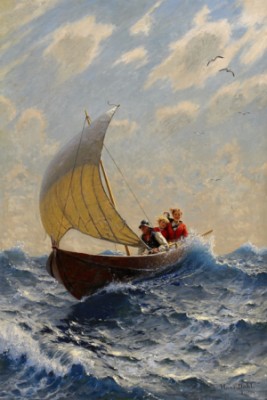 Sällskap I Roddbåt
Price SEK 160,000 (€16,328)
Estimated SEK 80,000–100,000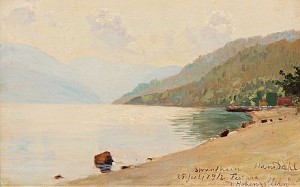 Strandheim 25 Juli 1912, Fest Paa Hohenzollern
(1912)
Price SEK 30,625 (€3,262) Incl. buyer's premium
Estimated SEK 15,000–20,000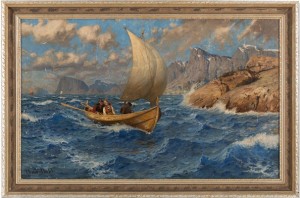 Crossing The Fjord In A Breeze
(Executed ca. 1900)
Price EUR 12,400 Incl. buyer's premium
Estimated EUR 7,000–14,000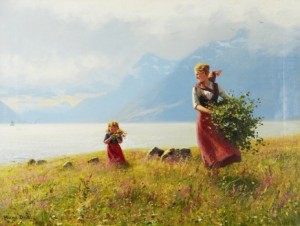 "sommerdag" - Mor Och Dotter I Fjordlandskap
Price SEK 92,000 (€10,571)
Estimated SEK 50,000–60,000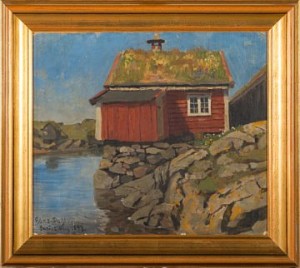 Price NOK 6,000 (€807)
Estimated NOK 8,000–12,000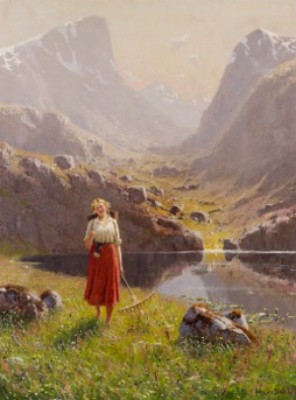 Flicka Vid Fjällsjö
Price SEK 58,000 (€6,522)
Estimated SEK 40,000–60,000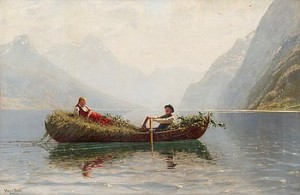 Fjordromantik
Price SEK 70,000 (€7,274)
Estimated SEK 100,000–125,000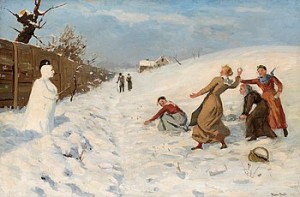 Vinterlek
Price SEK 42,000 (€4,364)
Estimated SEK 60,000–80,000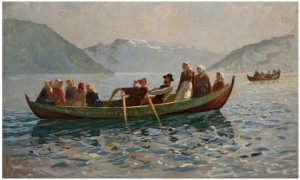 Sommerdag På Sognefjorden
Price NOK 35,000 (€4,120) Not sold
Estimated NOK 40,000–50,000
Price SEK 14,500 (€1,423)
Estimated SEK 15,000–20,000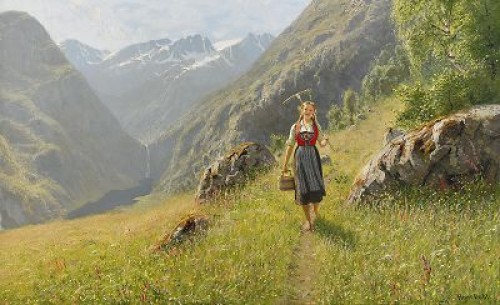 Fjordlandskap Med Vandrande Flicka
Price SEK 140,000 (€13,198)
Estimated SEK 80,000–100,000