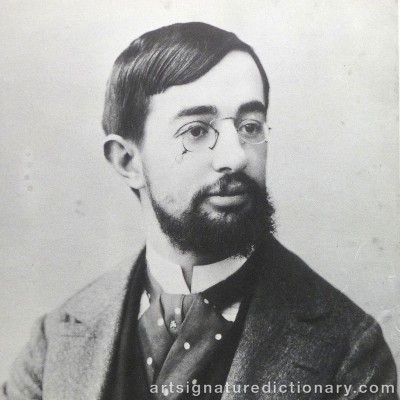 Henri De TOULOUSE-LAUTREC
1864–1901, France
Also known as: HTL, TL

Verdict of guilty
1400-K69930-04/Beslag nr.1400-04-4120-1 (int.nr.PHM3845)
Oil on canvas, strolling woman and gentleman, monogram signed "HTL", 60x38 cm. A very good painting, but not painted by Toulose-Lautrec. When you highlight an area at the bottom left stands another signature and figures. The painting, along with eight other works, have been submitted to a pawnshop in Gothenburg, Sweden. It has subsequently been submitted to a major auction house in Stockholm for sale. All artworks were found to be fakes. They had been pledged by Mr. J. W. who even previously been convicted of similar fraud offenses.
Oljemålning på duk, promenerande kvinna och herre, monogramsignerad "HTL", 60x38 cm. En mycket bra målning men inte målad av Toulose-Lautrec. När man belyser ett område nederst till vänster framträder en annan signatur och siffror. Målningen, tillsammans med åtta andra konstverk, har lämnats in till en pantbank i Göteborg, Sweden. Den har senare lämnats in till ett större auktionshus i Stockholm för försäljning. Samtliga konstverk visade sig vara förfalskningar. De hade pantsatts av Herr J.W. som även tidigare blivit dömd för liknande bedrägeribrott.

Verdict of guilty
T/200702/003_2400/R/219/04
Oil on canvas, motives Dancer Yvette Guilbert, signed "THLautrec" and also monogram signed "HTL", 58x47 cm. The painting is part of a great deception seizure of counterfeit art from 2003 and 2004 in Finland. Several people in the art business were involved. Counterfeit art for millions of Euro attempted to be sold to private individuals, companies and the major auction houses in Finland. After the expert investigation and judgment was declared that this painting was not genuine. It's a forgery.
Rikoksesta epäillyt kolme mieshenkilöä tekivät taulukauppoja siten, että yksi miehistä oli innostanut yrityksen omistanutta tuttavaansa sijoittamaan taiteeseen v. 2003. Kolmas mies tuli mukaan vuoden lopulla. Maksuna kaupoissa käytettiin pääasiassa yrityksenomistajan omistamia asunto-osakkeita, mutta myös tavaraa sekä käteistä rahaa. Kauppojen hinnat merkittiin kauppakirjoihin ylisuuriksi tai asunto-osake osoittautui vähäarvoiseksi. Tauluja kaupattiin taidekauppiaalle, joka totesi ne väärennöksiksi. Taidekauppias näytti tauluja myös taidekonsultille, joka myös huomasi teokset väärennetyiksi. Vuoden 2004 alussa yrityksen omistajan on epäilty yrittäneen erehdyttää asianomistaja Bukowski Oy Ab:n silloista toimitusjohtajaa tarjoamalla huutokaupattavaksi väärennettyjä tauluja yhden epäillyistä toimiessa välittäjänä ja myyjänä. Mahdolliselle ostajalle olisi aiheutunut tappiota hänen maksaessaan vähäarvoisesta taulusta aidon teoksen hinnan, ja asian paljastuttua Bukowski Oy olisi menettänyt välityspalkkionsa. Osa tauluista esiteltiin Bukowskin edustajalle ja näytettin myös listaa, jossa oli muitakin tauluja. Listassa oli arvio kustakin taulussa huutokaupassa mahdollisesti saatavasta hinnasta (yht. n. 1 milj. euroa). Mukana oli nimekkäiden venäläisten (esim. Malevits), suomalaisten (esim. Gallen-Kallela) ja eurooppalaisten taiteilijoiden (esim. Matisse) tekemiksi merkittyjä teoksia. Bukowskin edustaja on huomannut heti taulut väärennetyiksi, joten epäilty teko on jäänyt yritykseksi. Yrityksen omistajan on täytynyt tietää, että kaikki hänen ostamistaan teoksista eivät ole aitoja, vaikka niitäkin saattoi joukossa olla. Hän kertoi tiedustelleensa taulujen aitoutta asiantuntijoilta, mutta saaneen epämääräisiä vastauksia. Ei ollut riittävää näyttöä, että hänen tarkoituksenaan olisi ollut saada väärennettyjä teoksia myyntiin, vaan se, että asiantuntija seuloo aidot vääristä. Oikeus määräsi osan teoksista palautettaviksi omistajalleen, osa tuomittiin menetettäväksi valtiolle. Teokset ovat todenneet väärennöksiksi mm. Valtion taidemuseon intendentti, Bukowskin taidehuutokaupan toimitusjohtaja sekä Hagelstamin taidehuutokaupan edustaja. Venäläiset taulut tutkittiin Moskovassa ja Mary Cassattille nimetty teos The Mary Cassatt Catalogue Raisonné Committeessa New Yorkissa. Teos poikkeaa taiteilijan muusta tuotannosta ja maalaustavasta. Työ on laadultaan huono kopio alkuperäisestä. Teos ostettu hinnalla 131000 EUR, sittemmin pyydetty hintoja 180000 EUR ja 400000 EUR.
Oljemålning på duk, motiv; Dancer Yvette Guilbert, signerad "THLautrec" samt också monogramsignerad "HTL", 58x47 cm. Målningen ingår i ett stort bedrägeribeslag av förfalskad konst från 2003 och 2004 i Finland. Ett flertal personer i konstbranschen var inblandade. Förfalskad konst för miljontals Euro försökte säljas till privatpersoner, företag och till de stora auktionshusen i Finland. Efter expertutredning och dom förklarades att denna målning inte är äkta. Det är en förfalskning.


Verdict of guilty
LKB 2001,4-102-B.JPG
Oil on canvas, unsigned, ca. 61x45 cm. Ostensibly depicting a genuine painting by Heni De Toulose-Lautrec. The painting has been seized by police and after examination been assessed as a forgery.
Oljemålning på duk, ej signerad, ca. 61x45. Skenbart föreställande en äkta målning utförd av Heni De Toulose-Lautrec. Målningen har tagits i beslag av polis och efter utredning bedömts som en förfalskning.










Name
Monfa, Henri Marie Raymond De TOULOUSE-LAUTREC
Birth
1864, 24/11, France
Henri de Toulouse-Lautrec was a French painter, printmaker, draughtsman and illustrator whose immersion in the colourful and theatrical life of Paris in the late 19th century yielded a collection of exciting, elegant and provocative images of the modern and sometimes decadent life of those times. Toulouse-Lautrec is among the best-known painters of the Post-Impressionist period, a group which includes Cézanne, Van Gogh and Gauguin.
He was born at the Hotel du Bosc in Albi, Tarn in the Midi-Pyrénées region of France, the firstborn child of Comte Alphonse Charles de Toulouse-Lautrec-Monfa (1838–1913) and wife Adèle Zoë Tapié de Celeyran (1841–1930). He was therefore a member of an aristocratic family (descendants of the Counts of Toulouse and Lautrec and the Viscounts of Montfa, a village and commune of the Tarn department of southern France). A younger brother was born on 28 August 1867, but died the following year.
After the death of his brother his parents separated and a nanny took care of Henri.[3] At the age of eight, Henri went to live with his mother in Paris where he drew sketches and caricatures in his exercise workbooks. The family quickly realised that Henri's talent lay in drawing and painting. A friend of his father, René Princeteau, visited sometimes to give informal lessons. Some of Henri's early paintings are of horses, a speciality of Princeteau, and a subject Lautrec revisited in his 'Circus Paintings'.[3][4]
In 1875 Henri returned to Albi because his mother had recognised his health problems. He took thermal baths at Amélie-les-Bains and his mother consulted doctors in the hope of finding a way to improve her son's growth and development...



Source: http://en.wikipedia.org/wiki/Henri_de_Toulouse-Lautrec
Henri De Toulouse Lautrec skildrade gatuliv, kabaréer och bordeller i Paris kring sekelskiftet 1900. Hans måleri var jugendinspirerat och hade även drag av japanska träsnitt. Han var en banbrytare inom affischkonsten och litografin som konstnärligt uttrycksmedel.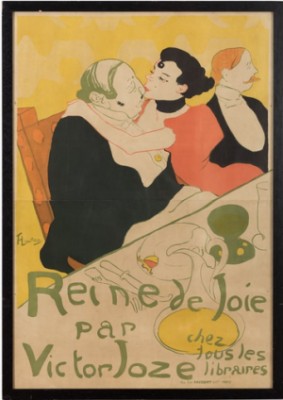 Reine De Joie
(Executed in 1892)
Price EUR 14,000
Estimated EUR 9,000–18,000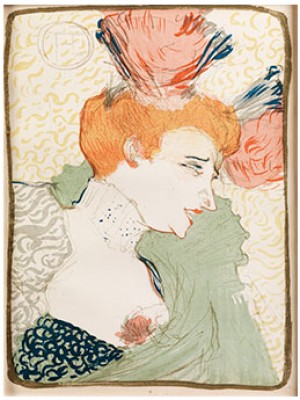 Mademoiselle Lender En Buste
(1895)
Price EUR 21,000
Estimated EUR 18,000–25,000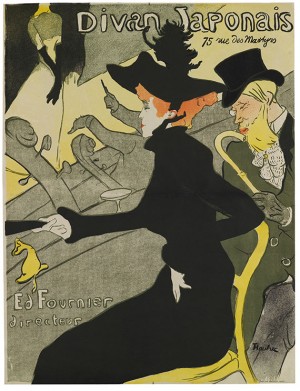 Price EUR 14,375 Incl. buyer's premium
Estimated EUR 7,000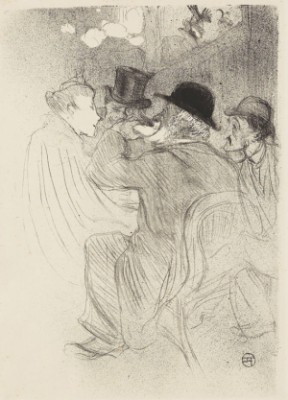 Au Moulin Rouge, Un Rude! ... Un Vrai Rude!
(1893)
Price EUR 2,750 Incl. buyer's premium
Estimated EUR 1,800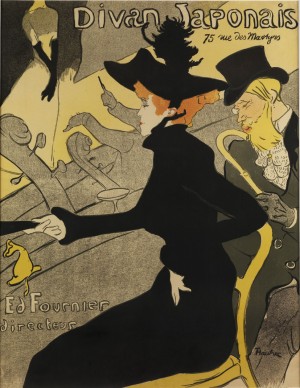 Divan Japonaise, 1892
(1892)
Price EUR 6,000
Estimated EUR 6,000–8,000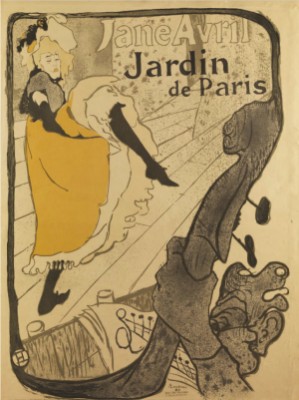 Plakat Jane Avril - Jardin De Paris
(-93)
Price EUR 0 Not sold, incl. buyer's premium
Estimated EUR 2,500–3,500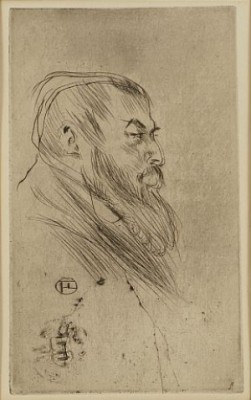 Tristan Bernard
(Executed in 1898)
Price SEK 3,800 (€444)
Estimated SEK 4,000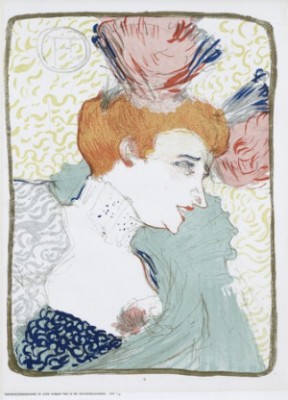 Mademoiselle Marcelle Lender, En Buste
Price SEK 54,000 (€6,253)
Estimated SEK 50,000–60,000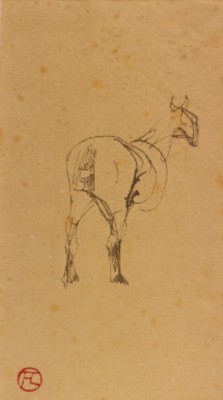 Cheval
(Executed ca.1876-1881)
Price USD 15,000 (€11,577) Incl. buyer's premium
Estimated USD 5,000–7,000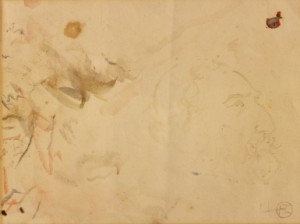 Profil Du Comte De Toulouse-lautrec
(Executed 1885)
Price USD 8,125 (€6,271) Incl. buyer's premium
Estimated USD 6,000–9,000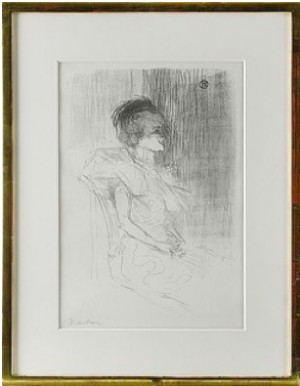 Price SEK 23,000 (€2,527)
Estimated SEK 30,000–40,000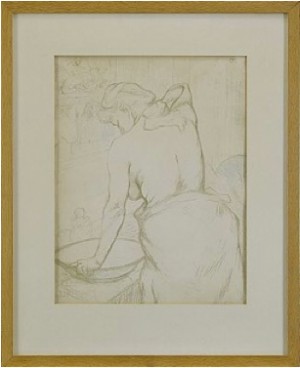 Femme Qui Se Lave - La Toilette
(1896)
Price SEK 40,000 (€4,394)
Estimated SEK 50,000–60,000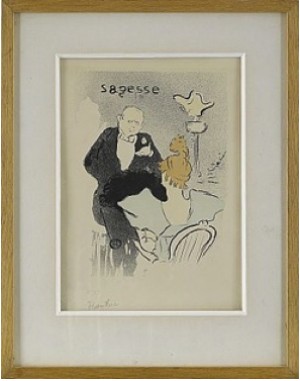 Price SEK 14,000 (€1,538)
Estimated SEK 15,000–20,000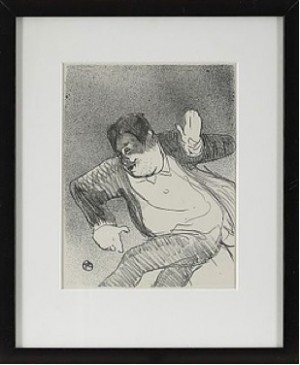 Price SEK 4,000 (€439)
Estimated SEK 5,000–6,000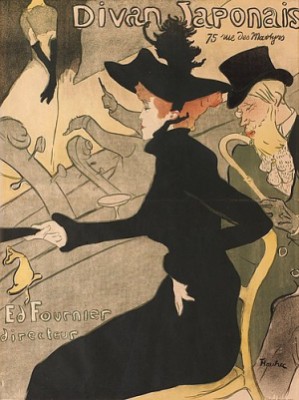 Price SEK 80,000 (€8,640)
Estimated SEK 80,000–100,000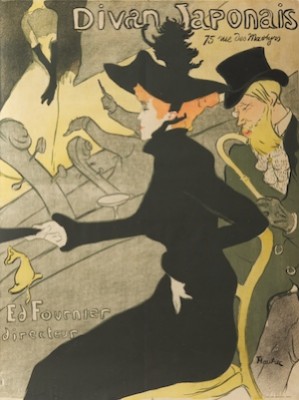 Le Divan Japonais
(ca. 1893)
Price USD 8,000 (€5,646) Not sold
Estimated USD 15,000–20,000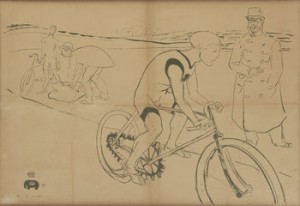 Cycle Michael
(Executed 1896)
Price SEK 15,500 (€1,736)
Estimated SEK 12,000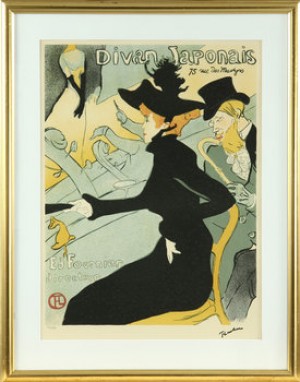 Figurkomposition
Price SEK 1,400 (€160)
Estimated SEK 1,500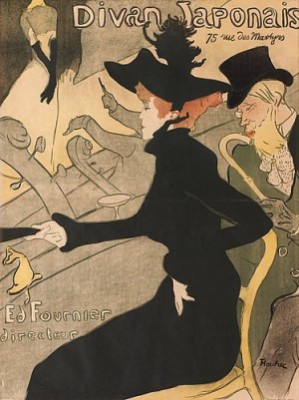 Price SEK 0 (€0) Not sold
Estimated SEK 120,000–140,000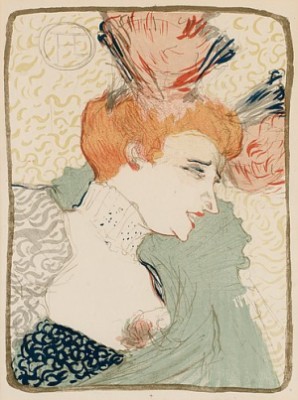 Mademoiselle Marcelle Lender, En Buste
(1895)
Price SEK 56,000 (€6,082)
Estimated SEK 60,000–80,000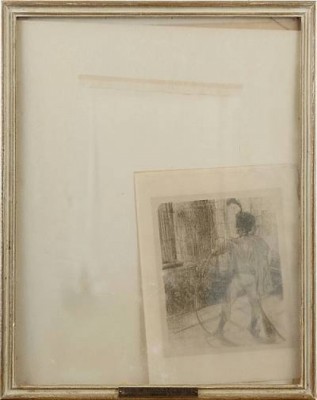 Manlig Modell
Price SEK 1,000 (€96)
Estimated SEK 2,000