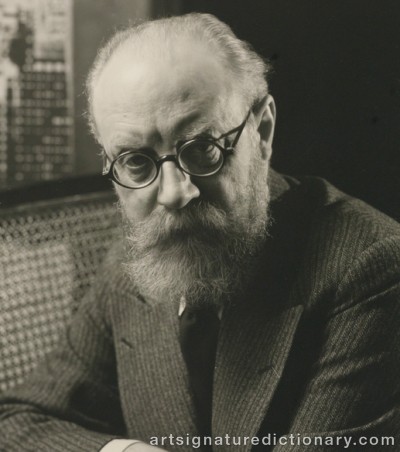 Henri MATISSE

1869–1954, France
Also known as: HM

Verdict of guilty
DB 199-74. (int.nr.PHM3829)
Acrylic on canvas, landscape scene with lady in red sofa, 34x50 cm. Framed with wide gold frame. The painting was sold in the 1970's to 90,000 Swedish crowns in cash. The painting is part of a major fraud seizures of counterfeit art in Sweden known as "The Society of Art Friends": Three men, aged 30, 37, and 40 years old, were caught in Stockholm, Sweden after a reconnaissance tip from police in Ängelholm, Sweden. Shortly afterwards, another two men were caught. In total, 48 house searches were made through out the nation from which 83 forged paintings were confiscated. Forged art had already been sold for millions of Swedish crowns. Victims of the gang were well known businessmen with considerable incomes. League had good help from educated art experts who have written certificate of authenticity to many of the fake paintings, often at very small remuneration. On a door to a flat in Stockholm the men had displayed a sign with the text "The Society of Art Friends". After an expert assessment and judgment was declared that the painting not genuine. It is a forgery.
Akryl på duk, motiv med liggande dam i röd soffa, 34x50 cm. Ramad med bred guldram. Målningen såldes på 1970-talet för 90.000 kronor kontant. Målningen ingår i ett stort bedrägeribeslag av förfalskad konst i Sverige kallat "Sällskapet Konstvännerna": Tre män, 30, 37 och 40 år gamla greps i Stockholm efter ett spaningstips från polisen i Ängelholm, kort därefter greps ytterligare två män. Totalt gjordes 48 husrannsakningar runt om i landet varvid 83 falska målningar togs i beslag. Falsk konst hade redan sålts för miljontals kronor och ligans offer var kända affärsmän med betydande inkomster. Ligan hade god hjälp av bildade konstexperter som för små pengar skrivit ut äkthetsintyg till många av de falska målningarna. Männen hade på en lägenhetsdörr i Stockholm satt upp en skylt med texten "Sällskapet Konstvännerna". Efter expertutredning och dom förklarades att målningen inte är äkta. Det är en förfalskning.

Verdict of guilty
T/200702/001_2400/R/219/04
Gouach, oil and tempera on ppapper, resting woman, signed 'Henri Matisse 46 ", 96x77 cm. The painting is part of a larger seizures of counterfeit art in Finland in 2003. Several people were involved in the fraud. They were inter alia tried to sell art through a major auction houses in Helsinki for about one million Euros. This painting, ostensibly picturing Matisse was for sale for Euro 75.000. After an expert assessment and judgment was declared that the painting not genuine. It is a forgery.
Rikoksesta epäillyt kolme mieshenkilöä tekivät taulukauppoja siten, että yksi miehistä oli innostanut yrityksen omistanutta tuttavaansa sijoittamaan taiteeseen v. 2003. Kolmas mies tuli mukaan vuoden lopulla. Maksuna kaupoissa käytettiin pääasiassa yrityksenomistajan omistamia asunto-osakkeita, mutta myös tavaraa sekä käteistä rahaa. Kauppojen hinnat merkittiin kauppakirjoihin ylisuuriksi tai asunto-osake osoittautui vähäarvoiseksi. Tauluja kaupattiin taidekauppiaalle, joka totesi ne väärennöksiksi. Taidekauppias näytti tauluja myös taidekonsultille, joka myös huomasi teokset väärennetyiksi. Vuoden 2004 alussa yrityksen omistajan on epäilty yrittäneen erehdyttää asianomistaja Bukowski Oy Ab:n silloista toimitusjohtajaa tarjoamalla huutokaupattavaksi väärennettyjä tauluja yhden epäillyistä toimiessa välittäjänä ja myyjänä. Mahdolliselle ostajalle olisi aiheutunut tappiota hänen maksaessaan vähäarvoisesta taulusta aidon teoksen hinnan, ja asian paljastuttua Bukowski Oy olisi menettänyt välityspalkkionsa. Osa tauluista esiteltiin Bukowskin edustajalle ja näytettin myös listaa, jossa oli muitakin tauluja. Listassa oli arvio kustakin taulussa huutokaupassa mahdollisesti saatavasta hinnasta (yht. n. 1 milj. euroa). Mukana oli nimekkäiden venäläisten (esim. Malevits), suomalaisten (esim. Gallen-Kallela) ja eurooppalaisten taiteilijoiden (esim. Matisse) tekemiksi merkittyjä teoksia. Bukowskin edustaja on huomannut heti taulut väärennetyiksi, joten epäilty teko on jäänyt yritykseksi. Yrityksen omistajan on täytynyt tietää, että kaikki hänen ostamistaan teoksista eivät ole aitoja, vaikka niitäkin saattoi joukossa olla. Hän kertoi tiedustelleensa taulujen aitoutta asiantuntijoilta, mutta saaneen epämääräisiä vastauksia. Ei ollut riittävää näyttöä, että hänen tarkoituksenaan olisi ollut saada väärennettyjä teoksia myyntiin, vaan se, että asiantuntija seuloo aidot vääristä. Oikeus määräsi osan teoksista palautettaviksi omistajalleen, osa tuomittiin menetettäväksi valtiolle. Teokset ovat todenneet väärennöksiksi mm. Valtion taidemuseon intendentti, Bukowskin taidehuutokaupan toimitusjohtaja sekä Hagelstamin taidehuutokaupan edustaja. Venäläiset taulut tutkittiin Moskovassa ja Mary Cassattille nimetty teos The Mary Cassatt Catalogue Raisonné Committeessa New Yorkissa. Teos on laadultaan huono kopio alkuperäisestä. Teoksesta pyydetty hintaa Euro 75.000.
Gouach, olja och tempera på ppapper, vilande kvinna, signerad "Henri Matisse 46", 96x77 cm. Målningen ingår i ett större beslag av förfalskad konst i Finland år 2003. Ett flertal personer var inblandade i bedrägeriet. De hade bland annat försökt sälja konst via ett större auktionshus i Helsingfors för ca en miljon Euro. Denna målning, skenbart föreställande Matisse var till salu för Euro 75,000. Efter expertutredning och dom förklarades att målningen inte är äkta. Det är en förfalskning.

Acrylic on board, 45x37 cm, signed "Matisse 48". On the back of the painting is recorded: Henri Matisse 12/48 Pineapple III. Professor Björn Hallström at the Institute of Materials Science at the Art Academy in Stockholm, Sweden, has certified that the painting is entirely or mainly made ​​of colors of acrylic type which came into use in the late 1950s. The painting has not been painted by Matisse in 1948 or not at all by Matisse. The painting is a copy, an attempt to mimic Matisse. The District Court's assessment: The painting is painted by Matisse nor signed by Matisse. It is a forgery.
Acryl på kartong, 45x37 cm, signerad "Matisse 48". På målningens baksida finns antecknat: Henri Matisse 12/48 Ananas III. Professor Björn Hallström vid institutet för materialkunskap vid konsthögskolan i Stockholm, har intygat att målningen helt eller huvudsakligen är utförd i färger av akryltyp som kom i handeln tidigast i slutet av 1950-talet och att det är uteslutet att tavlan utförts av Matisse 1948 eller över huvud taget av Matisse. Målningen är en kopia – ett försök att efterlikna Matisse. Tingsrättens bedömning: Målningen är inte målad av Matisse ej heller signerad av Matisse. Det är en förfalskning.
























Henri Matisse was born at Le Cateau-Cambrésis in the North of France on December 31, 1869. His parents, Emile Matisse and Héloise Gérars, had a general store selling household goods and seed. Henri planned on a legal career, and in 1887/88 studied law in Paris, in 1889 he was employed as a clerk in a solicitor's office. It was in 1890 that he was first attracted to painting. Confined to his bed for nearly a year (1890) after an intestinal operation, he chose drawing as a pastime. Then the hobby took best of him and he decided for the painting career.
The long years of learning followed: in 1891 Matisse studied under Bouguereau at the Académie Julian, and in 1892 transferred unofficially to Gustave Moreau's studio at the Ecole Beaux-Arts, where he met Marquet, at the same time attending the Ecole Nationale des Arts Décoratifs. In 1894 his daughter Marguerite was born, though Matisse did not marry the mother, Amélie Paraere, till 1898.
In 1896 he made a successful début at the Salon de la Société Nationale des Beaux-Arts and a year later displayed there his large canvas La Desserte, which showed the influence of the Impressionists. After Moreau's death in 1898, he studied briefly with Cormon, then left the Ecole des Beaux-Arts and entered the Académie Carrière where he met Derain and Puy and attended evening classes in sculpture. In 1899 his son Jean, and then, in 1900, his son Pierre were born. Financial difficulties made him to stay for some time with his parents.
During the period of 1899-1904 Matisse participated in a group exhibition at Berthe Weil's Gallery (1902), painted townscapes with Marquet in Paris, spent the summer of 1904 working with Signac and Cross at Saint-Tropez, and in 1905-6 painted views of Collioure.
In 1905 and 1906 Matisse, his talent now fully developed, exhibited at the Salon d'Automne and the Salon des Indépendants together with Derain, Marquet, Vlaminck, Roauault and others and sparked off controversy. The group was ironically nicknamed "Les Fauves" (The Wild ones). At that time Matisse displayed a tendency towards monumental, decorative compositions. If in 1900 it was only to earn some money that he took on the task of painting a frieze for the World Fair at the Grand Palais in Paris, in 1907 he worked with enthusiasm on a ceramic triptych, Nymph and Satyr, for Osthaus's mansion in Hagen, Westphalia. In 1908 Matisse painted the monumental canvas The Red Room; and in 1909-10 executed two large decorative panels, The Dance and The Music on commissions from the Moscow businessman S. Shchukin. Sculpture, too, began to occupy a significant place in Matisse's artistic endeavor and was exhibited for the first time in 1912, in New York. At this time, Matisse set forth the theoretical basis for his art in his Notes d'un peintre (1908) and expounded his views on painting in the art school (the Atelier Matisse), which he had organized. But soon teaching began to weigh heavily on the artist, and he withdrew more and more frequently to Issy-des-Moulineaux.
In 1910 Matisse visited Munich to see an exhibition of Islamic art, in 1911 Seville, then Moscow on the invitation of S. Shchukin, and at the end of that year, Tangier, Morocco. From 1914 to 1918 he divided his time between Collioure, Paris and Nice. In 1918 a Matisse-and-Picasso exhibition opened at the Guillaume Gallery: it was to a certain extent indicative of the role of these two painters in contemporary art.
In 1920 Matisse designed the stage sets and costumes for S. Diaghilev's ballet The Nightingale (to Stravinsky's music) and in 1939 for Léonide Massine's ballet Rouge et Noir (to the music of Shostakovich's first Symphony). In 1931-33 he painted a large decorative composition, The Dance, for the Barnes Foundation in Merion, Pennsylvania; the same years he fulfilled etching illustrations for Mallarmé's Poésies. In 1934-35 Matisse produced cartoons for carpets, based on James Joyce's Ulysses.
During the Second World War Matisse lived in the south of France – Bordeaux, Ciboure, Nice. In 1941 he underwent a serious operation. Confined to bed for most of the ensuing period, he turned his attention to book design and illustrations. He designed and illustrated Henri de Montherlant's Pasiiphaë in 1944, Baudelaire's Les Fleurs du Mal, Mariana Alcoforado's Lettres Portugaises and Reverdy's Visages in 1946, and Ronsard's Amours in 1948. His unique book Jazz, published in 1947, contained a facsimile reproduction of the text written in the artist's own hand and illustrations executed in gouache after Matisse's cut-outs.
It was only after the end of the war that Matisse turned anew to monumental compositions. He executed sketches for the stained-glass panel representing St. Dominique in the church at Assy (1948), the interior decoration for the Dominican chapel of Notre-Dame du Rosaire at Vence (1948-51), and sketches for the stained-glass panel Rose for the Uniate Church in New York (1954). In his last years he devoted a great deal of his time to cut-outs and brush drawings.
The Musée Matisse was opened in 1952 at Le Cateau-Cambrésisi, the birthplace of the artist. Matisse died on November 3, 1954 and was buried in the cemetery at Cimiez.


Source: http://www.abcgallery.com
Matisse är en av de främsta bland de tidiga modernisterna, och han arbetade med varierande uttrycksmedel och material, men var i huvudsak målare.
Matisse föddes i Le Cateau-Cambrésis men växte upp i Bohain-en-Vermandois i departementet Aisne. Han flyttade 1887 till Paris för att studera juridik. Under en tids sjukdom började han att måla, och 1891 inledde han studier i måleri på Académie Julian i Paris, där han bland annat studerade för Odilon Redon och Gustave Moreau.
I början var han mycket influerad och inspirerad av verk av konstnärerna Édouard Manet, Paul Signac och Paul Cézanne. Han blev snart ledare för de målare som kallas fauvister. 1901 deltog han i en utställning, och 1904 hade han sin första separatutställning. När han flyttade söderut till bland annat franska rivieran, träffade han André Derain och hans måleri utvecklades, det han då utförde är bland det bästa han gjort och verken från 1906-1917 räknas till hans förnämsta. Efter att ha bosatt sig i Nice 1921 blev hans konst mer dekorativ och lite mindre intensiv.
1941 fick han besked att han hade cancer, men trots att han blev rullstolsburen hindrades han inte från att arbeta med sin konst. Han var dock märkt av sjukdomen och det var vid denna tidpunkt han började arbeta med papper och collage, som även det, blivit ett signum för Matisse, tack vare hans känsla för färg och form.

Source: Art Signature Dictionary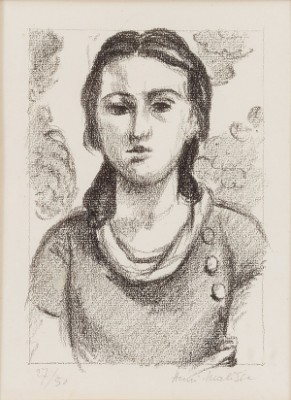 Tête De Jeune Fill
Price EUR 2,355
Estimated EUR 3,000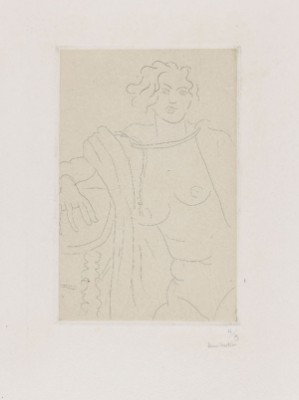 Figure Assise, Le Bras Droit Appuyé Sur Une Table
(1929)
Price EUR 4,375 Incl. buyer's premium
Estimated EUR 4,000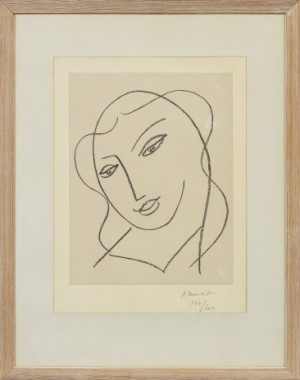 Etudes Pour La Vierge Tête Voilée
Price SEK 35,000 (€3,767)
Estimated SEK 40,000–50,000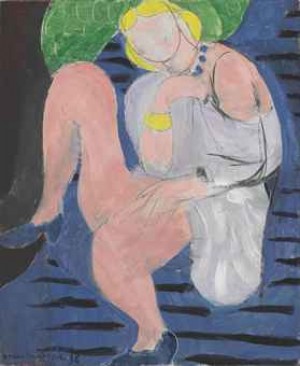 Nu Assis, Fond Bleu
(-36)
Price USD 5,429,000 (€4,336,470) Incl. buyer's premium
Estimated USD 4,000,000–6,000,000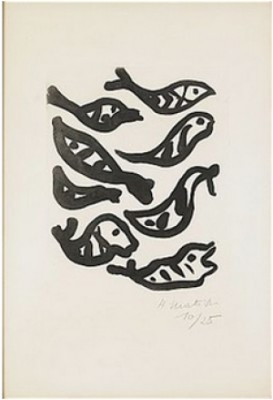 étude Pour La Nappe Liturgique De La Chapelle De Vence I
(1949)
Price SEK 25,000 (€2,723)
Estimated SEK 30,000–40,000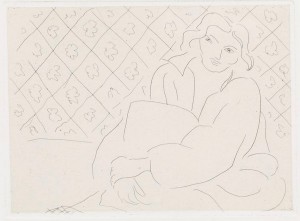 Figure Assise Sur Fond De Carreaux Fleuris
(Executed in 1929)
Price SEK 65,000 (€7,183)
Estimated SEK 60,000–80,000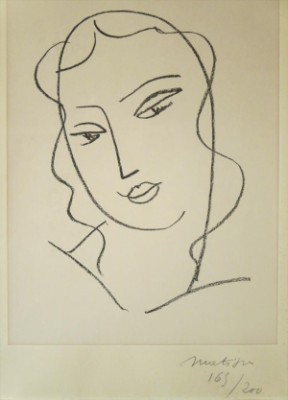 Etudes Pour La Vierge - Tête Voilée
(1951)
Price USD 9,300 (€6,755) Incl. buyer's premium
Estimated USD 7,000–10,000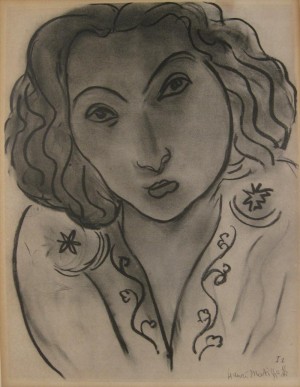 Portrait Of A Woman
Price USD 3,240 (€2,414) Incl. buyer's premium
Estimated USD 200–300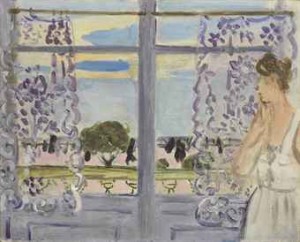 Femme Auprès De La Fenêtre
(Executed in 1919)
Price USD 1,022,500 (€798,930) Incl. buyer's premium
Estimated USD 600,000–900,000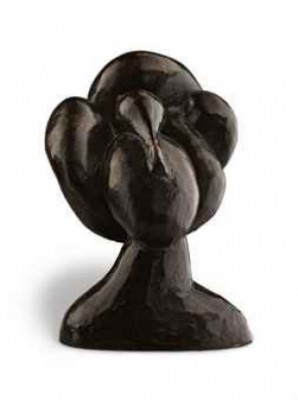 La Tiaré
(Conceived in 1930)
Price USD 842,500 (€658,287) Incl. buyer's premium
Estimated USD 250,000–350,000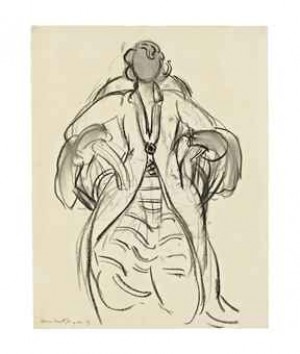 Etude Pour La France
(1939)
Price USD 458,500 (€358,249)
Estimated USD 400,000–600,000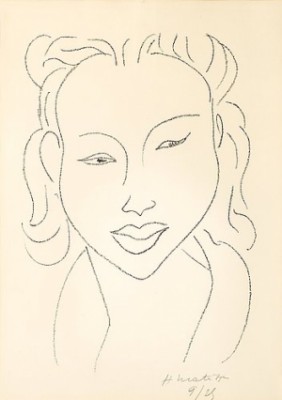 Price SEK 108,375 (€12,615) Incl. buyer's premium
Estimated SEK 30,000–40,000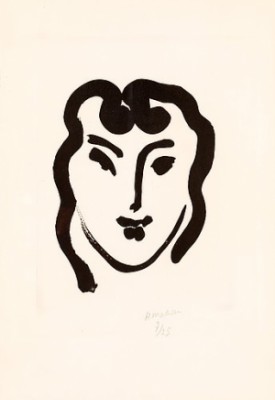 Patitcha Souriante
(1947)
Price SEK 102,000 (€11,873) Incl. buyer's premium
Estimated SEK 70,000–90,000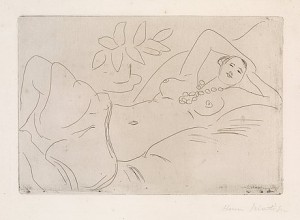 Price SEK 71,400 (€8,311) Incl. buyer's premium
Estimated SEK 30,000–40,000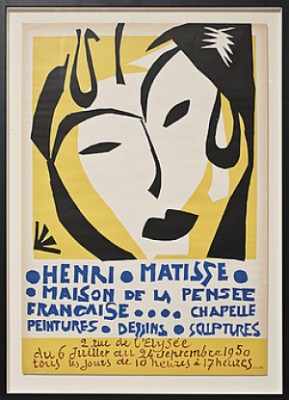 Maison De La Pensée Francaise
(1950)
Price SEK 5,600 (€672)
Estimated SEK 5,000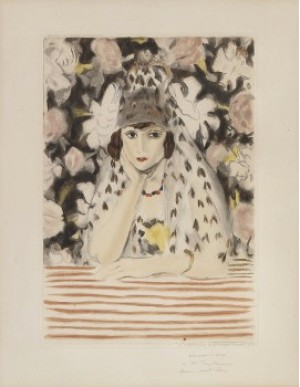 Espagnole à La Mantille
(1925)
Price SEK 105,000 (€11,802)
Estimated SEK 60,000–80,000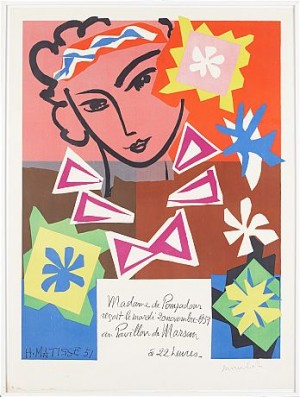 Madame De Pompadour
(-51)
Price SEK 5,400 (€571)
Estimated SEK 8,000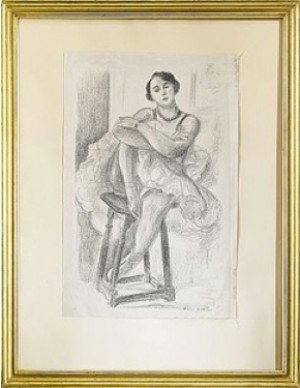 Dix Danseuses: Danseuse Au Tabouret
(1925-26)
Price SEK 60,000 (€6,591)
Estimated SEK 50,000–60,000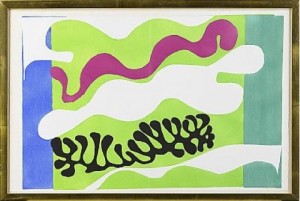 Le Lagon (jazz, Pl. Xvii)
(1947)
Price SEK 16,000 (€1,758)
Estimated SEK 20,000–25,000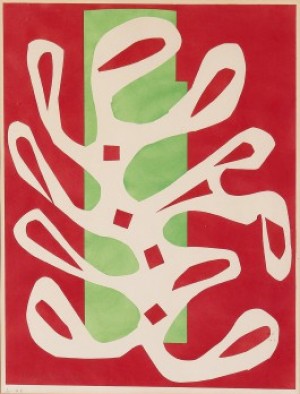 Algue Blanc Sur Fond Rouge Et Vert
Price SEK 17,000 (€1,912)
Estimated SEK 15,000–20,000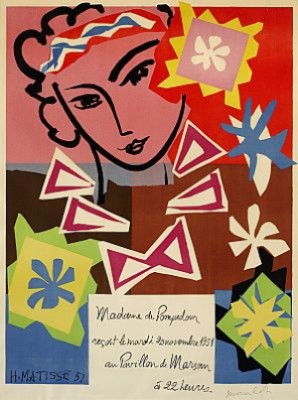 Madame De Pompadour
(Executed 1951)
Price SEK 8,000 (€873)
Estimated SEK 10,000–12,000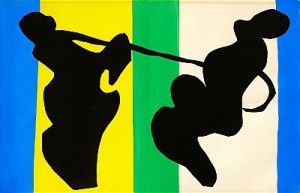 Le Cow-boy (jazz, Pl. Xiv)
(Executed 1947)
Price SEK 25,000 (€2,727)
Estimated SEK 30,000–40,000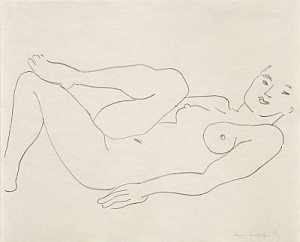 Nu, Jambe Repliée - étude De Jambes
(Executed 1925)
Price SEK 66,000 (€7,199)
Estimated SEK 70,000–80,000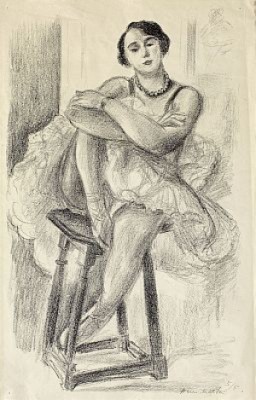 Dix Danseuses: Danseuse Au Tabouret
(Executed 1925-26)
Price SEK 42,000 (€4,581)
Estimated SEK 50,000–60,000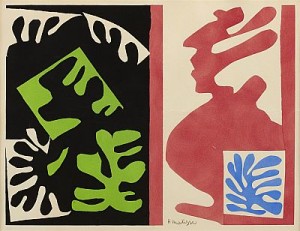 Composition
Price SEK 24,000 (€2,618)
Estimated SEK 4,000–5,000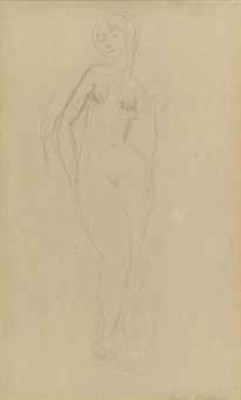 Nu
Price GBP 15,000 (€17,570)
Estimated GBP 8,000–12,000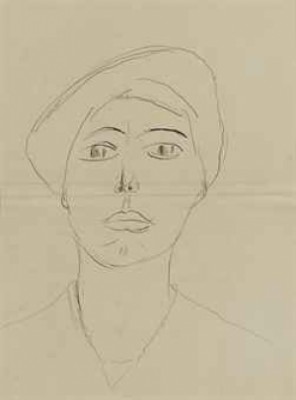 Portrait De Femme
Price GBP 6,250 (€7,321)
Estimated GBP 5,000–7,000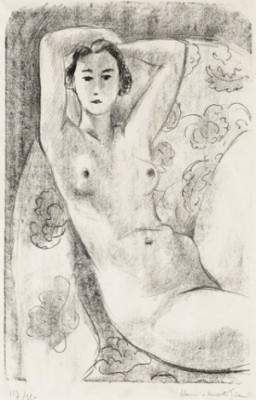 Nu Assis Dans Un Fauteuil Au Décor Fleuri
(1924)
Price SEK 72,000 (€7,820)
Estimated SEK 60,000–70,000
La Cité - Notre-dame
(1937)
Price SEK 2,000 (€209)
Estimated SEK 4,000–5,000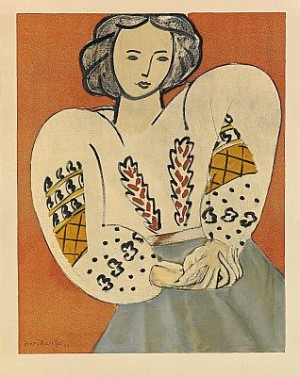 La Blouse Paysanne
(ca 1950)
Price SEK 15,000 (€1,568)
Estimated SEK 15,000–18,000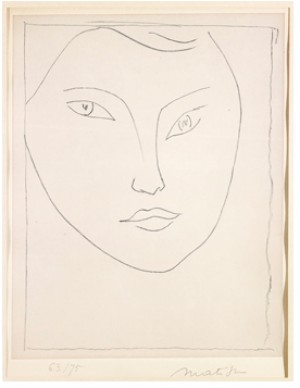 Portrait De Claude B
Price SEK 40,000 (€4,144)
Estimated SEK 40,000–60,000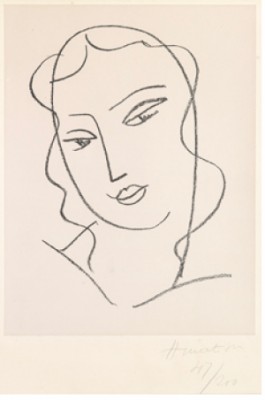 Tête Voilée
Price SEK 52,000 (€5,388)
Estimated SEK 50,000–75,000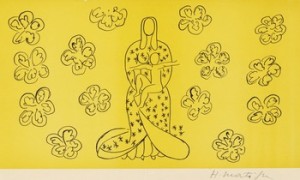 Vierge à L'enfant Debout
(1949)
Price SEK 15,500 (€1,612)
Estimated SEK 8,000–10,000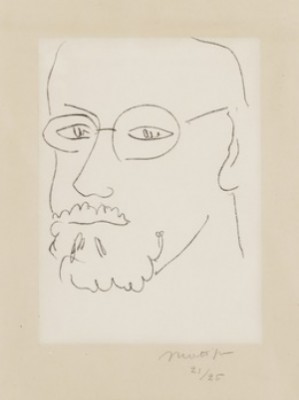 Autoportrait De Trois-quarts
(1948)
Price SEK 37,000 (€3,848)
Estimated SEK 35,000–40,000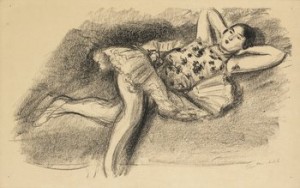 Danseuse étendue Au Divan, Ur Dix Danseuses
(1925-26)
Price SEK 62,000 (€6,448)
Estimated SEK 60,000–70,000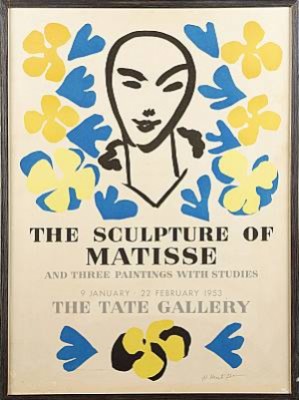 The Sculptures Of...1953
Price SEK 700 (€71)
Estimated SEK 1,200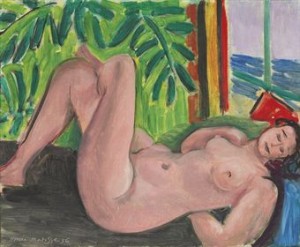 Nu Aux Jambes Croisées
(1936)
Price GBP 3,793,250 (€4,350,099) Incl. buyer's premium
Estimated GBP 2,500,000–4,000,000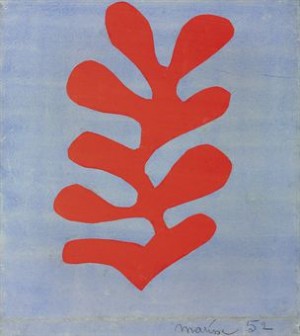 Algue Rouge Sur Fond Bleu Ciel
(1952)
Price GBP 690,850 (€792,267) Incl. buyer's premium
Estimated GBP 500,000–700,000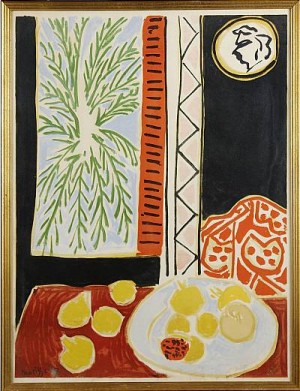 Efter, Nice Travail Et Joie
(1947)
Price SEK 1,500 (€144)
Estimated SEK 1,500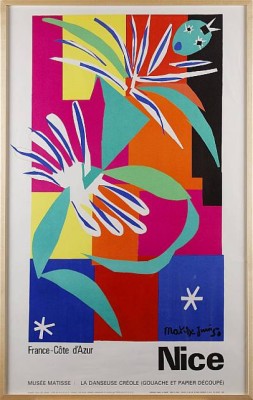 France-cöte D´azur, Nice, La Danseuse Creole
Price SEK 500 (€48)
Estimated SEK 1,500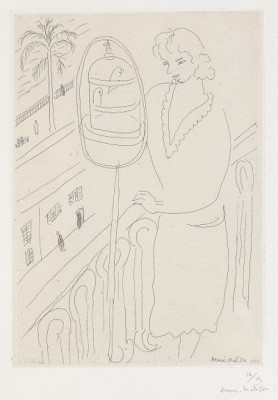 Jeune Femme Au Balcon, Observant Des Perruches
(1929)
Price SEK 80,000 (€7,432)
Estimated SEK 60,000–80,000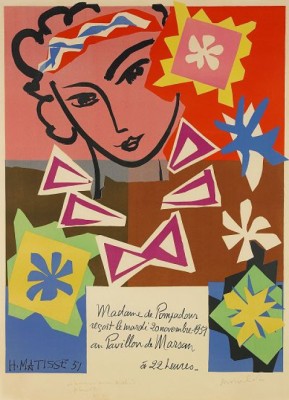 Madame De Pompadour
(1951)
Price SEK 24,000 (€2,230)
Estimated SEK 18,000–20,000