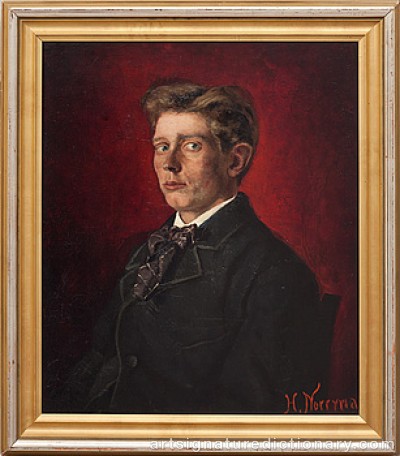 Herman NORRMAN
1864–1906, Sweden
Also known as: HN

Oil on canvas, 59x29 cm, signed H. Norman '89. The painting is signed afterwards. In the lower right corner is an area that has been painted later, and a new signature has been painted in the lower left corner. The painting is probably painted around 1890-1910. Norman painted in heavy style but still very subtle. The painting is not being performed by Norman. Gunnar Kronström, Tranås, Sweden, owner of Gallery "Konstgården" in Tranås, has stated that the subject is often found in the artist's decorative painting, but but the signature is not been carried out by Herman Norman. The District Court's assessment: The painting is a forgery and not done by Norman.
Oäkta förfalskning. Oljemålning på duk, 59x29 cm, signerad H Norman -89. Målningen är eftersignerad. I nedre högra fältet finns ett övermålat parti samt en ny signatur har målats i det vänstra hörnet. Målningen är från sent 1800-tal eller möjligen från sekelskiftet. Norman är en av de betydande målarna på 1880-90-talet. Han målade i en pastos och tung stil men ändå mycket finstämt. Tavlan kan inte vara målad av Norman. Gunnar Kronström, Tranås, innehavare av Galleri Konstgården i Tranås, har uppgivit att motivet ofta förekommer i konstnärens dekorationsmåleri, men beträffande signaturen är han helt övertygad om att den ej har utförts av Herman Norrman. Tingsrättens bedömning: Tavlan är en s.k. oäkta förfalskning och ej utförd av Norrman.




Herman Norrman biografi:

Herman Norrman föddes i Säby, Småland, 1864 och dog i Tranås 1906. Han studerade i Göteborg för Carl Larson och vistades dessutom ett par åt i New York och Paris. Han förtjänade sitt uppehälle som möbelsnickare och kunde endast på lediga studier syssla med målning. Han har utförd några självporträtt, interiörer med porträtt av modern (Nationalmuseum) samt framför allt landskap, pastost målade samt hållna i en på en gång kraftig och finstämd kolorit och utmärka genom en egenartad samt säker personlig stil.
Source: Art Signature Dictionary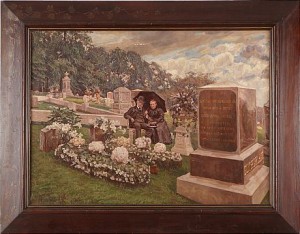 äldre Par På Begravningsplats
Price SEK 5,200 (€559) Not sold
Estimated SEK 25,000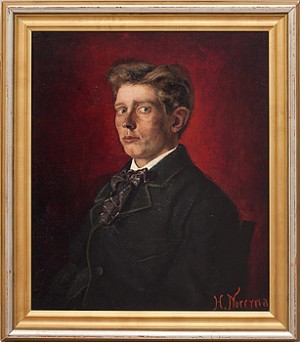 Självporträtt
Price SEK 8,200 (€950)
Estimated SEK 6,000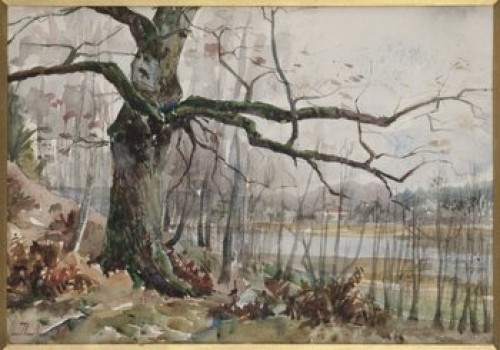 Price SEK 6,500 (€638)
Estimated SEK 3,000–4,000