Ilya BOLOTOWSKY

1907–1981, Russia/USA
Ilya Bolotowsky was born in Petrograd, Russia in 1907. He died in the USA in 1981. Bolotowsky emigrated to the United States in 1923 and became an American citizen in 1929. He studied at National Academy for Design in New York 1924-30, and won drawing prizes, painting prizes, Louis Comfort Tiffany Foundation Scholarship, and the Yaddo Foundation Fellowship. Bolotowsky was influenced by Mondrians in the Gallatin Collection, and Miros at Pierre Matisse Gallery, which led to his first abstract work in 1933. Bolotowsky was a member of The Ten with Rothko, Gottlieb, and others in the mid-1930's. He was an active member of the WPA Federal Arts Project and was co-founder and charter member of the American Abstract Artists. Bolotowsky taught at Brooklyn College, Hunter College, University of Wisconsin, University of New Mexico, and Columbia University. He won the Abstract Painting Prize from the National Institute of Arts and Letters, and grants from the Museum of Non-objective Painting in New York. He is well known for his public murals including the ones at: the Hall of Medical Science at the 1936 World's Fair; Chronic Diseases Hospital in New York; two for the Phillips Steel Company in Pittsburgh; Cinema I and the Passenger Ship Terminal in New York. Bolotowsky's work is collected by major world corporations including: New York's Chase Manhattan Bank and Ciba-Geigy. The list of galleries and museums which have exhibited his work is extensive. Bolotowsky is collected in major museums including: New York's Whitney Museum of American Art; Museum of Modern Art, New York; Guggenheim Museum, New York; Washington's Joseph H. Hirshorn Collection, and the National Collection of Fine Arts at the Smithsonian Institution.

--------------------

Born to Jewish parents in St. Petersburg, Russia, Bolotowsky immigrated to America in 1923 via Constantinople, settling in New York City. He attended the National Academy of Design. He became associated with a group called "The Ten Whitney Dissenters," or simply "The Ten," artists, including Louis Schanker, Adolph Gottlieb, Mark Rothko and Joseph, who rebelled against the strictures of the Academy and held independent exhibitions.
During this period, Bolotowsky came under the influence of the Dutch painter Piet Mondrian and the tenets of neoplasticism, a movement that advocated the possibility of ideal order in the visual arts. Bolotowsky adopted his mentor's use of horizontal and vertical geometric pattern and a palette restricted to primary colors and neutrals.
In 1936, having turned to geometric abstractions, he was one of the founding members of the American Abstract Artists, a cooperative formed to promote the interests of abstract painters and to increase understanding between themselves and the public.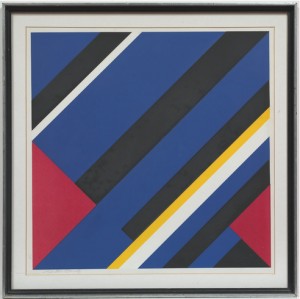 Diamond
(Executed ca. 1970)
Price USD 161 (€117) Incl. buyer's premium
Estimated USD 200–300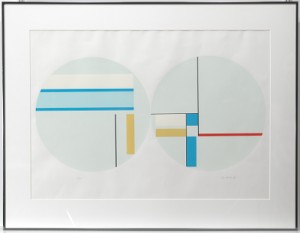 Double Blue
Price USD 253 (€202)
Estimated USD 300–500