Ivan HOFLUND
1887–1948, Sweden
Name
Ivan, Per Erik HOFLUND
Ivan Per Erik Hoflund studied at the Art School and then pursued studies in Denmark, Holland, Germany, Austria, Italy and Tunisia. He painted landscapes, portraits, still lifes, figurative and sjömotiv.

Source: Composed of a variety of sources from the internet.
Ivan Per Erik Hoflund studerade vid Konsthögskolan och bedrev därefter studier i Danmark, Holland, Tyskland, Österrike, Italien och Tunisien. Han målade landskap, porträtt, stilleben, figur och sjömotiv. Han är en av de kända ölandskonstnärerna. Han var först verksam som konservator och deltog i arbetet vid Strängnäs Domkyrkas restaurering.
Han influerades från början av Gaugins expressionism, men också av Ivar Arosenius, Ivan Aguéli och Olof Sager-Nelson. Från tiden i Holland tog han intryck av de klassiska mästarna där. 1918 hade han en gemensam utställning med Einar Forseth och Ragnar Fridell. Han var också uppmärksammad som tecknare, med en rik produktion. Han har målat flera altartavlor till kyrkor, väggmålningar i Borgholms läroverk och Lindöskolan i Kalmar, samt en altartavla i Långemåla.

Källa: Sammansatt av olika källor från internet.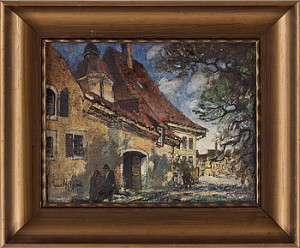 (2) Stadsvy, Segelbåt
Price SEK 6,000 (€721)
Estimated SEK 2,000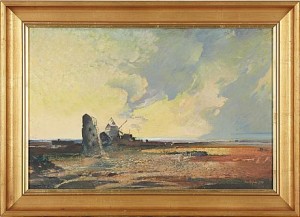 Price SEK 3,200 (€389)
Estimated SEK 1,500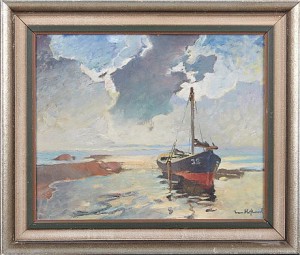 Kustbild Med Fiskebåt
Price SEK 1,100 (€124)
Estimated SEK 1,500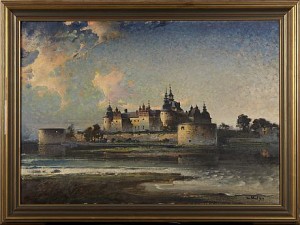 Kalmar Slott
Price SEK 4,200 (€465)
Estimated SEK 5,000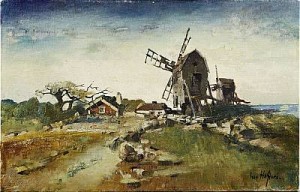 Väderkvarnar - öland
Price SEK 1,600 (€176)
Estimated SEK 2,000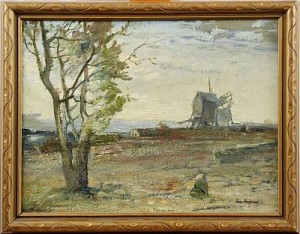 Väderkvarn - öland
Price SEK 2,400 (€235)
Estimated SEK 2,000
Gamla Kvarnen östra öland
(1938)
Price SEK 0 (€0) Not sold
Estimated SEK 1,200