Jörgen FOGELQUIST

1927–2005, Sweden
Also known as: JF, Fogelqvist
Name
Jörgen, Birger Roland FOGELQUIST
Jörgen Fogelquist studied at the College of Art, the Académie Libre, and at the Art Academy.
Represented: National Museum, Stockholm. Moderna Museet, Stockholm. Stockholm City Museum. Göteborg Museum of Art. The Museum of Sketches, Malmo Museum, Lund. Ystad Art Museum. Helsingborgs museum. Vadsbo Museum, Mariestad. Orebro Gallery. Eskilstuna Art Museum, Gävle county museum. National Public Art. Gustav VI Adolf\'s hand drawing collection. Marrian Collection, Boston, and the Municipal samlingaroch County Councils collections.
Jörgen Fogelquist föddes och växte upp i Mariestad, men flyttade redan 1945 till Stockholm där han gick på först Konstfack och sedan Academie Libre och Konstakademien. Han flyttade 1960 med familjen till Skåne och Lund, där han bodde resten av sitt liv. År 1974 tilldelades Jörgen Fogelquist Sydsvenska Dagbladets kulturpris "för en konst som är enastående känslig och rörlig och där uttryckets allvar alltid låter sig förenas med teknisk lätthet", år 2002 tilldelades han även Lunds stads kulturpris.
Han är en av Sveriges mest sedda konstnärer. Hans kakelväggar i gången mellan Stockholms C och T-centralen passeras varje dag av tiotusentals resenärer. I Stockholm har han dessutom utsmyckat bl a Västertorps T-banestation, regeringskansliet i Rosenbad och Postens huvudkontor i Tomteboda. Hans offentliga konst finns representerad från Trelleborg i söder till Luleå i norr.
Jörgen Fogelquist var även en av Sveriges mest betydande målare och grafiker. Från 1950-talets konkretism utvecklade sig hans konst till att uttrycka en särpräglad poetisk frihet som bär hans alldeles egna kännemärke. Han hade separatutställningar på ett stort antal gallerier och museum, bl a på Konstakademien, Lunds konsthall, Skissernas Museum Lund och år 2002 på Prins Eugens Waldemarsudde samt Konstens Hus Luleå.

---------------------

Jörgen Fogelquist studerade vid Konstfackskolan, vid Académie Libre, samt vid Konsthögskolan.

Separatutställningar:
Galleri Blanche, Färg och Form, Doktor Glas och Konstakademien i Stockholm, Göteborgs och Malmö Konstmuseer, Lincoln Gallery i London samt Waldemarsudde i Stockholm.

Samlingsutställningar:
i Sverige och utomlands.

Offentlig utsmyckning:
Kakelmålning i Stockholm:s tunnelbana 1956-1962, Stucco lustro för Stockholms Stads Sparbank 1957, mobil för Lunds stad i stålmast och plexiglas, gobeläng för Lasarettet i Trelleborg, väggmålning för Tobaks AB, Regeringskansliet, Rosenbad, Stadsbiblioteket och Idunteatern i Umeå, samt Postterminaler i Malmö, Göteborg och Postens HK i Stockholm.

Representerad:
Nationalmuseet, Stockholm. Moderna Muséet, Stockholm. Stockholms stadsmuseum. Göteborgs konstmuseum. Skissernas museum, Malmö Museum, Lund. Ystads konstmuseum. Helsingborgs museum. Vadsbo museum, Mariestad. Örebro konstmuseum. Eskilstuna konstmuseum, Gävle läns museum. Statens konstråd. Gustav VI Adolfs handteckningssamling. Marrian Collection, Boston
samt i Kommunala samlingaroch Landstings-samlingar.
Source: http://www.konstakademien.se/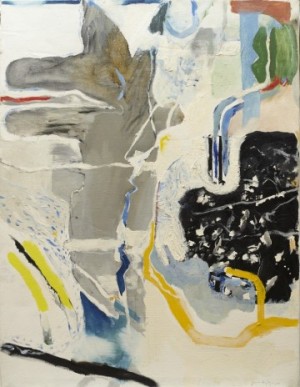 Abstrakt Komposition
Price SEK 7,500 (€813)
Estimated SEK 1,500–2,000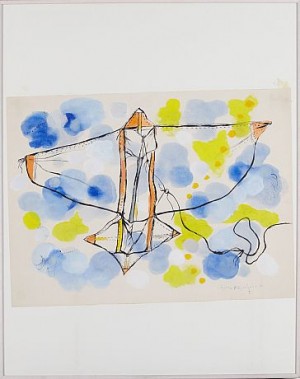 Composition
Price SEK 300 (€34)
Estimated SEK 1,500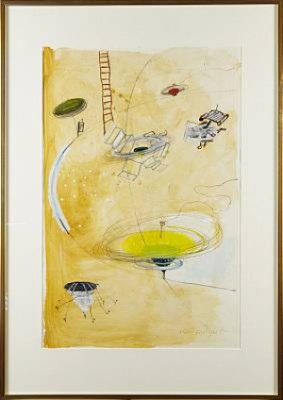 Komposition
Price SEK 2,500 (€279)
Estimated SEK 3,000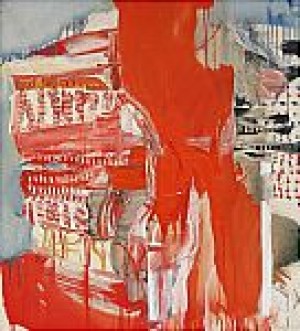 Det Japanska Skåpet
(1962)
Price SEK 20,000 (€2,172)
Estimated SEK 10,000–12,000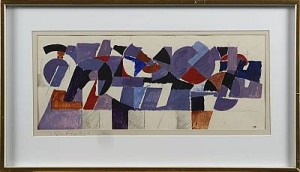 Komposition
Price SEK 2,000 (€207)
Estimated SEK 1,500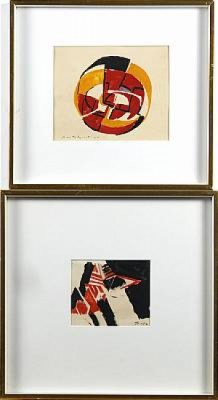 (2st): Kompositioner
(1956)
Price SEK 2,000 (€207)
Estimated SEK 1,500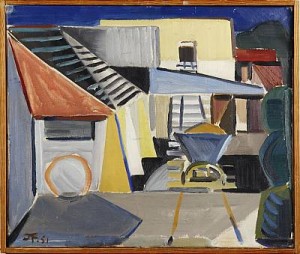 Price SEK 1,200 (€115)
Estimated SEK 2,000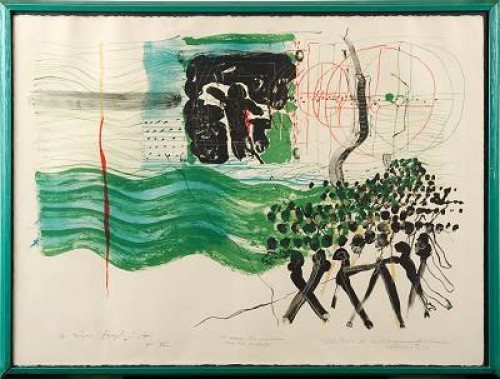 Komposition
Price SEK 0 (€0)
Estimated SEK 1,000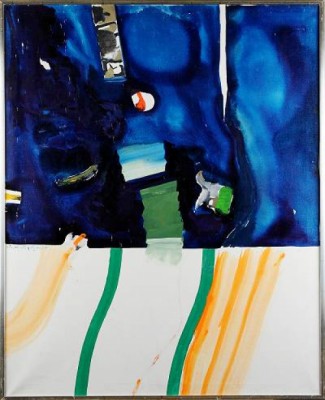 Seen With Closed Eyes
(1967)
Price SEK 0 (€0)
Estimated SEK 8,000