Jacob HÄGG

1839–1932, Sweden
Also known as: JH

Oil on canvas, Ships at sea, signed "J. Hägg", 29x50 cm. Upon examination of the painting showed that something was deleted in the bottom left corner, and that the signature on the right corner is located outside of the other color. The painting is made of a navi amateur. Jacob Hägg was an accomplished marine painter and much more knowledgeable than the counterfeiters. The District Court's assessment: The painting has changed and is therefore a forgery.
Oljemålning på duk, Skepp till havs, signerad "J. Hägg", 29x50 cm. Vid undersökning av målningen visade att något tagits bort i nedre vänstra hörnet och att signaturen i högra hörnet ligger utanpå övriga färgen. Målningen är utförd av en navi amatör. Jacob Hägg var en skicklig marinmålare och betydligt kunnigare än denna förfalskare. Tingsrättens bedömning: Målningen har förändrats och utgör därigenom en förfalskning.














Jacob Hägg biografi

Konteramiralen och konstnären Jacob Hägg var bror till Axel Hägg. Han föddes på Vika gård på Gotland 1839. Som målare var det, naturligt nog, det marina som kom att prägla Jacob Häggs arbeten. Han Lärde sig redan under tidiga skolåren teckning och akvarellmålning, senare var han elev hos landskapsmålaren PD Holm. I övrig var han autodidakt.
Ofta kan man betrakta hans marinmålningar som fartygsarkeologiska porträtt; han visste exakt vilka schackel och vilka tåg som fanns på en fullriggare. Det var ett miniutiöst hänsynstagande till historiska och tekniska fakta, på franska brukar man nämna detta historiskt korrekta återgivande för juste-milieu-måleri.
Måleriet kom att utvecklas till en karriär vid sidan av den som sjöofficer. Jacob Häggs omfattande marina och marinhistoriska kunskaper tillämpade han i sitt måleri. Han anses vara autodidakt som konstnär men åtnjöt viss undervisning redan under skoltiden och på senare år tog han lektioner i oljemålning av akademiprofessorn Per Daniel Holm.
Vad man framför allt imponeras av när det gäller konstnären Jacob Hägg, är hans briljanta förmåga att teckna. Detta parat med en osedvanligt skarp blick, en genuin kärlek till och kunskap om sina motiv samt en lagom dos saltmättad sjöromantik, har gjort Hägg till en av vårt lands mest uppskattade marinmålare av den äldre stammen.
Source: Art Signature Dictionary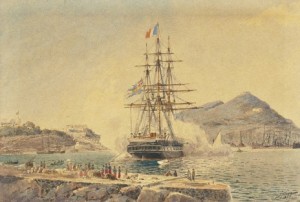 Vanadis Under Salut I Oran
(1897)
Price SEK 32,000 (€3,444)
Estimated SEK 10,000–12,000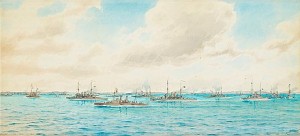 Vår örlogsflotta På Västkusten 1905
(1909)
Price SEK 60,000 (€6,480)
Estimated SEK 30,000–35,000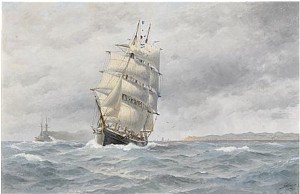 Tremastad Bark Och Pansarfartyg
(1916)
Price SEK 360,000 (€39,733)
Estimated SEK 300,000–400,000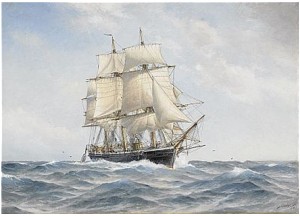 Price SEK 170,000 (€18,763)
Estimated SEK 200,000–250,000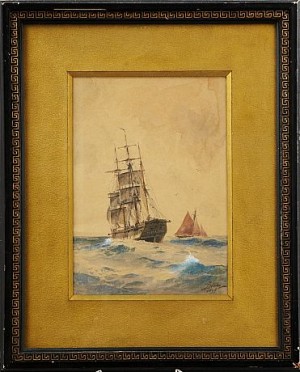 Price SEK 9,000 (€1,079)
Estimated SEK 8,000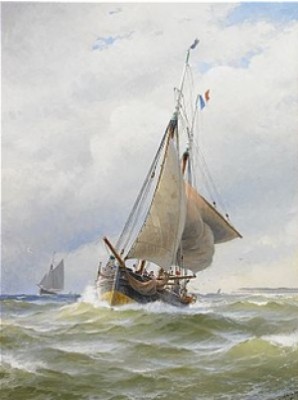 Fransk Chasse-marée I Engelska Kanalen
(1911)
Price SEK 170,000 (€19,183)
Estimated SEK 175,000–200,000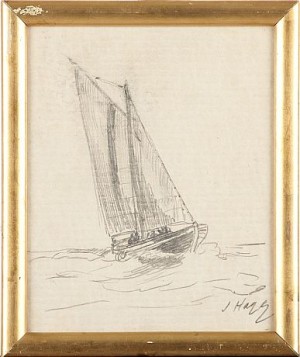 Seglare
Price SEK 1,400 (€158)
Estimated SEK 800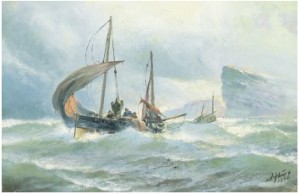 Fiskebåt I Upprört Hav
Price SEK 26,000 (€2,860)
Estimated SEK 12,000–15,000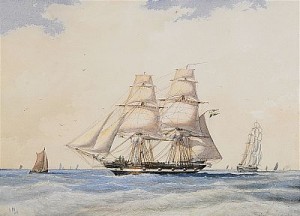 Briggen Nordenskjöld
(-66)
Price SEK 9,500 (€1,061)
Estimated SEK 10,000–12,000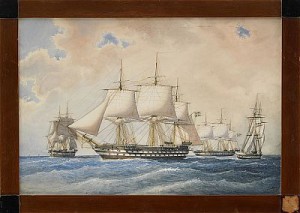 Linjeskeppet Stockholm, Fregatten Eugenie, Korvetten Af Chapman Och Briggen Nordenskjöld
(-66)
Price SEK 30,000 (€3,350)
Estimated SEK 30,000–35,000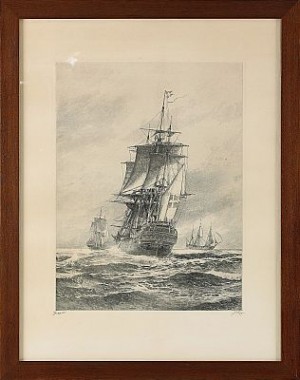 Svenska Ostindifararen Gustaf Iii
(1912)
Price SEK 4,200 (€453)
Estimated SEK 2,000–2,500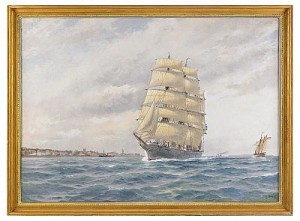 G.d. Kennedy Utanför Helsingborg
(1920)
Price SEK 500,000 (€47,825)
Estimated SEK 500,000–600,000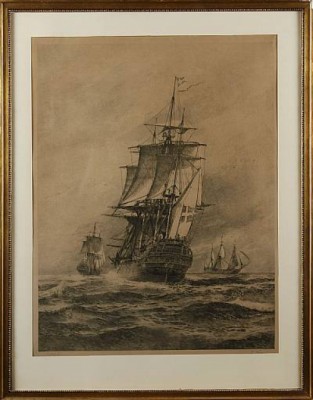 Svenska Ostindiefararen Gustav Iii
Price SEK 2,200 (€212)
Estimated SEK 1,800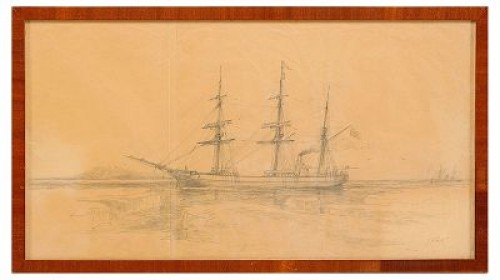 Svenska Polarfartyget "vega", Förlaga Till Akvarell
Price SEK 13,000 (€1,235)
Estimated SEK 5,000–7,000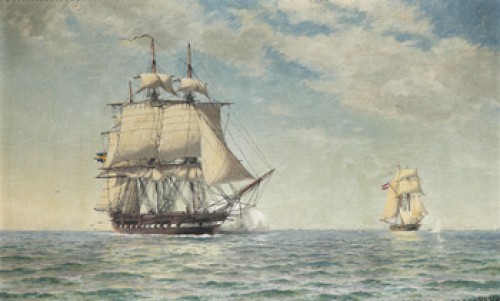 Fullriggare Under Svensk Flagg
(1917)
Price SEK 44,000 (€4,000)
Estimated SEK 30,000–40,000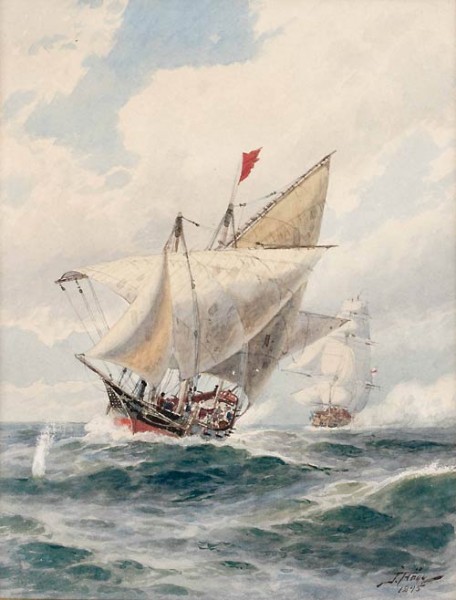 Marockansk Pirat Jagas
(1895)
Price SEK 27,000 (€2,455)
Estimated SEK 15,000–20,000