Jirí ANDERLE
1936, Czech Republic
Birth
1936, Czech Republic
Jirí Anderle studied at the Academy of Arts in Prague. During 1961 to 69 he worked with the Black Theater in Prague and travelled with the group all over the world.

Recent solo exhibitions: 
Panorama Museum, Bad Frankenhausen, Germany ´96; Royal Riding-Stable in the Castle of Hradschin, Prague, Czech Republic ´96; Avery Art Gallery, Atlanta, USA ´96; Galerie Ariete, Bologna, Italy ´97; Art Multiple, Düsseldorf, Germany ´97; Kunstzentrum, Hollola, Finland ´97; Galleri Ängeln, Lund, Sweden ´98.
Recent group exhibitions:
United Nations, New York, USA ´97; Trondheim Museum of Fine Art, Norway ´98; Metropolitan Museum of Art, New York, USA ´98.
Work in public collections:
Stedelijk Museum, Amsterdam, The Netherlands; Nationalgalerie, Berlin, Germany; 
The Victoria and Albert Museum, London, UK; Pushkin Museum of Fine Art, Moscow, Russia; Osaka University of Art, Japan; 
Biblioteque Nationale, Centre Pompidou and Musée National de l´Art, Paris, France; Collegium Artisticum, Sarajevo, Bosnia; Nationalmuseum, Stockholm, Sweden; 
Library of Congress and National Gallery, Washington D.C., USA;
Univ. Art Museum of California, Berkley, USA;
Slovakian National Gallery, Bratislava;
Museé de l´Art Modern, Brüssel, Belgium;
Harvard Univers. Art Muse., Cambridge, USA; Detroit Institute of Arts, USA;
Galleria degli Uffizi, Florenz, Italy;
Kunsthalle, Hamburg, Germany;
Univ. of Iowa Museum of Art, Iowa City, USA; Museé des Beaux Arts, Liége, Belgium;
Modern Gallery, Lubljana, Slowenien;
Museé National d´Art et d´History, Luxembourg; In New York: Jewish Museum, the Museum of Modern Art, the Metropolitan Museum of Art and the Hopwell Foundation;
National Gallery Prague;
California College of Art and Crafts, San Frans.;
Galleriea Civica d´Arte Moderna, Turin, Italy; 

Jirí Anderle has received more than 40 renowned prizes and honors including the Grand Prix at the Biennale in Ljubljana, Bradford and San Francisco.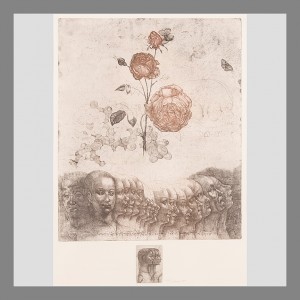 Price EUR 200 Not sold
Estimated EUR 600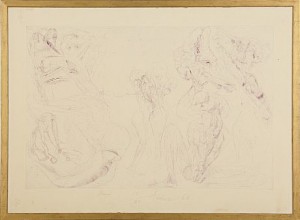 Price SEK 300 (€33)
Estimated SEK 1,500