Julius KRONBERG

1850–1921, Sweden

Verdict of guilty
PHM Nr.109
Oil on canvas, 102x61 cm, signed "Julius Kronberg -75". Lower left corner is signed Julius Kronberg. The entire area around the signature looks suspicious, as if one were painted over an earlier signature before Julius Kronbergs signatures were attached. This is a copy painted in 1900-1930. It is pretty bad and not painted by Kronberg. Estbjörn Kronberg, of the Stockholm Chamber of Commerce appointed surveyor of art and antiques, has stated that he studied painting and Julius Kronberg not painted a painting with this design in 1875, and that the painting is not done by him. The District Court's assessment: The painting is a forgery.
Oljemålning på duk, 102x61 cm, signerad "Julius Kronberg -75". Nedre vänstra hörnet är signerat Julius Kronberg. Där finns några små egendomligheter, varför man kan misstänka att tavlan är eftersignerad. Hela området kring signaturen förefaller egendomligt. Enbart bokstaven J ligger ovanpå måleriet som om man skulle målat över en tidigare signatur under som övermålats innan Julius Kronbergs signatur sattes dit. Den här typen av kvinnor, som är blyga, oskuldsfulla borgarflickor är salongskonst medan Julius Kronbergs flickor var orientaliska och förförande. De kan aldrig förväxlas. Detta är en fri 1900-talskopia efter en 1800-talsbild. Den är ganska dålig och ej gjord av Kronberg. Av Stockholm handelskammare förordnade besiktningsmannen för konst och antikviteter, Estbjörn Kronberg, har i utlåtande den 6 mars 1979 uttalat att han studerat foto av denna tavla, att Julius Kronberg inte målat någon tavla med detta motiv 1875 samt att målningen ej är utförd av denne utan falsksignerad. Tingsrättens bedömning: Det är en förfalskning.
















Name
Julius, Johann Ferdinand KRONBERG
Julius Kronberg studerade vid Ritskolan i Karlskrona, därefter på Konstakademien i Stockholm för Johan Christoffer Boklund, Johan August Malmström och Johan Fredrik Höckert. Han erhöll en Kunglig medalj och resestipendie och for sedan till Paris och München. Vidare till Italien och Rom, där han slog sig ned i 12 år. Hans "jaktnymf" (Nationalmuseum) väckte uppseende genom den mustiga koloriten och djärva hållningen – inflytande från Makart är påtagligt. Härpå följde dekorativa arbeten som "Våren", "Sommaren" och "Hösten", plafonder i Stockholms slott, Hallwylska palatset och Adolf Fredriks kyrka samt i Dramat, teatern, allt i Stockholm. Orientaliskt prunkande verkar "Kleopatras död" samt "Drottningen av Saba". I en diskret färg med monumental hållning är däremot "David och Saul" (Nationalmuseum) målad. Kronberg utförde dessutom flera goda porträtt.
Han är bl.a. representerad i Göteborgs Konstmuseum, Bacchant 1880. Efter hans död skänkte grevinna Halwyll hela hans ateljé till Skansen i Stockholm.
Source: Art Signature Dictionary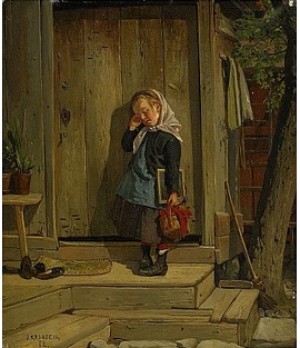 Price SEK 20,000 (€2,160)
Estimated SEK 25,000–30,000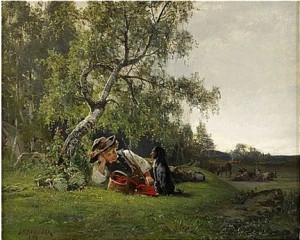 Price SEK 20,000 (€2,207)
Estimated SEK 20,000–25,000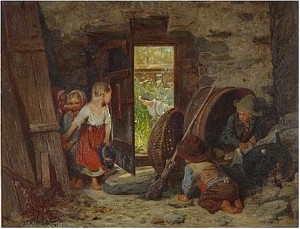 Price SEK 28,000 (€3,090)
Estimated SEK 20,000–25,000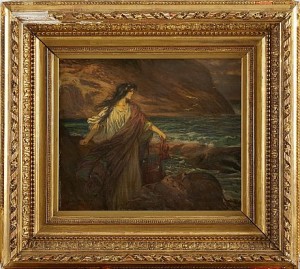 Sapfo, Enligt Uppgift Föreställande Operasångerskan Matilda Jungstedt Reutersvärd Som Sapfo
Price SEK 6,000 (€661)
Estimated SEK 8,000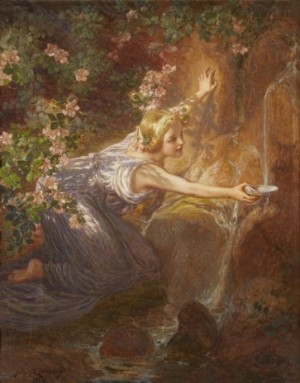 Price SEK 44,000 (€5,056)
Estimated SEK 20,000–25,000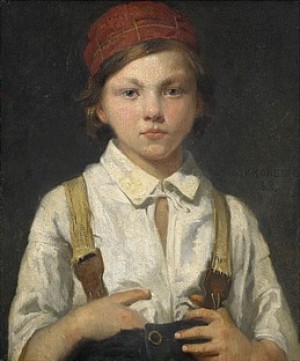 Price SEK 22,000 (€2,482)
Estimated SEK 12,000–15,000

Price SEK 12,000 (€1,235)
Estimated SEK 80,000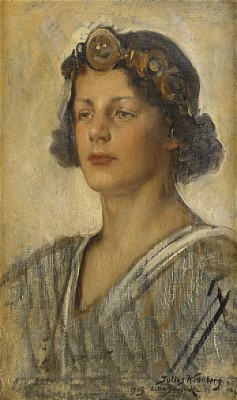 Fornnordisk Figurstudie
(1903)
Price SEK 14,000 (€1,339)
Estimated SEK 8,000–10,000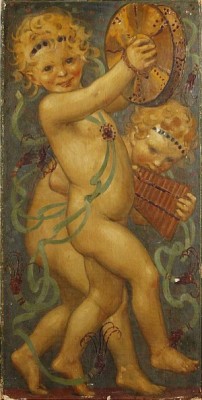 Musicerande Barn
Price SEK 4,000 (€383)
Estimated SEK 1,500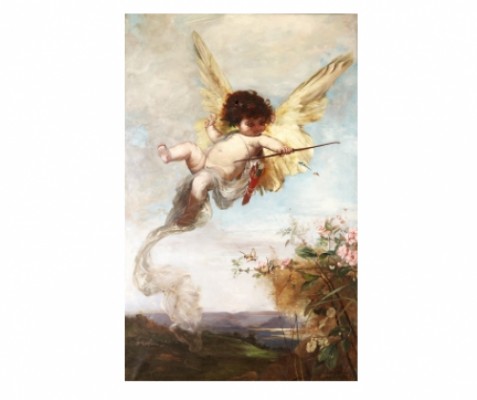 Bågskjutande Amorin
(1885)
Price SEK 32,000 (€3,017)
Estimated SEK 35,000–40,000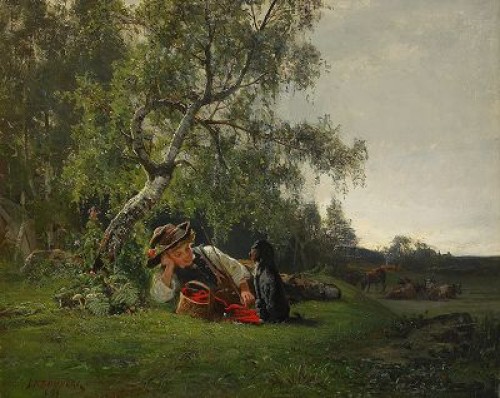 Pojke Med Hund I Landskap
(-64)
Price SEK 36,000 (€3,273)
Estimated SEK 30,000–40,000