Karin OLSSON
1928–2006, Sweden
Karin Olsson is self-taught. She debuted on Ingrid Malmström gallery in Stockholm. Wife of artist Ken KG Olsson. She paints in a naive and koloristisk style.
Source: Art Signature Dictionary
Karin Olsson är autodidakt. Hon debuterade på Ingrid Malmeströms galleri i Stockholm. Maka till konstnären Ken K.G. Olsson. Hon målar i en naivistisk och koloristisk stil.

Separatutställning:
1964-1982 i Stockholm, Umeå, Sundsvall, Östersund, och Malmö , samt i USA 1981 och Tyskland, i Stockholm 1966, 1969 och 1971, Umeå 1967, 1970, och 1973, Östersund och Örnsköldsvik 1970, Västerås och Hudiksvall 1972, Galerie Börjeson, Malmö 1974, Galleri Ofelia, Sundsvall 1976.
Samlingsutställningar:
Konsthallen i Göteborg, Gävle, Kalmar och Sundsvalls muséer och i Trondhjems Kunstforening. Så sent som i maj 2006, på Njurunda Lions konstrunda, medverkade hon och hade då 300-400 besökare till sin ateljé Tornet, där hon verkat sedan 1989. Minnesutställning ateljé Tornet 2007.

Representerad:
Sundsvall och Hudiksvall museer, Gävleborgs-, Västerbottens- och Västernorrlands läns landsting, Stockholms-, Sundsvalls-, Umeå-, Linköpings- och Örnsköldsviks städers samlingar. Statens konstråd, Sveriges allmänna konstförening och Svenska Handelsbankens konstförening, samt i ytterligare ett flertal kommuner och landsting, företag och konstföreningar.
Source: Art Signature Dictionary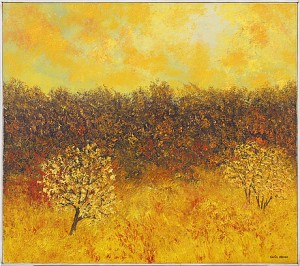 Höstlandskap
Price SEK 26,005 (€2,746)
Estimated SEK 20,000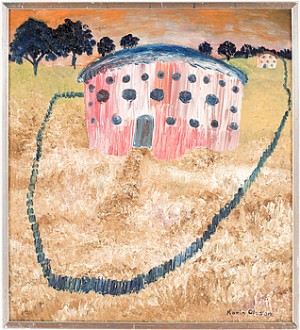 Price SEK 1,600 (€185)
Estimated SEK 3,000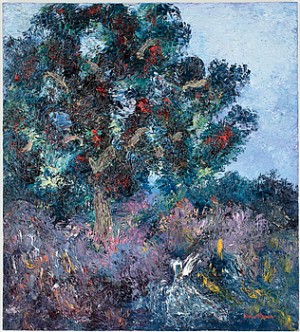 Abstrakt Komposition
Price SEK 1,300 (€150)
Estimated SEK 2,500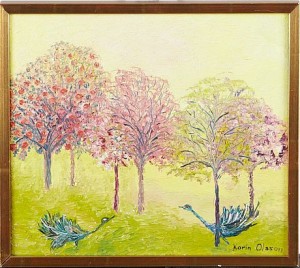 Fåglar
Price SEK 3,200 (€360)
Estimated SEK 1,500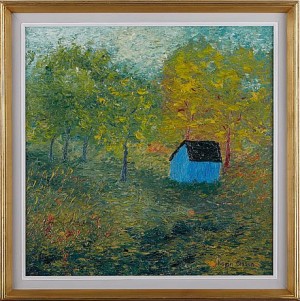 Blå Huset
Price SEK 17,500 (€1,972)
Estimated SEK 2,500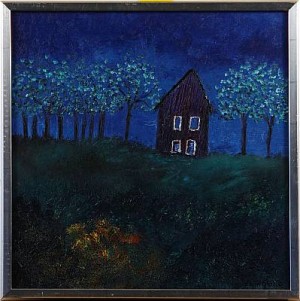 Sommarhus 1970
Price SEK 2,200 (€226)
Estimated SEK 3,000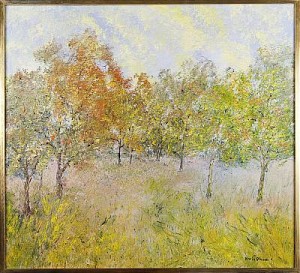 Gammal Trädgård I
Price SEK 5,500 (€549)
Estimated SEK 5,000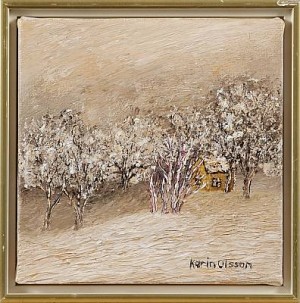 Vinterlandskap Med Stuga
Price SEK 1,000 (€100)
Estimated SEK 1,500