Kerstin HEDEBY

1926, Sweden
Also known as: KH, Hedeby-Pawlo
Kerstin Hedeby studied at Beckman\'s School in Stockholm and at the Art Academy, Academy Graphic School, as a teacher, she had Sven X: et Erixon, Bror Hjorth and Harald Sallberg. She paints in an expressionistic style. She has illustrated a lot of children\'s books, and also made theater decorations. Represented: National Museum in Stockholm, Moderna Museet in Stockholm, Malmo Museum Drottningholm, Linköping, in Sweden.
Source: http://www.gallericupido.se/hedeby.htm
Kerstin Hedeby studerade på Anders Beckmans skola i Stockholm samt vid Konstakademien, Akademiens Grafiska Skola, Lärare Sven X:et Erixon, Bror Hjort, Harald Sallberg. Hon målar med en expressionistisk kraft. Hon har
Illustrerat en hel del barnböcker, samt ägnat sig åt teaterdekoration.
 

Separatutställningar
1957 Gummesons Konstgalleri, debututställning                      
1965, -67 -73 -75 -77 -78 -81 -92  
Galleri Doktor Glas
1979 Galleri Focus
1986 Galleri Händer
1996 Olle Olsson-huset
2001 Prins Eugens Waldemarsudde
2006 Galleri Cupido


Samlingsutställningar
1968 Nationalmuseum
1969 Biennalen, Bratislava
1975 Kulturhuset, Stockholm, Vandringsutställning, Europa
1977, -79, -81Galleri Lucidor
1978, -81 Galleri Linnaeus
1979 Galleri Futura
1981 Galleri Doktor Glas
1981 Konstfrämjandet, Göteborg
1982 Mälargalleriet
1985 Dansmuseet
1987 Riksdagshuset
1994 Konstnärshuset

Dekor och kostym
Sedan 1949 ett 30-tal uppsättningar för regissörer och korreografer som Hans Dahlin, John Zackarias, Carl-Gustav Kruuse, Ingmar Bergman, Lars Levi Laestadius, Bengt Peterson, Birgit Cullberg, Lars Runsten, Jackie Söderman, Etienne Glaser, Frank Sundström, Mimi Pollak, Ivo Cramer, Keve Hjelm, Götz Friedrich, Donya Freuer, John Price på bl.a. Helsingborgs Stadsteater, Malmö Stadsteater, Kungliga Operan i Stockholm, Operan i Helsingfors, Det Konglige Teater i Köpenhamn, Stora Operan i Göteborg, Kungliga Dramatiska Teatern, Stockholms Stadsteater, Oscarsteatern, Drottningholmsteatern, Teatro Regio i Turin.

Representerad:
Nationalmuseum i Stockholm, Moderna Muséet i Stockholm, Malmö Museum Drottningholm, Norrköping, Linköping.
Source: http://www.gallericupido.se/hedeby.htm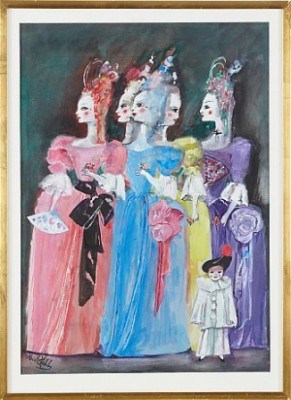 Teater
Price SEK 1,600 (€173)
Estimated SEK 3,000