Kurt SCHWITTERS

1887–1948, Germany/England
Birth
1887, 20/6, Germany
Kurt Schwitters was born Herman Edward Karl Julius Schwitters on June 20, 1887, in Hannover. He attended the Kunstgewerbeschule in Hannover from 1908 to 1909 and from 1909 to 1914 studied at the Kunstakademie Dresden. After serving as a draftsman in the military in 1917, Schwitters experimented with Cubist and Expressionist styles. In 1918, he made his first collages and in 1919 invented the term "Merz," which he was to apply to all his creative activities: poetry as well as collage and constructions. This year also marked the beginning of his friendships with Jean Arp and Raoul Hausmann. Schwitters's earliest Merzbilder date from 1919, the year of his first exhibition at Der Sturm gallery, Berlin, and the first publication of his writings in the periodical Der Sturm. Schwitters showed at the Société Anonyme in New York in 1920.

With Arp, he attended the Kongress der Konstructivisten in Weimar in 1922. There Schwitters met Theo van Doesburg, whose De Stijl [more] principles influenced his work. Schwitters's Dada [more] activities included his Merz-Matineen and
Merz-Abende at which he presented his poetry. From 1923 to 1932, he published the magazine Merz. About 1923, the artist started to make his first Merzbau, a fantastic structure he built over a number of years; the Merzbau grew to occupy much of his Hannover studio. During this period, he also worked in typography. Schwitters was included in the exhibition Abstrakte und surrealistische Malerei und Plastik at the Kunsthaus Zürich in 1929. The artist contributed to the Parisian review Cercle et Carré in 1930. In 1932, he joined the Paris-based Abstraction-Création group and wrote for their organ of the same name. He participated in the Cubism and Abstract Art and Fantastic Art, Dada, Surrealism exhibitions of 1936 at the Museum of Modern Art, New York.

The Nazi regime banned Schwitters's work as "degenerate art" in 1937. This year, the artist fled to Lysaker, Norway, where he constructed a second Merzbau. After the German invasion of Norway in 1940, Schwitters escaped to Great Britain, where he was interned for over a year. He settled in London following his release, but moved to Little Langdale in the Lake District in 1945. There, helped by a stipend from the Museum of Modern Art, he began work on a third Merzbau in 1947. The project was left unfinished when Schwitters died on January 8, 1948, in Kendal, Ambleside England.
Source: http://www.belart.se/artists/kurt_schwitters/
Collagekonstens mästare Kurt Schwitters (1887-1948) levde ett omvälvande liv där han fick kämpa hårt för sin konstnärliga tillvaro. I skuggan av andra världskriget drevs han först från hemlandet Tyskland till Norge och sedan vidare till England. Trots dessa motgångar övergav han aldrig sin skaparkraft och experimentlusta. Idag betraktas hans konstnärskap som banbrytande och har inspirerat generationer av efterföljande konstnärer.
Det konstnärliga genombrottet skulle infalla förhållandevis sent, först i 30-årsåldern hittade Schwitters sin egen stil. 1918 inbjöds han att ställa ut på det banbrytande galleriet Der Sturm i Berlin där avantgardistiska konstnärer från hela världen samlades. Schwitters influerades och ögonen öppnades för den nya internationella konsten. Självförtroendet ökade och under vårvintern skapdes de första kompositionerna av fragment funna på gatorna: kvitton, tågbiljetter, tidningar. På en papperslapp blir bokstäverna MERZ kvar, från ett reklamblad för Kommerz und Privatbank. Merz blir nu samlingsnamnet för hela Kurt Schwitters fortsatta konstnärliga aktivitet som kom att förändra hans liv radikalt.
Schwitters är nu allkonstnären som genom konsten, den litterära verksamheten och olika performances befinner sig i den samtida konstens främsta linje. Snart allierar han sig med andra avantgardekonstnärer inom Dada och Bauhaus-grupperna. Under åren 1923-36 tillkommer mästerverket Merzbau, en extraordinär arkitektonisk konstruktion som snart tar över större delen av hans ateljé. Här är som att vandra rakt in i ett av hans collage, en walk-in-sculpture.
Den groende nazismen blir dock ett stort problem. Schwitters tvingas dra ner på den konstnärliga aktiviteten och flyr till Norge 1937 med sonen Ernst. Såväl far som son lär sig tala norska och Ernst blir god vän med Gert Strindberg, släkting till vår berömde svenske August. När de tyska trupperna invaderar Norge tvingas familjen till England där Schwitters tillbringar nästan ett år på olika interneringsläger. I augusti 1942 flyttar han tillsammans med sonen och Strindberg in i en lägenhet i londonförorten Barnes. Under kriget har Merzbau förstörts i en bombattack och han får slutligen ekonomiskt stöd från MoMA att återuppföra ett nytt i England. Den fysiska hälsan begränsar sorgligt nog projektet som aldrig hinner slutföras.
Collaget C 62 Til Stri är skapat två år före konstnärens bortgång. Som titeln antyder står Stri för Strindberg. Collaget ärvdes till sonen Ernst, det visades på Venedigbiennalen 1960 och var under de följande åren på turné över hela världen.
Source: www.auktionsverket.se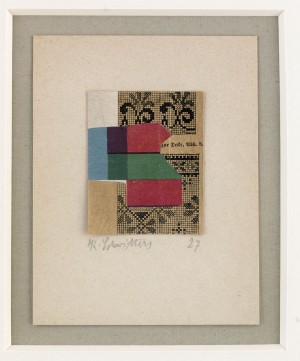 Untitled - Zur Decke, Abb. 8. Verso Marked. Prel. Oeuvre-no, 1927, 45
(-27)
Price SEK 800,000 (€93,200)
Estimated SEK 200,000–250,000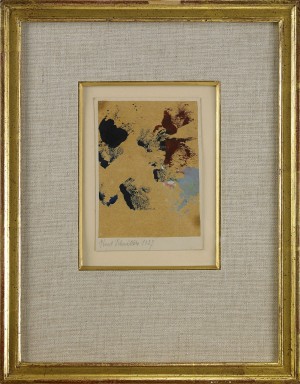 Untitled (spatters Of Paint). Verso Marked Prel. Oeuvre-no., 1927, 439.
(-27)
Price SEK 230,000 (€26,795)
Estimated SEK 40,000–50,000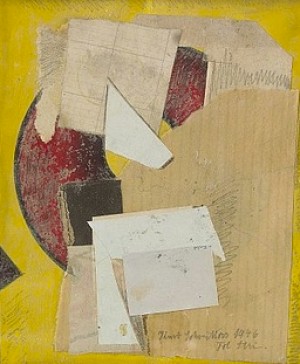 Price SEK 350,000 (€39,340)
Estimated SEK 400,000–500,000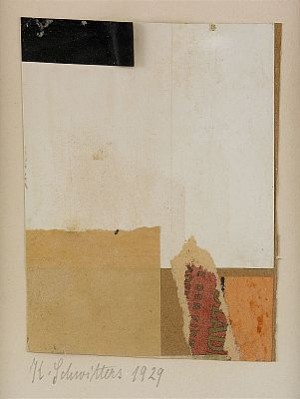 Price SEK 400,000 (€43,444)
Estimated SEK 150,000–200,000