Ladislas KIJNO
1921, Poland/France
Lived & Active In
France (From 1925), France
Ladislas Kijno was born in Warsaw, Poland in 1921. He arrived in France in 1925. He created his first artistic works in the beginning of the 40's, while also studying Philosophy at the University of Lille. He founded the Cadran group in 1950, with Paul Gay. From 1954 he will devote himself exclusively to painting. He moves to Paris in 1958. Kijno becomes a member of the committee of the Salon de Mai in Paris and thus regularly participates in this manifestation.
After his first works, personage and violins, he starts again tirelessly with gouache or with pencil, Kijno evolves towards abstraction. Without stopping to explore new methods of expression, he experiments. At the end of the 40's, he develops the "froissage" method of creasing paper, then later, crumpling canvases, thus giving relief to his surfaces; this will be nevertheless be one of his caracteristics, his signature. Through his research will also achieve a synthesis between traditional technique of painting and industrial discoveries, notably in the domaine of vaoprisaion and coloring.
Kijno is also interested in the integration of art in the environment and consecrated mural art and realized the importance of mosaics. He collaborated with numerous poets after meeting Aragon and Ponge in 1943, and illustrated numerous works.
Ladislas Kinjo often worked in series. He ceaselessly wanted to thrown back the crumpled hollow between abstraction and figuration, creating a personal world, utilizing signs and curves that seemed to create a modern mythology. Since his first big solo exhibition at the Musee d'Antibes in 1957, more that a hundred exhibitions have shown his work. The art of Kijno is today present in numerous international museums.
Peintre français, Ladislas Kijno est né en 1921. Originaire de Varsovie, il vient s'installer en France en 1925 dans le Pas-de-Calais. Il étudie la philosophie tout d'abord, puis il effectue son apprentissage sous la direction de Germaine Richier, installé à Paris depuis les années 1950. Il fréquente des hommes de lettres comme Louis Aragon ou encore Francis Ponge. Dans sa peinture il utilise la technique du froissage. A travers ses œuvres, il rend hommage à plusieurs personnalités comme Nicolas de Staël, Nelson Mandela, Galilée ou encore Gagarine. En 1980, il s'installe à Saint-Germain-en-Laye dans la banlieue ouest parisienne où il réside toujours. Il participe cette même année à la Biennale de Venise. Dans les années 1990, à Lille, il travaille pendant neuf ans sur le chantier de la rose du portail de Notre-Dame de la Treille. Kijno réussit à y faire créer un Centre d'Art Sacré Contemporain où sont exposés des artistes comme Baselitz, Fontana, Combas, ou encore Warhol.
Source: www.artprecium.com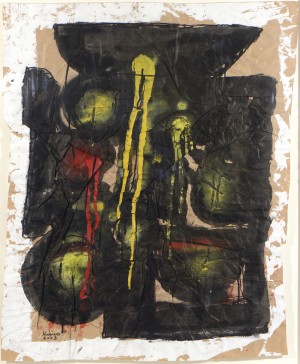 Price EUR 1,500
Estimated EUR 800–1,200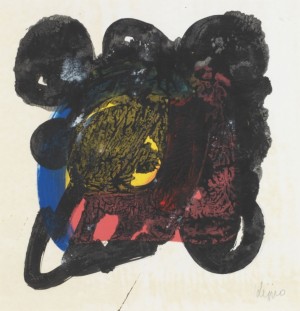 Composition Abstraite
Price EUR 400
Estimated EUR 500–700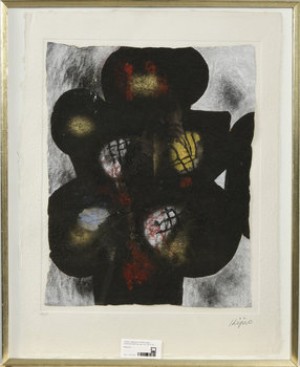 Komposition
Price SEK 800 (€90)
Estimated SEK 2,000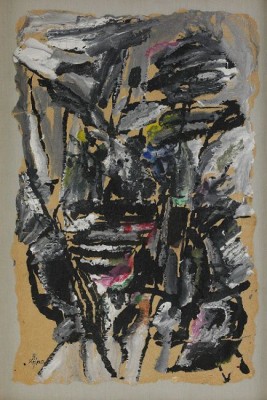 Utan Titel
Price SEK 0 (€0)
Estimated SEK 8,000–10,000