Lennart GRAM
1910–1996, Sweden
Name
Karl Gustav, Lennart, GRAM
Lennart Gram studied at the Technical School, at Otte Sköld painting school and in Paris with his friend Curt Clemens at the Académie de la Grande Chaumiere. He set out separately on the Swedish-French Art Gallery. He participated in 1930 in humorist salon in Gummessons gallery along with Albert Engström. He was a many years working as an illustrator in Lutfisken, Söndags-Nisse-Strix, Socialdemokraten and DN. He has painted oil portraits, interiors and figurative motifs in saturated color scale.
Lennart Gram studerade vid Tekniska Skolan, vid Otte Skölds målarskola samt i Paris tillsammans med kamraten Curt Clemens vid Académie de la Grande Chaumière. Han ställer ut separat på Svensk-franska Konstgalleriet. Han deltog 1930 i Humoristernas salong hos Gummessons galleri tillsammans med Albert Engström. Han var en lång rad av år verksam som illustratör i Lutfisken, Söndags-Nisse-Strix, Socialdemokraten och DN. Han har målat i olja porträtt, interiörer, samt figurmotiv i mättad färgskala.

Representerad:
Nationalmuseum i Stockholm, Moderna Muséet i Stockholm, Norrköping, Gävle, Kalmar, Malmö museum, Statens Museum for Kunst i Köpenhamn, Bibliotheque Nationale Paris, Staatliche Muséen zu Berlin, Kupferstichkabinett DDR, Atenèum i Helsingfors, Listasafn Islands Reykjavik och Svenska Statens porträttsamling på Gripsholms slott.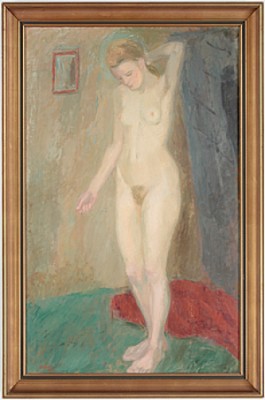 Modellen Vid Spegeln
(-37)
Price SEK 6,450 (€774)
Estimated SEK 3,000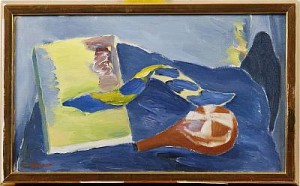 Den Gula Boken
Price SEK 1,600 (€162)
Estimated SEK 1,000
Barnstudier
Price SEK 200 (€20)
Estimated SEK 800–1,000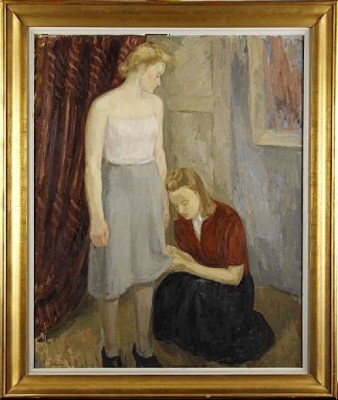 Provning
Price SEK 2,000 (€198)
Estimated SEK 1,500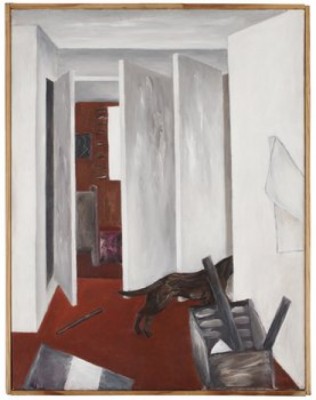 Labolina
Price SEK 4,800 (€471)
Estimated SEK 6,000–8,000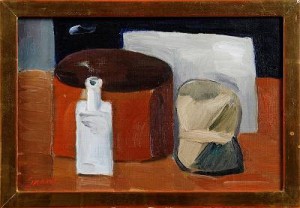 Stilleben Med Snörnystan
Price SEK 2,300 (€217)
Estimated SEK 1,200