Mårten Eskil WINGE

1825–1896, Sweden
Also known as: EW, MEW

Verdict of guilty
PHM Nr.90
Oil on canvas, 56x76 cm, signed "ME Winge." On the back is a label that says "Harley Bird in 1914." The painting is signed later and is a forgery. Otherwise, there are no changes on the painting. It can be a copy, and probably made ​​in England, with great qualities on drawing and composition. The District Court's assessment: The painting has a forged signature and has become a counterfeit.
Oljemålning på duk, 56x76 cm, signerad ME Winge. På baksidan finns en etikett där det står "Harly Bird 1914". Målningen är signerad senare och är förfalskad. I övrigt finns det inga förändringar på målningen. Det kan vara en kopia och sannolikt gjord i England, med stora kvaliteter beträffande teckning och komposition. Tingsrättens bedömning: Tavlan har genom eftersigneringen blivit en förfalskning.





Mårten Eskil Winge studerade vid Konstakademien, i Düsseldorf, Paris och Rom. I Rom började han måla tavlor med nordiska motiv, såsom Kraka samt Loke och Sigyn (båda i Nationalmuseum, Stockholm). Efter hemkomsten målade han bl.a. Ingeborg väntande Hjalmars återkomst (Göteborgs konstmuseum) samt Tors strid med jättarna (Nationalmuseum). Han målade också altartavlor, t.ex. uppståndelsen (Caroli kyrka, Malmö) och Förklaringen (S:t Pauli kyrka, Malmö). På kulla Gunnarstorp i Skåne gjorde han en del dekorativa målningar, bl.a. de fyra årstiderna.Han utnämndes 1865 till vice professor vid Konstakademien.

Representerad:
Nationalmuseum, Stockholm, Göteborgs Konstmuseum.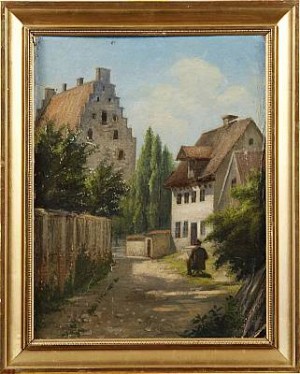 Motiv Från Visby
Price SEK 2,200 (€222)
Estimated SEK 1,500
Lärd Man
Price SEK 1,200 (€120)
Estimated SEK 1,500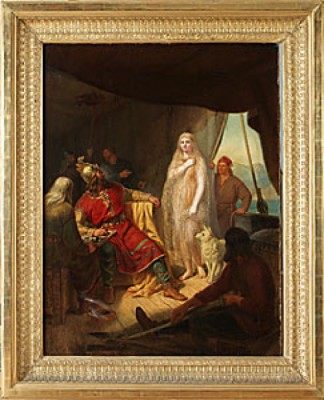 Ragnar Lodbrog Möter Kraka
(1867)
Price SEK 40,000 (€3,571)
Estimated SEK 15,000–18,000