Marcus LARSON

1825–1864, Sweden/England
Also known as: SML

Verdict of guilty
DB 199, 1035-72 D. (int.nr.PHM3745:3)
Oil on canvas 48x65 cm. The painting is counterfeit signed copy after an original painting by Marcus Larson, "Burning Steamship" ornamental frame is provided with name plate: Marcus Larsson (1825-64). Typical Marcus Larsson forgery - it is likely that the painting from the beginning, perhaps, been a copy made by an amateur painter and then signed again with Marcus Larson signature and ornamental frame fitted with a name plate indicating that it would be an original painting by Marcus Larson. (Original painting Burning steamboat by Marcus Larson was sold in November 2007 of an Auction houses in Norrköping for 34,000 Swedish crowns.) The painting is part of a major fraud seizures of counterfeit art in Sweden known as "The Society of Art Friends": Three men, aged 30, 37, and 40 years old, were caught in Stockholm, Sweden after a reconnaissance tip from police in Ängelholm, Sweden. Shortly afterwards, another two men were caught. In total, 48 house searches were made through out the nation from which 83 forged paintings were confiscated. Forged art had already been sold for millions of Swedish crowns. Victims of the gang were well known businessmen with considerable incomes. League had good help from educated art experts who have written certificate of authenticity to many of the fake paintings, often at very small remuneration. On a door to a flat in Stockholm the men had displayed a sign with the text "The Society of Art Friends".
Olja på duk 48x65 cm. Målningen är falsksignerad kopia efter en originalmålning av Marcus Larson, "Brinnande Ångbåt", prydnadsramen är försedd med namnskylt: Marcus Larsson (1825-64). Typisk Marcus Larssonförfalskning – det troliga är att målningen från början, möjligen, varit en kopia utförd av en amatörmålare och att den sedan signerats igen med Marcus Larsons signatur och att prydnadsramen försetts med en namnskylt som antyder att det skulle vara en originalmålning av Marcus Larson. (Originalmålningen Brinnande ångbåt av Marcus Larson såldes i november 2007 hos ett Auktionshus i Norrköping för 34.000 Svenska kronor.) Målningen ingår i ett stort bedrägeribeslag av förfalskad konst i Sverige kallat "Sällskapet Konstvännerna": Tre män, 30, 37 och 40 år gamla greps i Stockholm efter ett spaningstips från polisen i Ängelholm, kort därefter greps ytterligare två män. Totalt gjordes 48 husrannsakningar runt om i landet varvid 83 falska målningar togs i beslag. Falsk konst hade redan sålts för miljontals kronor och ligans offer var kända affärsmän med betydande inkomster. Ligan hade god hjälp av bildade konstexperter som för små pengar skrivit ut äkthetsintyg till många av de falska målningarna. Männen hade på en lägenhetsdörr i Stockholm satt upp en skylt med texten "Sällskapet Konstvännerna".

Verdict of guilty
PHM Nr. 46
Oil on wood panel, 25x30 cm, signed "Marcus Larson". On the back of the painting is a certificate of authenticity: "Certificate of 1 st. oil on canvas 25x30 cm, motives Spring creek in the Norwegian mountains. Painted by Marcus Larson about 1850 attests File Doctor Birger Hultberg, Sundbyberg the 27/3-39. "A check of the municipality showed that someone Birger Hultberg never been in Sundbyberg, Sweden. One can also not find any art expert with this name. The painting's lower right corner has scratches. It has also had another signature and later been signed in the lower left corner. The painting is made ​​by an ignorant amateur executed during the second half of the 1800s. It is not painted by Marcus Larson and any model can not be found. The District Court's judgment: both painting and certificate of authenticity are fakes.
Oljemålning på trä pannå, 25x30 cm, signerad "Marcus Larson". På målningens baksida finns ett äkthetsintyg: "Intyg av 1 st. oljemålning 25x30 cm, motiv vårbäck i norska fjällen. Målad av Marcus Larson omkring 1850 intygar File Doctor Birger Hultberg, Sundbyberg den 27/3-39". En kontroll hos Pastorsämbetet visade att någon Birger Hultberg aldrig funnits i Sundbyberg. Man kan ej heller finna någon konstexpert med detta namn. Målningens nedre högra hörn har skrapskador. Den har tidigare haft annan signatur och senare blivit signerad i nedre vänstra hörnet. Målningen är utförd av en okunnig amatör utförd under andra hälften av 1800-talet. Den är ej målad av Marcus Larson och någon förebild finns ej. Tingsrättens bedömning: både målningen och äkthetsintyget är förfalskningar.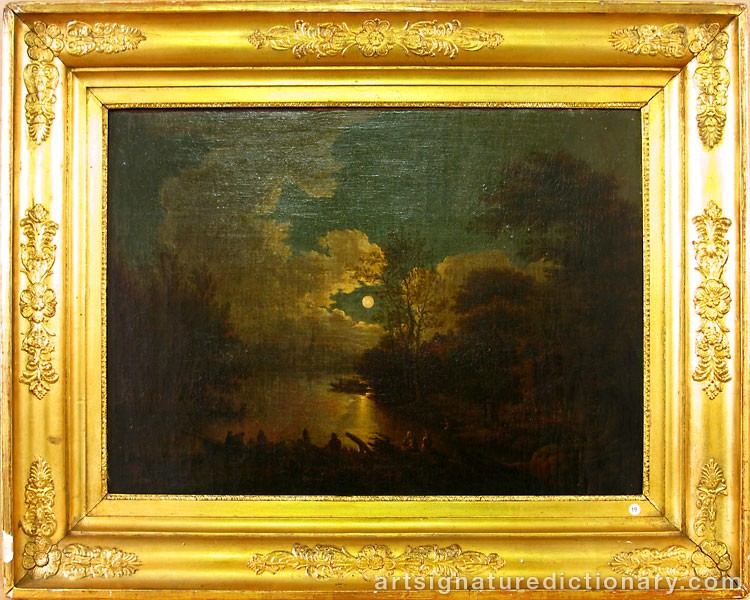 Verdict of guilty
PHM Nr. 19
Oil on canvas, 41x58 cm, not signed. Certificate of authenticity been signed on the back of the canvas "Original Painting by Markus Larson declares Gustav Jaensson".
Oljemålning på duk, 41x58 cm, ej signerad. Äkthetsintyg påskrivet på dukens baksida "Originalmålning av Markus Larson intygar Gustaf Jaensson".


















Name
Simon, Marcus LARSON
Marcus Larson, sometimes spelled Larsson, was a famous marine painter who often depicted violent and dramatic landscapes. He studied in Düsseldorf between 1852 and 1855, and then in Paris. During his last years, he painted several dramatic images of the sea, often depicting burning ships. One of his most famous paintings is "Waterfall in Småland", painted in Paris in 1856.
Marcus Larson studerade först till sadelmakare i Stockholm 1843-1847. Han blev uppmärksammad för sin begåvning som tecknare och tog ett vikariat som teckningslärare i Hälsingborg där han började teckna mariner.
Efter att han kontaktat den Danske marinmålaren Vilhelm Melbye i Köpenhamn presenterade han 16 st målningar på Akademiens utställning i Stockholm, året var 1850. Han blev bekant med den norske konstnärn Adolf Tidemands konst och begav sig till Norge, där han målade vilda vattenfall och forsar, en del kustbilder med fartyg som förliste. Han begav sig till Düsseldorf och tillsammans med Killian Zoll skapades det 1853 ett flertal marina målningar. Skeppsbrott vid svenska kusten, vid Kullen.
1855 besöker han världsutställningen i Paris. 1858 återvänder han till Sverige. Samma år avslog riksdagen ett inköp av hans tavla, Vattenfall i Småland, vilket sårade honom djupt. Han målade inför häpna studenter i Lund sin tavla, Brinnande ångbåt, i tio timmar i sträck.
Hustrun och barnen lämnar honom och hans villa brinner ner till grunden med värdefulla verk 1860.
Han reser till Finland 1861 och är gäst hos Ludvig Runeberg i Borgå. Därefter till S:t Petersburg där han har en bejublad utställning 1862, och via Tyskland reser han slutligen i London. Han är svårt sjuk i tuberkulos och avlider 1864, endast 39 år gammal.
Han ses som en av Sveriges främsta 1800-talskonstnärer. Han var i hög grad en romantiker med våldsamt temperament, vilket framträder i hans mariner med brinnande fartyg, vars lågor upplyser himmel och hav, medan blixtarna ljungar och fördunklar både måne och skenet från fyrtornen.
Han själv har präglat vår bild av ett målargeni. Hans livsöde innehåller allt och är en berättelse om en obemedlad yngling, som har erövrat världen.

Representerad:
Nationalmuseum i Stockholm, Barkskepp kryssar under Kullaberg, 1849, Till ankars i norsk hamn, Skeppsbrott, Stenigt skogslandskap, 1853. Vattenfall i Småland, 1856, Brinnande ångbåt 1858. Helsingborgs museum, Hälsingborgs hamn, 1849. Norrköpings museum, Porträtt av grosshandlare Ekström 1850. Stockholm Slott, Fregatten Josephin, 1852. Brinnande Ångbåt, Lunds Akademiska Förening, 1859. Dessutom med fonddekorationer för Dramatiska Teatern 1860.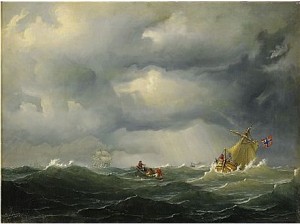 Segelfartyg I Upprörd Sjö
(1850)
Price SEK 32,000 (€3,532)
Estimated SEK 40,000–50,000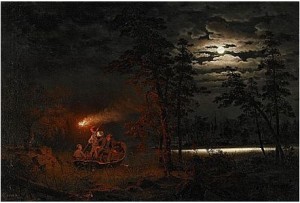 Price SEK 85,000 (€9,381)
Estimated SEK 80,000–100,000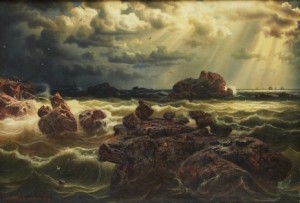 Stormigt Hav Med Fartyg Vid Horisonten
(1859)
Price SEK 48,000 (€5,515)
Estimated SEK 40,000–50,000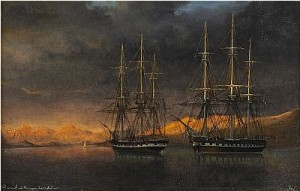 Dusevik Vid Stavanger
(-51)
Price SEK 70,000 (€8,148)
Estimated SEK 40,000–50,000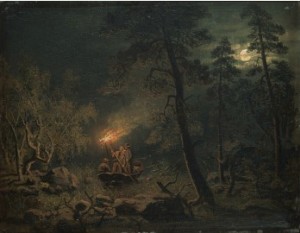 Ljusterfiske I Månsken
(1853)
Price SEK 24,000 (€2,698)
Estimated SEK 15,000–18,000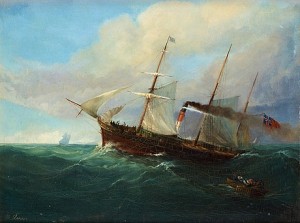 ångbåt I Nöd
Price SEK 34,300 (€3,855) Incl. buyer's premium
Estimated SEK 30,000–40,000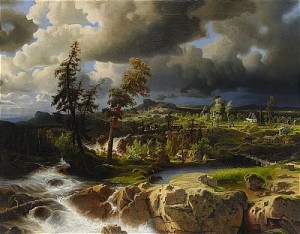 Forslandskap Med åtvids Gamla Kyrka I Fonden
Price SEK 120,000 (€13,259)
Estimated SEK 150,000–175,000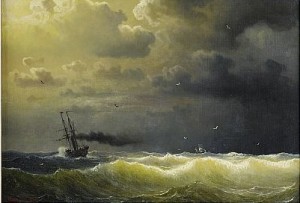 Price SEK 24,000 (€2,652)
Estimated SEK 30,000–35,000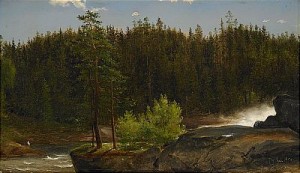 Forslandskap I Norge
(1850)
Price SEK 23,000 (€2,576)
Estimated SEK 25,000–30,000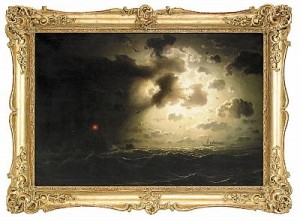 Nattstämning Vid Havet
(1858)
Price SEK 75,000 (€8,400)
Estimated SEK 80,000–100,000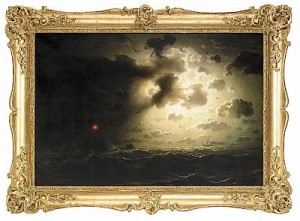 Nattstämning Vid Havet
(1858)
Price SEK 75,000 (€8,374)
Estimated SEK 80,000–100,000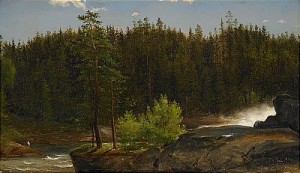 Forslandskap I Norge
(1850)
Price SEK 23,000 (€2,568)
Estimated SEK 25,000–30,000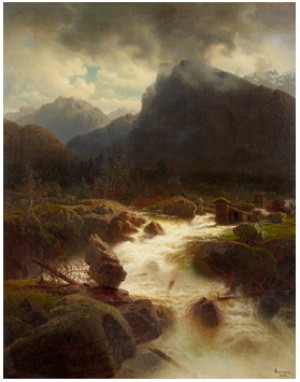 Brusande Fors I Bergslandskap
(1855)
Price SEK 74,000 (€7,667)
Estimated SEK 30,000–50,000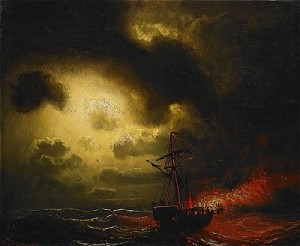 Dramatiskt Kustlandskap Med ångbåt I Brand
(1861)
Price SEK 42,000 (€4,017)
Estimated SEK 20,000–25,000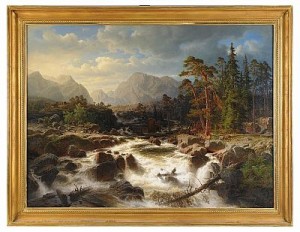 Dramatiskt Forslandskap Med Figurer Och Kvarnbyggnader
(1854)
Price SEK 170,000 (€16,261)
Estimated SEK 175,000–200,000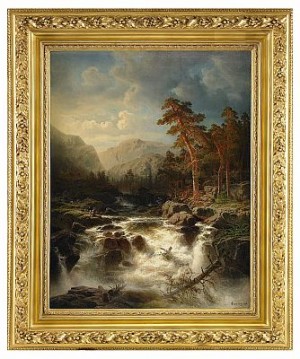 Forslandskap Med Vattenkvarn Och Figurer
(1854)
Price SEK 210,000 (€20,087)
Estimated SEK 150,000–175,000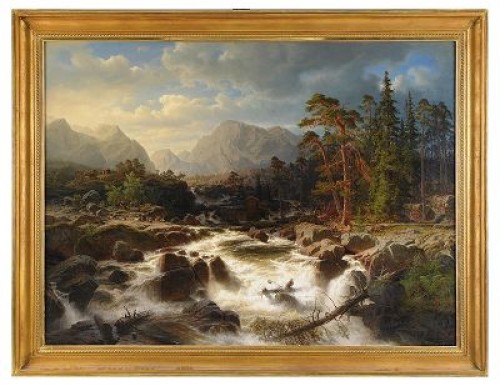 Dramatiskt Forslandskap Med Figurer Och Kvarnbyggnader
(1854)
Price SEK 0 (€0)
Estimated SEK 250,000–300,000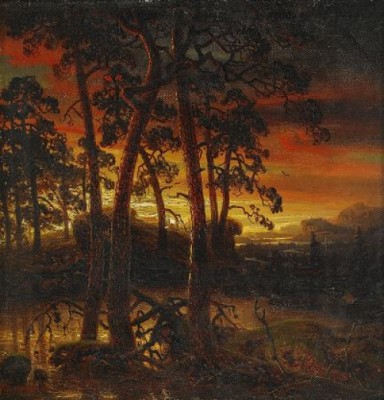 Aftonrodnad över Skogslandskap
(1859)
Price SEK 0 (€0)
Estimated SEK 15,000–18,000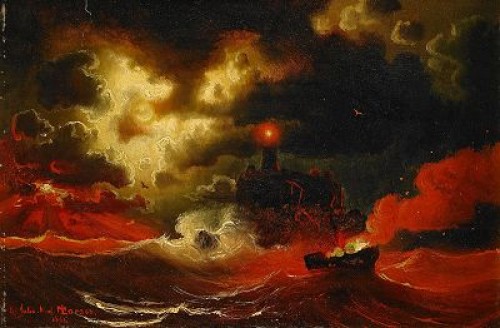 Dramatiskt Kustlandskap Med ångbåt I Brand
(1864)
Price SEK 42,000 (€3,818)
Estimated SEK 20,000–25,000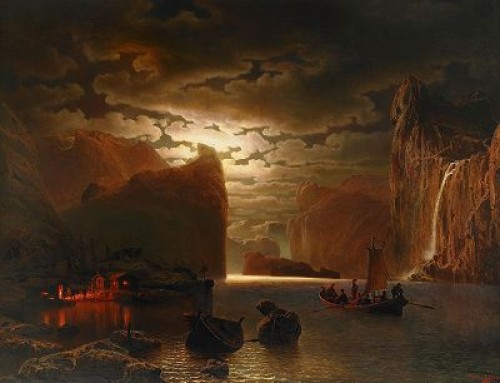 Månsken över Sognefjorden
(1862)
Price SEK 520,000 (€47,273)
Estimated SEK 200,000–250,000