Margareta TERNSTRÖM
1963, Sweden
Margareta Ternström, Fil mag 1963 Stockholms universitet i språk och konstvetenskap. Fortsatta studier bl a vid George Washington University, American University i Wash¬ington DC USA 1959 - 1960, Hong Kong University 1966 - 1967. Camden Art Centre, London 1968 - 1970. Studerat litografi vid School of Visual Arts, New York 1980.

Separatutställningar
Sally Jackson Art Gallery, Hong Kong 1967 Höganäs Museum 1969
Ansdell Gallery, London 1971
Galerie Visconti, Paris 1972 och 1979
Galerie Fahti Ben Zacour, Tunis 1977 Höganäs Museum 1980
Bra Böcker, Höganäs 1982
Odin-galleriet, Stockholm 1983 Handelshögskolan, Stockholm 1984
Galerie Rocade, Stockholm 1987 och 1989
Utsmyckning av trapphus, Gullmarsvägen 29, Stockholm 2001 Utsmyckning av Bergstorpsskolan, Stockholm 2002

Samlingsutställningar
Music and Fine Arts Festival, Hong Kong 1967
Three London Swedes, Swedish Institute, London 1970 Scandinavian Art Today, Reigate, London 1970
Grand Prix International d\\\'art Contemporian Monte Carlo 1977 International Art Exhibition, New York 1981 Water Works, Somerseth Country College, New Jersey, USA Water Works, Princeton (The RCA Comoration, USA)

Representerad i många privata samlingar och i bland annat
Hong Kong City Hall Museum
Frigoscandia. London
Spencer Stuart and associates Ltd, London Byggnadsstyrelsen, Stockholm
Svenska Ambassaden (London, Brasilia, Nairobi) Bra Böcker, Höganäs
Nordea, Stockholm
Sydkraft, Malmö
Svenska Turistföreningen

Ateljebesök av många konstföreningar. Utställningar i konstföreningars regi, bl a Sida, Folksam, UD, Sveriges Läkarförbund m fl.
Source: http://www.mternstrom.se/resume.htm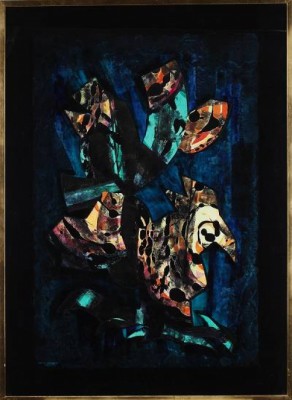 Harlequin Phoenix
Price SEK 1,200 (€114)
Estimated SEK 1,000