Mary Stevenson CASSATT

1844–1926, USA/France

Verdict of guilty
T/200702/012_2400/R/219/04
Pastel on board, signed "Mary Cassatt". Ostensibly depicting a genuine painting by the renowned Finnish artist Mary Stevenson Cassatt, (1844-1926). The painting is part of one of the many cases of fraud, the police seized during the late 1990's and early 2000's in Finland. After an expert assessment and judgment were declared that the painting is not genuine. It is a forgery.
Rikoksesta epäillyt kolme mieshenkilöä tekivät taulukauppoja siten, että yksi miehistä oli innostanut yrityksen omistanutta tuttavaansa sijoittamaan taiteeseen v. 2003. Kolmas mies tuli mukaan vuoden lopulla. Maksuna kaupoissa käytettiin pääasiassa yrityksenomistajan omistamia asunto-osakkeita, mutta myös tavaraa sekä käteistä rahaa. Kauppojen hinnat merkittiin kauppakirjoihin ylisuuriksi tai asunto-osake osoittautui vähäarvoiseksi. Tauluja kaupattiin taidekauppiaalle, joka totesi ne väärennöksiksi. Taidekauppias näytti tauluja myös taidekonsultille, joka myös huomasi teokset väärennetyiksi. Vuoden 2004 alussa yrityksen omistajan on epäilty yrittäneen erehdyttää asianomistaja Bukowski Oy Ab:n silloista toimitusjohtajaa tarjoamalla huutokaupattavaksi väärennettyjä tauluja yhden epäillyistä toimiessa välittäjänä ja myyjänä. Mahdolliselle ostajalle olisi aiheutunut tappiota hänen maksaessaan vähäarvoisesta taulusta aidon teoksen hinnan, ja asian paljastuttua Bukowski Oy olisi menettänyt välityspalkkionsa. Osa tauluista esiteltiin Bukowskin edustajalle ja näytettin myös listaa, jossa oli muitakin tauluja. Listassa oli arvio kustakin taulussa huutokaupassa mahdollisesti saatavasta hinnasta (yht. n. 1 milj. euroa). Mukana oli nimekkäiden venäläisten (esim. Malevits), suomalaisten (esim. Gallen-Kallela) ja eurooppalaisten taiteilijoiden (esim. Matisse) tekemiksi merkittyjä teoksia. Bukowskin edustaja on huomannut heti taulut väärennetyiksi, joten epäilty teko on jäänyt yritykseksi. Yrityksen omistajan on täytynyt tietää, että kaikki hänen ostamistaan teoksista eivät ole aitoja, vaikka niitäkin saattoi joukossa olla. Hän kertoi tiedustelleensa taulujen aitoutta asiantuntijoilta, mutta saaneen epämääräisiä vastauksia. Ei ollut riittävää näyttöä, että hänen tarkoituksenaan olisi ollut saada väärennettyjä teoksia myyntiin, vaan se, että asiantuntija seuloo aidot vääristä. Oikeus määräsi osan teoksista palautettaviksi omistajalleen, osa tuomittiin menetettäväksi valtiolle. Teokset ovat todenneet väärennöksiksi mm. Valtion taidemuseon intendentti, Bukowskin taidehuutokaupan toimitusjohtaja sekä Hagelstamin taidehuutokaupan edustaja. Venäläiset taulut tutkittiin Moskovassa ja Mary Cassattille nimetty teos The Mary Cassatt Catalogue Raisonné Committeessa New Yorkissa. Paperin reunat repaleiset. Teoksesta pyydetty hintaa 62 000 €.
Pastell på board, signerad "Mary Cassatt". Skenbart föreställande en äkta målning utförd av den Amerikansk/Franske konstnären Mary Stevenson Cassatt, (1844-1926). Målningen ingår i ett av de många bedrägerifall som polisen tog i beslag under slutet av 1990-talet och början av 2000-talet i Finland. Efter expertutredning och dom förklarades att målningen inte är äkta. Det är en förfalskning.



Name
Mary Stevenson CASSATT
The Impressionist painter, Mary Cassatt is best known for her mother and child compositions. Born in 1844 in Allegheny City (now part of Pittsburgh), Pennsylvania, she was recognized by the turn of the
century as one of the preeminent painters both of her native country and of France, which she made her permanent home in 1875.

She spent her childhood in Pennsylvania, and then lived with her mother in Europe from 1851 until 1858, studying in a number of cities including Paris, Parma, and Seville. She returned to study at the
Pennsylvania Academy of Fine Arts from 1861 to 1865 and in 1866 went back to France, which she decided was best suited for her professional goals. There she spent much time studying works by
artists living and deceased, and painted with Auguste Renoir, Alfred Sisley, and Degas. Her first public success came at the Salon of 1868 with a painting praised by a New York Times critic for its "vigor of
treatment and fine qualities of color". Cassatt continued to exhibit at the Salon through the mid-1870s, and attracted the attention of Edgar Degas, who invited her to join the artists dedicated to the "new painting", the Impressionists.

At this time she abandoned the somber palette and traditional subject matter of the Academic style in favor of the light-filled modern life compositions favored by her colleagues, among them Monet,
Renoir, and Morisot. She quickly adopted impressionist techniques of applying paint rapidly from a bright palette. Cassatt developed her own subject matter, using her family members as models
because her lifestyle, with aging parents, was much more confined than that of the male Impressionists who were able to spend time in cafes and paint subjects of society life. From 1879 to 1886 she was one of only three women to exhibit with the Impressionists, and the only American woman.

In 1878, at the request of Julian Weir, she sent two of her paintings to him in America for exhibition with the Society of American Artists. These paintings were among the first Impressionist works to be
shown in America. However, she received much more attention in France than she ever did in the United States. While some critics were perplexed by the sketchy quality of her paint handling and the
bold colors of the works Cassatt showed at the Impressionist exhibition of 1879, by 1881 she was almost uniformly praised, with two critics citing her work as the highlight of that year's exhibition.

It was in the 1881 Impressionist exhibition that Cassatt first displayed pictures of the mother and child theme for which she is best known. Though a sensitive painter of women and even the occasional male subject, Cassatt achieved her greatest success in the depiction of maternity. She elevated the genre from the realm of the sentimental or anecdotal through a careful attention to naturalistic pose and gesture, to the exchange of gazes between mother and child, and with the use
of animated brush strokes and bright tones.

After the final Impressionist exhibition of 1886, Cassatt began to experiment more widely, transforming her imagery with references to Old Master Madonna and Child paintings as well as Japanese prints.
Her experiments with printmaking at this time resulted in one of the great graphic monuments of the nineteenth century: the set of ten color prints first shown at Galeries Durand-Ruel in Paris in 1891.
Gradually she abandoned Impressionist work for paintings that emphasized shapes and forms. She did a series of color prints that combined drypoint, etching, and aquatint by studying Japanese woodblock techniques. From 1890, she had her own printing press at her home.

As the years progressed, Cassatt became increasingly involved with women's rights causes. She painted a mural for the Womens Building in the 1893 Chicago World's Exposition on the theme of
"Modern Woman", and also helped organize an exhibition of pictures by Old Masters and Degas, in addition to her own works, to benefit woman suffrage in 1915.

Cassatt resided in Europe, mostly at her country chateau near Paris, the remainder of her life except during the Franco-Prussian War when her family insisted she return to Philadelphia. She brought much
of her work back with her, and unfortunately it was destroyed in a fire, so that the early European part of her career largely undocumented. She lived into the 20th century, but it is generally thought that the quality of her work declined. By 1914 she had to give up painting because of poor eyesight.

Upon her death in 1926, Cassatt was honored by a number of memorial exhibitions, and remains one of the most acclaimed American-born artists. She is still the subject of major exhibitions, such as "Mary Cassatt, Modern Woman," which opened at the Art Institute of Chicago in 1998. A traveling exhibition, it included 100 of the most beautiful of her paintings, the first traveling retrospective of her work in
30 years.


Source: http://rogallery.com
Mary Stevenson Cassatt har erkänts som en av sekelskiftets mera framstående konstnärer både i sitt hemland och i Frankrike. Hon är känd för sina figurkompositioner men också för sin grafiska teknik torrnål, etsningar och akvatint. I sitt hem hade hon sin egen tryckpress.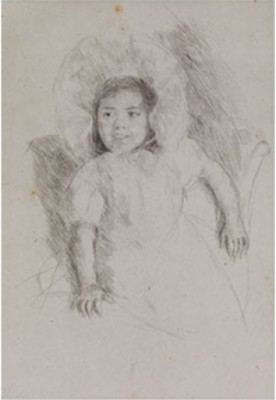 Margot Wearing A Bonnett, No. 3
Price EUR 0 Not sold
Estimated EUR 800–1,200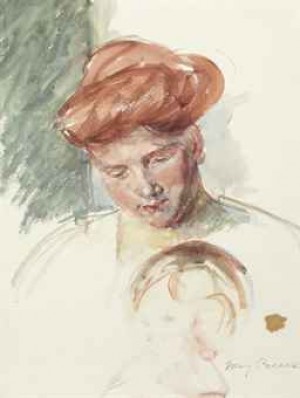 Sketch Of Mother Jeanne Looking Down, With Her Baby (no. 3)
(Executed ca. 1907-08)
Price USD 43,750 (€33,472) Incl. buyer's premium
Estimated USD 40,000–60,000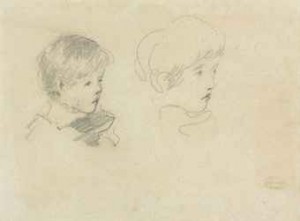 Portrait Of Robert Kelso Cassatt
Price USD 7,500 (€5,581) Incl. buyer's premium
Estimated USD 6,000–8,000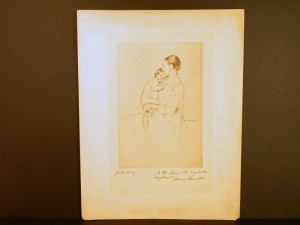 Mother Holding A Baby
(Executed ca.1891)
Price USD 660 (€504) Incl. buyer's premium
Estimated USD 1,500–2,500