Niki De SAINT-PHALLE
1930–2002, France/USA

Verdict of guilty
PHM Stockholm, Sweden
Mini Sculpture, height 28 cm, signed "by niki HC". This, and another sculpture, was submitted to an auction house for selling as depicting authentic and unique sculptures by artist Niki de Saint Phalle. Suspicion arose about the authenticity of the sculpture and the investigation that followed showed that they were a pretty common souvenirs that had been purchased in France! Caution is advised, make no unconsidered purchases! There is a great risk that more counterfeit signed souvenirs are for sale on the market.
Miniskulptur, 28 cm hög, signerad "by niki H.C.". Denna, och ytterligare en skulptur, lämnades till ett auktionshus för försäljning såsom föreställande äkta och unika skulpturer av konstnären Niki de Saint Phalle. Misstanke uppstod om skulpturernas äkthet och utredningen som följde visade att de var en ganska vanliga souvenirer som hade inköpts i Frankrike! Försiktighet rekommenderas, gör inga snabba köp! Risken att fler falsksignerade souvenirer finns ute på markaden kan inte uteslutas.

Verdict of guilty
PHM Stockholm, Sweden
Mini Sculpture, height 33 cm, signed 'Niki'. This, and another sculpture, was submitted to an auction house for selling as depicting authentic and unique sculptures by artist Niki de Saint Phalle. Suspicion arose about the authenticity of the sculpture and the investigation that followed showed that they were a pretty common souvenirs that had been purchased in France!
Miniskulptur, höjd 33 cm, signerad "Niki". Denna, och ytterligare en skulptur, lämnades till ett auktionshus för försäljning såsom föreställande äkta och unika skulpturer av konstnären Niki de Saint Phalle. Misstanke uppstod om skulpturernas äkthet och utredningen som följde visade att de var en ganska vanliga souvenirer som hade inköpts i Frankrike!








Name
Niki De, Catherine Marie-Agnès Fal De Saint Phalle SAINT-PHALLE
Niki de Saint Phalle was born Catherine Marie-Agnes Fal de Saint Phalle at Neuilly-sur-Seine, and was the second of five children of Jeanne Jacqueline, nee Harper and Andre Marie de Saint Phalle, a banker.

In the early 1930s, her father lost all the family money in the stock market crash of 1929, and Niki and her elder brother were separated from their parents and sent to live with paternal grandparents in the Nievre area of France for the next three years.

In 1933, the family reunited in Greenwich, Connecticut, and spent summers in France with American maternal grandfather Donald Harper at his chateau .

In 1937 the family moved to New York City and lived there for 10 years. Niki started school at the Convent of the Sacred Heart, and at this age she was much influenced by comic books and visits to the Metropolitan Museum of Art. She went to a number of schools and at the Brearly School, she became interested in literature, especially the work of Edgar Allan Poe, Shakespeare, and the Greek tragedies. She discovered Russian authors and passionately read all the Dostoevsky novels. She was also interested in acting in the school\\\'s plays and poetry. She was later dismissed from Brearly for painting the fig leaves red on the school\\\'s statuary. She eventually graduated from Old Field School, a private all girl school in Maryland, and from the late 40s to mid 50s, worked as fashion model for Vogue, Life, Harper\\\'s Bazaar, Elle, and other French and American magazines.

At age eighteen, she eloped with Harry Mathews and moved to Cambridge, Massachusetts. She began to paint, experimenting with different media and style while her husband studied music at Harvard University. Their first child, Laura, was born April 1951.

In 1952, she and her husband moved to Paris where Niki studied theater and acting, and her husband continued his studies in music. He later became writer, and founder of the literary magazine Locus Solus. They shared the upbringing of their daughter, and traveled through France, Italy, and Spain visiting museums and cathedrals.

Niki was hospitalized in Nice in 1953 with a nervous breakdown. She re-evaluated the direction of her life, painted to help her recover, and communicated through her art.

In 1954, she was introduced to Hugh Weiss, the American painter, who was a friend, mentor and encouraged her to continue in her self-taught painting style. Niki and her husband moved to Deya, Majorca, Spain where son Philip was born in May 1955.

They returned to France, and in Paris she had her first meeting with sculptor Jean Tinguely and his wife Eva Aeppli. In 1956, she held her first solo exhibition of paintings, which was in St. Gall, Switzerland. During this time she painted and explored various collage elements. Three years later she viewed a contemporary art exhibition at the Musee d\\\'Art Moderne de la Ville de Paris including work by Jackson Pollock, Willem de Kooning, Robert Rauschenberg and Jasper Johns.

Niki and Harry Mathews eventually separated, and the children lived with their father. While separated from her family, she immersed herself in her work, setting up a studio, and creating assemblages that took on an angry aspect in a new series called \\\'target\\\' paintings, which actually had darts thrown at them.

At the end of 1960 she lived and shared a studio with Jean Tinguely; eventually they collaborated and assisted each other on projects throughout their relationship. Constantin Brancusi was a neighbor, and through Tinguely she met Pontus Hulten, then director of the Moderna Museet, Stockholm. Hulten included her work in major exhibitions organized at the time.

Niki served as an ambassador figure between the avant-gardes in France and the United States, due to her bi-cultural background and the direction in her own art.

In 1961, she developed her \\\'target\\\' paintings into a series of \\\'shooting\\\' paintings or tirs. It is through acts of destruction that these works were created---the assemblages were shot with a pistol, rifle or cannon by herself or others, producing spontaneous effects and the dispersion of colors. As they evolved, the tirs became larger, more elaborate in concept and included elements of spectacle and performance.

Pierre Restany, founder of the Nouveau Realistes, attended her first public tir, and invited her to become a member of his movement. She became involved in the ideas, festivals and activities of the group, which included Pierre Arman, Baldaccini Cesar, Javacheff Christo, Gerard Deschamps, Francois Dufrene, Raymond Hains, Yves Klein, Martial Raysse, Mimmo Rotella, Daniel Spoerri, Jean Tinguely and Jacques Villegle.

Niki had her first solo exhibition in Paris at Galerie J with assemblages, tirs, and a public shooting area.

She and Tinguely were introduced to Salvador Dali by Marcel Duchamp, and Niki traveled to Spain with Tinguely for a celebration honoring Dali. There they made a life-size exploding bull with plaster, paper and fireworks for the arena at Figueras.

The couple then moved to an old country inn outside of Paris to live and work, and she began working with figurative reliefs, confrontational depictions of women, some giving birth or vivisectioned. Inspired by the pregnancy of her friend Clarisse Rivers, she began considering archetypal female figures in relation to her thinking on the position of women in society. From this idea, she created freely posed forms, made of papier-mache, yarn and cloth and called them \\\'Nanas\\\', which were exhibited at the Alexander Lolas Gallery, Paris, September 1965.

In 1966, Niki collaborated with Tinguely and Per Olof Ultlvedt on a large scale sculpture installation, hon-en katedral for Moderna Museet, Stockholm. The outer form of \\\"hon\\\" is a giant, reclining \\\'Nana\\\', whose internal environment is entered from between her legs.

Tinguely and Niki received a commission from the French Government to make a sculpture for \\\"Expo \\\'67\\\" in Montreal, Canada. Their collaboration, Le Paradis Fantastique, a combination of their distinct styles, is installed on the roof of the French Pavilion. After \\\"Expo\\\'67\\\", attempts failed to find a permanent home for the sculpture in either France or the United States, the piece was saved from destruction through the efforts of Pontus Hulten, and eventually acquired and installed at Moderna Museet.

Les Nanas au Pouvoir, Niki de Saint Phalle\\\'s first retrospective exhibition, was organized at the Stedelijk Museum, Amsterdam. She created a number of new pieces for the show that emphasized a direction toward architectural and functional design.

Niki was also involved in writing during this period and some of her work was adapted into a play with Rainer Von Diez, ICH. She also designed decors, costumes, and the posters for this play, which was presented at the Staatstheater Kassel, Germany, 1968, and created \\\'Nana\\\' inflatables, plastic multiples produced and distributed in the United States.

Her first permanent architectural project was privately commissioned in 1969 for a summer residence in the South of France and was completed in 1971. She continued to be involved in \\\'fantastic\\\' architectural projects requiring her total commitment in all stages of planning and execution. Sculpture Black Venus was acquired by the Whitney Museum of American Art, New York, and exhibited in the museum\\\'s show, \\\"Contemporary American Sculpture, Selection II\\\", April 69. She traveled to India and Egypt, which broadened the context of visual associations used in her work.

Niki and Jean Tinguely were married in 1971 and traveled to Morocco. In 1972, she began productive association with art fabricator, Haligon, France, for her large-scale sculptures and work in editions. She also designed jewelry for GEM Montebello Laboratory, Milan.

One of the films she wrote, Daddy, she also acted in, produced and directed with Peter Whitehead. The film is a surreal, psychological exploration of a relationship between a father and a tri-part character of the daughter as child, adolescent and adult.

In 1974, she built three large-scale \\\'Nanas\\\' for a permanent site, near the town hall in Hanover, Germany. The city names them Sophie, Charlotte and Caroline in honor of three historically distinguished women from Hanover. She later exhibited maquettes of realized and unrealized architectural projects, created an artist book and invitations to accompany the show.

Niki was hospitalized with a serious lung ailment, and it is believed that through her work she was exposed to toxic fumes produced by polyester. This and other materials used cause severe damage to her lungs, that resulted in recurrent health problems. To help recover, she lived in the Swiss mountains, where she read Gaston Bachelar, Rainer Maria Rilke and Konstandinos Kavafy. She met a friend she had known in New York in the 1950\\\'s, Marella Caracciolo Agnelli, to whom she confided her ultimate dream-to build a sculpture garden based on her interpretations of symbols from the Tarot. Her friend\\\'s brothers, Carlo and Nicola Caracciolo, offered a parcel of their land in Tuscany, Italy as a site for her dream. The massive undertaking of the garden consumed her thoughts and energies for the next twenty years.

In 1975, her eighteen element sculptural tableau Last Night I Had a Dream was installed on the exterior of the Palais des Beaux-Arts, Brussels, for an arts festival.

Land was cleared and foundations dug at the site in Tuscany, formally named \\\"Giardino dei Tarocchi\\\" in 1978-79. The first models were related to the Tarot figures represented in the Garden. She became interested in the idea of linear sculpture-drawings in space and makes the \\\"Skinnys\\\", a series of totem-like pieces that often have colored lights and elements suspended by string. She began to design furniture and other functional objects with serpents and figurative forms.

She spent some time living in Malibu, California, and conceived a series of maquettes based on new ideas for architectural fantasies. These works were first exhibited at Gimpel & Weitzenhffer, New York, and then traveled in the United States. She then had her first solo show in Japan at Gallery Watari, Tokyo.

The symbols of the Tarot guided the creation of the Garden. Construction began on the first architectural sculpture, La Papesse, representing female creativity and strength. She spent the major part of the next ten years on site receiving assistance from many friends and supporters. Jean Tinguely together with Rico Weber and Seppi Imhof began welding the iron under structures for the first group of enlarged Tarot Figures; this work involved special engineering skills for each piece, and was taken over and completed by Dutch artist, Doc Wilsen.

The Ulm Museum organized the first retrospective devoted to her graphic work. Poet et sa Muse was permanently installed at the University of Ulm, and she was honored with a major retrospective at Musee National d\\\'art Moderne, Centre George Pompidou, Paris, that traveled to Austria, Germany and Sweden.

One of the first shows was organized at experimental space, SPACE NIKI, Tokyo. Established by Yoko Masuda, SPACE NIKI became a collection of work in all media, films and related material that further understanding of the artist and her work.

In 1982, she created a fragrance with her name for the Jaqueline Cochran Company, New York. She was instrumental in the design of the distinctive blue and gold bottles and packaging with logo of entwined serpents. The money from the perfume went to help finance the Garden. She collaborated with Tinguely to create a foundation for the City of Paris on a site beside the Centre George Pompidou. They combined their sculptural elements in a fluid, moving setting, producing a joyous spontaneity-an apt homage to Igor Stravinsky for whom the fountain is named.

She created a permanent sculpture Sun God for the University of California at San Diego as part of the Stuart Collection. She also designed print for a project to support an alternative art space, the Temporary Contemporary, Los Angeles. The work, in the form of a pictographic letter, expressed her early awareness and concern for those afflicted by AIDS. She continued to be involved in efforts to reverse the effects of ignorance and bias which allow this fatal virus to spread.

Niki de Saint Phalle began to suffer from debilitating attacks of rheumatoid arthritis. She continued to exhibit at the \\\"Skinnys\\\" at Gimpel & Weitzenhoffer, New York and at Gimpel Fils, London. She eventually moved into the \\\"Empress\\\", the Sphinx structure at the Tarot Garden. This was her home and studio for the next seven years during the period of intense work of completing the Garden. Works based on her Tarot figures, accompanied by an artist book, are exhibited at Gimpel Fils, London and at Gimpel & Weitzenhoffer, New York.

In collaboration with Dr. Silvio Barandun, she wrote and illustrated the book AIDS: You Can\\\'t Catch it Holding Hands. This informative text, presented in a positive and compassionate format, is published in seven languages. She received a commission from Mrs. Helen Schneider to create a fountain, Snake Tree, for the Schneider Children\\\'s Hospital, Long Island, New York. Two major retrospectives are held at the Kunsthalle der Hypo-Kulturtiftung, Munich, and Nassau County Museum of Fine Art, Long Island, New York.

Working with Tinguely in 1989, they created Fontaine Chateau Chinon, commissioned by the French President, Francois Mitterand. Alexandre Iolas, her long-time friend, died. Niki began to be represented in Paris by JGM Gallery and Gallery de France, and these galleries organized a number of exhibits that focused on different periods in her career.

She started to use bronze in a series of sculpture derived from ancient Egyptian deities. The experience of the Tarot Garden carries over in her use of materials, particularly brilliantly colored or mirrored mosaics.

In 1991, she created a maturate for Le Temple Ideal, a place for worship for all religions. This architecture was originally conceived in the early 1970\\\'s as a hopeful alternative to the religious intolerance she observed while working in Jerusalem. She received a commission from the city of Nimes, France, to build this architectural sculpture, however because of politics, this project is never realized. Jean Tinguely died in Switzerland in August, and in his honor, she made her first kinetic sculptures Meta-Tinguelys.

The Kunst und Ausstellunghalle, Bonn organized a large retrospective in 1992-93. She exhibited in McLellan Galleries in Glasgow, the Musee d\\\'art Moderne de la Ville de Paris and the Musee D\\\'Art et d\\\'Histoire, Fribourg. She installed the fountain Oiseau Amoureux in Duisburg, Germany, and created a sculpture for Olympic Museum Les Footballeurs.

In 1994, she moved to California, where she spent the last years of her life. She was working on a series of silk screen, California Diary for Kornfeld editions. She received the Caran d\\\'Ache. Peter Schamoni produced a long feature film about Niki entitled Who is the Monster, You or Me?, and she also held an exhibit at the Kornfeld Gallery in Bern, Switzerland.

The Garden first opened to the public in July of 1996-1998. She had been working with Mario Botta on a project to build a sculpture park for children, representing the arrival of Noah and the Arch to the promised land. The official opening of the Tarot Garden to the Public was May 15, 1998.

Niki de Saint Phalle died in 2002 in San Diego, California.
Niki de Saint Phalle var 25 år gammal, när hon, för att glädja sina barn, började skulptera om en stor kakelugn hemma i barnkammaren. Där bakade hon in leksaker och allehanda köksföremål i gips. Senare experimenterade hon med att skjuta på måltavlor av gips där det inbakade var bland annat tomater och saft. Detta skjutande resulterade i de mest oförutsedda färgglada skapelser, en intressant form av happenings. Så småningom, 1961, blev hon berömd för sina Shooting paintings. En \"shooting painting\" bestod av en träpanel på vilken behållare med färg ställdes och det hela täcktes med gips. Konstverket restes och de Saint Phalle sköt mot det med ett .22 kalibrigt gevär. Kulorna genomborrade färgbehållarna och färgen flöt helt okontrollerat ut över gipsen. Denna Painting Style var, inte oväntat, helt ny och hon reste runt i världen och uppträdde med sina Shooting Sessions, bland annat i Sverige. Hon slutade emellertid med denna säregna konstart 1963. Hom berättar själv varför:
- Jag hade blivit beroende av att skjuta, precis som man blir beroende av droger.
Efter dessa Shooting paintings inledde de Saint Phalle en period där hon utforskade kvinnans olika roller i samhället.
När vännen Clarice River blev gravid inspirerades Niki att i sin konst söka utforska sin egen uppfattning om \"urkvinnan\" i förhållande till hennes sociala relation och samhällsställning. Niki de Saint Phalles konstnärliga uttryck för den i allt övergripande \"everywoman\" kallade hon Nanas. Den första av dessa tämligen fritt poserande Nanas, utförd i papier-mâché, garn och textil visades på Alexander Iolas Gallery i Paris i september 1965. Inför denna utställning publicerade Iolas den första konstboken om Niki de Saint Phalle som också innehåller hennes handskrivna texter och hennes Bananas-teckningar. Uppmuntrad av Iolas inledde Niki de Saint Phalle en mycket produktiv period där hon arbetade med framför allt grafik och med utställningar vilka inbegrep såväl affischer som böcker och skrifter. I början av 1960-talet kom hon också i kontakt med franska nyrealister i kretsen kring kritikern Pierre Restany där hon mötte konstnärer som Yves Klein, Christo och blivande maken Jean Tinguely.
För den svenska publiken blev Niki de Saint Phalle framför allt känd och uppmärksammad för skulpturgruppen Paradiset, stora, glada och frodiga kvinnofigurer, Nanas, som hon utförde tillsammans med Jean Tinguely för världsutställningen i Montreal. Paradiset skänktes sedan till Moderna Museet i Stockholm och placerades från början vid Skeppsholmsbrons fäste, men har nu flyttats längre upp på Skeppsholmen. Man kan här tillägga att Paradiset som konstverk inte var helt okontroversiellt, den färgglada gruppen fick utstå en hel del kritik. Tillsammans med Jean Tinguely och Per Olof Ultvedt skapade Niki de Saint Phalle också Hon, en enorm kvinnoskulptur, 27 meter lång. Man kunde gå in genom hennes sköte, \"Livets port\" och väl inne möttes man av en bar, en biograf, en rutschbana, ett planetarium och ett utsiktstorn. Hon visades på Moderna Museet under tre månader sommaren 1966.
Source: Stockholms Auktionsverk, Stockholm Sweden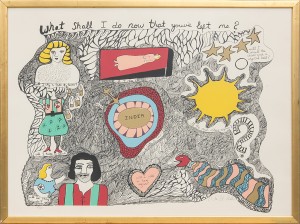 What Shall I Do Now That You've Left Me?
Price SEK 4,000 (€432)
Estimated SEK 5,000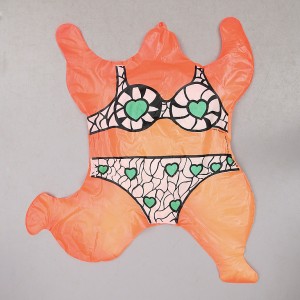 Nana By Niki, För Alvimar, 1960-tal
Price SEK 2,200 (€249)
Estimated SEK 2,000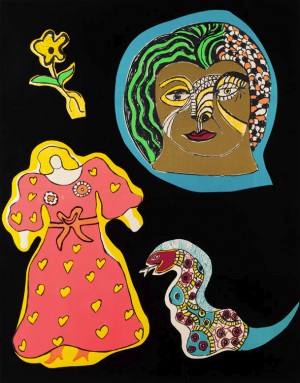 Price EUR 500
Estimated EUR 500–1,000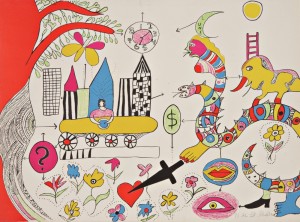 Sans Titre
Price EUR 850
Estimated EUR 500–700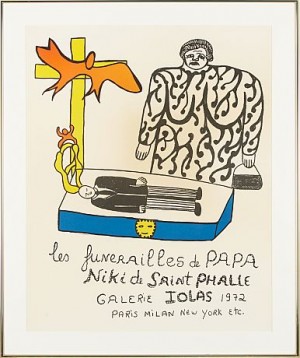 Les Funerailles De Papa
Price SEK 1,400 (€168)
Estimated SEK 2,000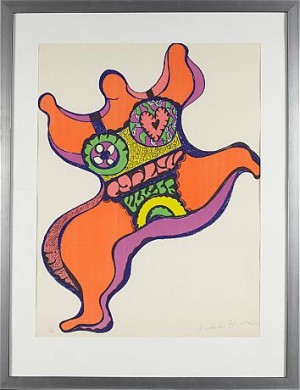 Komposition
Price SEK 5,000 (€547)
Estimated SEK 3,000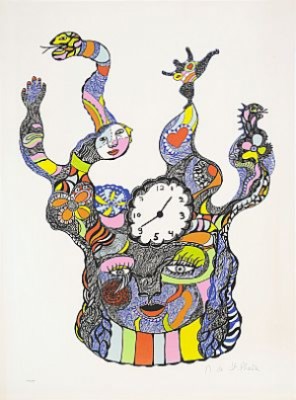 The Clock Face
Price SEK 8,000 (€869)
Estimated SEK 3,000–4,000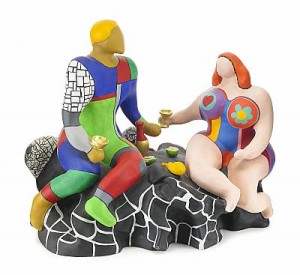 Price SEK 500,000 (€52,000)
Estimated SEK 400,000–500,000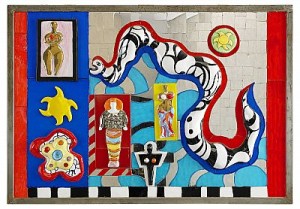 Serpent Et Déesses
(1988)
Price SEK 320,000 (€33,280)
Estimated SEK 200,000–250,000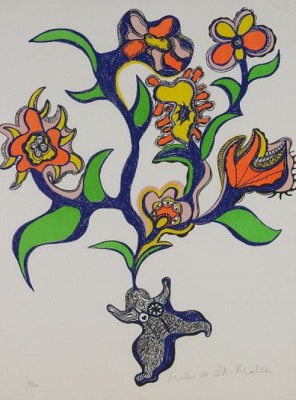 Composition
Price SEK 3,600 (€334)
Estimated SEK 4,000–5,000