Nikolai Konstantinovich ROERICH

1874–1947, Russia/India
Also known as: PHX, PX
Name
Nikolai Konstantinovich ROERICH
Roerich was born in St. Petersburg. He studied at the Higher Arts College which was attached to the Imperial Academy, and then in the Paris studio of F. Cormon from 1900-1901. Roerich trained as an archaeologist and gave lectures at the Archaeological Institute in St. Petersburg. He was a member of the World of Art movement from 1910. Roerich became increasingly attracted to mysticism and theosophy and toured America between 1920-23 with his pictures, enjoying great success. Roerich travelled extensively, visiting India and Central Asia in 1923 and Altai, Mongolia and Tibet in 1926. He finally settled in the Kulu valley in India, where he directed an institute of Himalayan research, and where he died.
Inspired by simplicity of the remote past, he sought to resurrect a primeval landscape, a time when the world was still young, and full of holiness and heroism.
Source: Stockholms Auktionsverk, Stockholm Sweden
Nicholas Roerich föddes i S:t Petersburg år 1874. Redan i unga år hade Roerich fattat intresse för konst och vid 16 års ålder bestämt sig för att välja den konstnärliga banan. Han påbörjade sina studier vid konstakademin år 1893 och studerade parallellt till jurist.
I kretsen av unga konstnärer i S:t Peterburg vid denna tid utmärkte sig Roerich och kom så småningom att studera för bl.a Kouindji.
Vid sidan av sitt konstnärliga skapade hade han hela livet ett djupt intresse för filosofi, arkeologi och musik. Han företog flera arkeologiska expeditioner. Roerich var grundaren till en rörelse kallad 'Roerichs pakt' med huvudsyfte att bevara kulturarv och skrev Pax Cultura vilket var ett internationellt fördrag påskrivet av länder däribland USA, länder i Latinamerika och Sovjetunionen.
År 1899 träffade han sitt livs kärlek, författaren och musikern Helena. De gifte sig två år senare och fick två barn.
Som konstnär utvecklades hans konstnärskap hela livet, från de tidiga åren i Ryssland, när han besökte världsutställningen i Paris år 1900 där han influerades av bl.a. Cormon, i Italien ägnade han sig åt ikonmåleri, fram till sin död i Punjab i Indien år 1947.
Hans influenser fick han från de många och långa resorna han företog sig hela livet. Han reste även till Finland, USA, Tibet, Mongoliet och Gobiöknen.
Han arbetade i flera olika genrer och material. T.ex. skapade han välkända scenerier och dräktskisser för Wagner och Borodins operor. Men hans storhet och vad Roerich kanske främst är känd för av eftervärlden är sin serie med makalösa målningar föreställande Himalaya. Detta motiv fångade konstnären. I dessa verk finns det en stillhet och storslagenhet som väl representerar konstnärens andliga och filosofiska läggning och förtrollar betraktaren.
Roerich finns representerad på museer runt om i världen, bl.a. i Moskva, NewYork och Paris och blev tilldelad en mängd priser och ordnar däribland den svenska Nordstjärneorden.
Source: Bukowskis, Sweden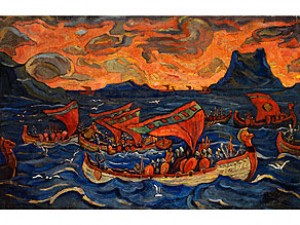 Heerfahrt Der Slawen
(1902)
Price EUR 0 Not sold
Estimated EUR 33,000–38,000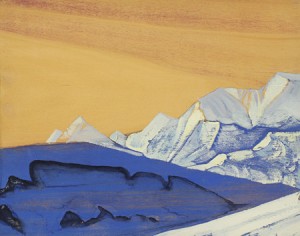 A Leaf From The Tibetan Album
(1928-1929)
Price USD 120,000 (€90,076)
Estimated USD 100,000–150,000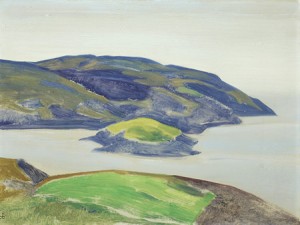 Price USD 150,000 (€112,595)
Estimated USD 125,000–175,000

Sketch For A Painting
(Executed ca.1917-18)
Price USD 26,000 (€19,516)
Estimated USD 25,000–35,000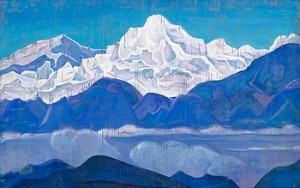 Motiv Från Himalaya.
Price SEK 1,250,000 (€129,888)
Estimated SEK 1,000,000–1,200,000