Nils ANDERSSON

1817–1865, Sweden
Also known as: NA, NAN

Verdict of guilty
PHM Nr. 30
Oil on canvas, man with horse and cart, signed "Nils Andersson", 39x49 cm. The varnish is washed away in an area around the signature in the lower left corner. Microscopic examination shows that the signature on top of crazing rings in the painting. It is then signed again after it was originally painted. The painting was painted around Düsseldorf period in the 1850s. Nils Andersson was a realist and painted more open and freer than this painting. The motive is consistent with what Nils Andersson painted. The district court's assessment: The painting is performed by unknown artist and has, subsequently, a false signature. It is a forgery and shall be forfeited.
Oljemålning på duk, Motiv: man med häst och kärra, signerad "Nils Andersson", 39x49 cm. Fernissan är borttvättad på ett parti runt signaturen i nedre vänstra hörnet. Vid undersökning i mikroskop framkom att signaturen ligger över krackeleringarna i tavlan. Den är alltså signerad på nytt efter det att den ursprungligen målades. Målningen har tillkommit under Düsseldorftiden vid 1850-talet. Nils Andersson var en begynnande realist och målade med en friare penselskrift än vad den beslagtagna målningen visar. Inte heller motivet överensstämmer med vad Nils Andersson målade. Tingsrättens bedömning: Tavlan är utförd av okänd konstnär och senare försedd med falsk signatur. Det är en förfalskning och skall förverkas.







Nils Andersson, he became a professor at the Academy. At first, he made history and genre paintings with motifs from the Bible, Scandinavian fairy tales and myths, and from Swedish history. In recent years, he painted mostly landscapes and roads with animals and figures. He was called \"the Swedish country road painters\".

Source: Composed of a variety of sources from the internet.
Nils Andersson blev professor vid akademien. Till en början gjorde han genre- och historietavlor med motiv från bibeln, nordiska sagor och myter samt ur svensk historia. Under senare år målade han mest landskap och vägar med djur och figurer. Han kallades "den svenske landsvägens skildrare".

Källa: Sammansatt av olika källor från internet.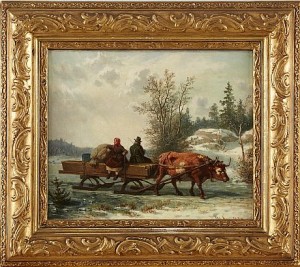 Price SEK 16,000 (€1,819)
Estimated SEK 3,000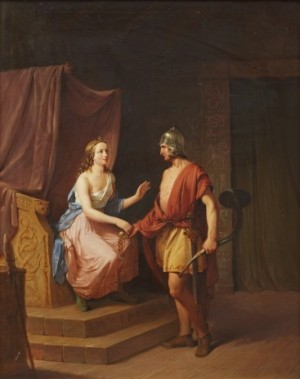 Heimdal överlämnar Till Freja Smycket Brisin
(1846)
Price SEK 22,000 (€2,528)
Estimated SEK 15,000–18,000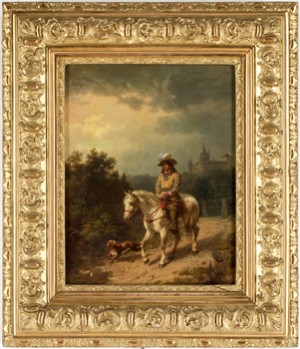 Man Till Häst Längs Landsväg
(1856)
Price SEK 5,000 (€565)
Estimated SEK 6,000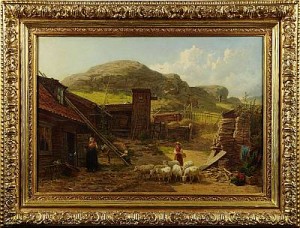 Vallflickan Förmanas
(1861)
Price SEK 8,500 (€949)
Estimated SEK 8,000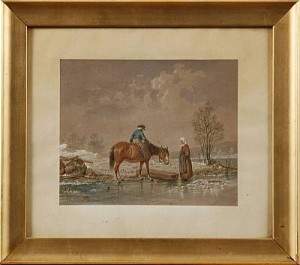 Människor Med Häst På Isen
(1854)
Price SEK 1,500 (€152)
Estimated SEK 1,500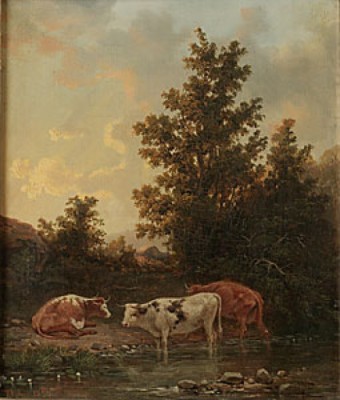 Price SEK 4,400 (€409)
Estimated SEK 3,000–4,000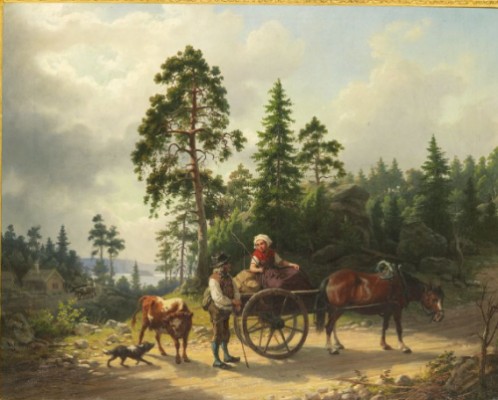 På Färd Till Värnamo Marknad
(1853)
Price SEK 12,000 (€1,131)
Estimated SEK 15,000–18,000