Ola BILLGREN

1940–2001, Denmark/Sweden

Verdict of guilty
K102318-07
Watercolor and pencil, titled "iteriör and model", 31.2 x24 cm, dated 1968, signed "Ola Billgren". Submitted to an auction house in Gothenburg, who asked the artist Anita Nilsson Billgren and Sven Henrysson to examine the painting. Anita Nilsson Billgren has previously dismissed the painting and declared it as a forgery. The painting was seized by police for further expert examination. At questioning the owner says he bought the painting of a commercial traveler in the early 1970's. Court: The painting has not been performed by the artist Ola Billgren nor signed by him. It is a forgery.
Akvarell och blyerts, titel "iteriör och modell", 31,2x24 cm, daterad 1968, signerad "Ola Billgren". Inlämnad till ett auktionshus i Göteborg, som bad konstnären Anita Nilsson-Billgren och Sven Henrysson att granska målningen. Anita Nilsson-Billgren har tidigare avfärdat målningen och förklarat den som en förfalskning. Målningen togs i beslag av polis för vidare expertundersökning. Vid förhör säger ägaren att han köpt målningen av en handelsresande i början av 1970-talet. Domstolens bedömning: Målningen har inte utförts av konstnären Ola Billgren ej heller signerats av denne. Det är en förfalskning.   
















Ola Billgren lärde sig tidigt att måla. Han föddes 1940 i Köpenhamn, och både hans mamma och pappa var konstnärer. Snart hade han övat upp en teknik som tillät honom att röra sig obehindrat mellan väsensskilda uttryckssätt. Hans måleri visar på en briljans och skicklighet som är få förunnad. Men som all raffinerad teknik var den stundom en fenomenal möjlighet och stundom ett hinder. Den sporrade honom att reflektera över avbildningens natur.

Billgren öppnade tidigt sin konst för den flod av bilder och uttryck som samtidskulturen producerar. Massmedia, reklam, konst och modefoto - bilder som redan fanns. Mot slutet av 1950-talet prövade han efterkrigstidens abstrakta modernism men övergav den lika snart. Billgren sökte motsatsen till det utlevande och påtvingat subjektiva. Han ville pröva att se verkligheten som den är, eller för att låna konstnärens egna ord: att låta ett material berätta om sig självt.

Från 1960-talet och framåt fick fotografiet en framträdande plats i Ola Billgrens bildskapande. Ofta har man beskrivit hans måleri som fotorealistiskt, det vill säga verklighetstroget och knivskarpt likt ett fotografi. Sättet att beskära bilderna som snapshots ger känslan av att för ett ögonblick få inblick i någon annans verklighet. Det är gåtfullt, något bortom språket. Som i en dröm.
Source: http://www.modernamuseet.se/v4/templates/template1.asp?id=2237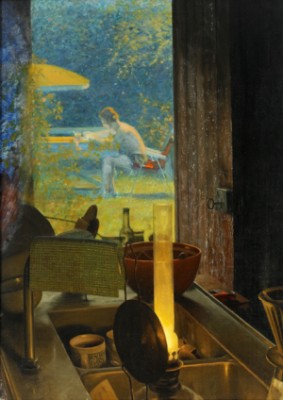 Price SEK 1,800,000 (€183,690)
Estimated SEK 1,200,000–1,500,000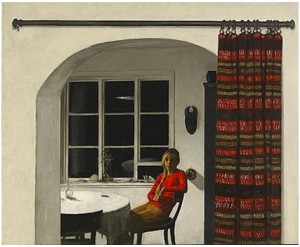 Price SEK 420,000 (€47,649)
Estimated SEK 450,000–500,000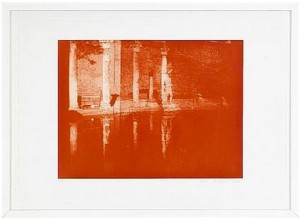 Från Hadrianus Villa
(2000)
Price SEK 18,000 (€2,042)
Estimated SEK 8,000–10,000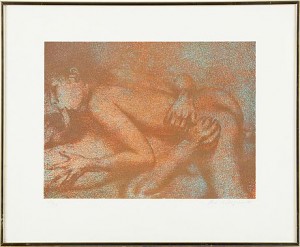 Price SEK 1,300 (€158)
Estimated SEK 1,000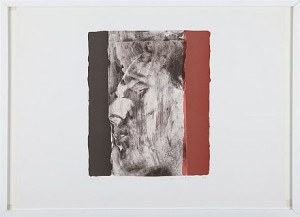 Price SEK 2,400 (€270)
Estimated SEK 2,000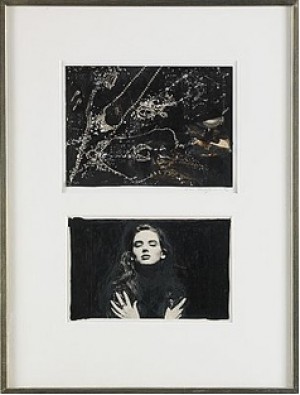 Price SEK 11,500 (€1,263)
Estimated SEK 8,000–10,000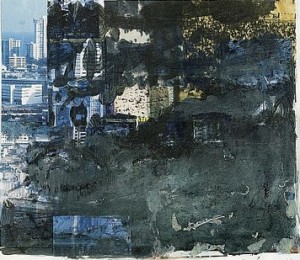 Price SEK 20,000 (€2,197)
Estimated SEK 12,000–15,000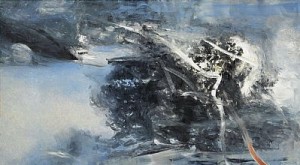 Price SEK 170,000 (€18,673)
Estimated SEK 200,000–250,000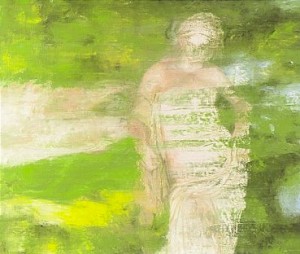 Untitled
Price SEK 890,000 (€97,758)
Estimated SEK 1,000,000–1,200,000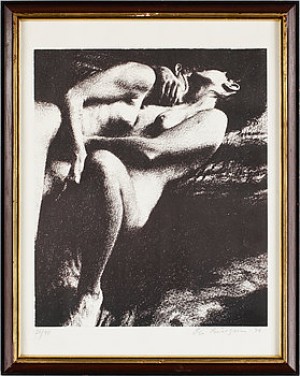 Price SEK 1,715 (€188)
Estimated SEK 1,500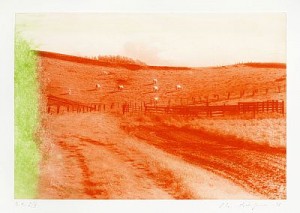 Price SEK 13,000 (€1,418)
Estimated SEK 8,000–10,000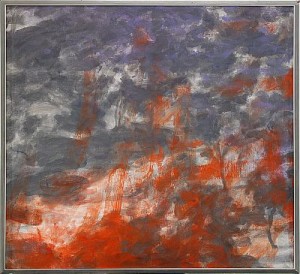 Price SEK 105,000 (€11,723)
Estimated SEK 100,000–125,000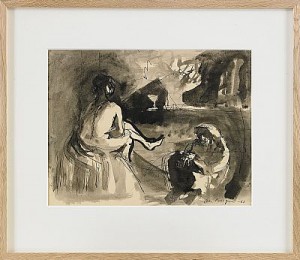 Price SEK 7,500 (€837)
Estimated SEK 4,000–5,000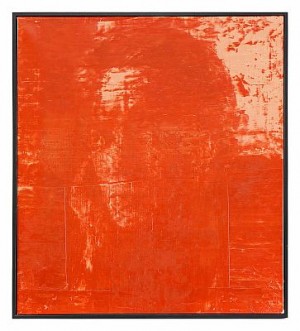 Price SEK 240,000 (€26,796)
Estimated SEK 125,000–150,000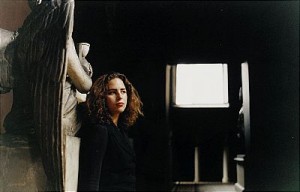 Kvinna I Museiinterör
(1992)
Price SEK 4,800 (€536)
Estimated SEK 4,000–6,000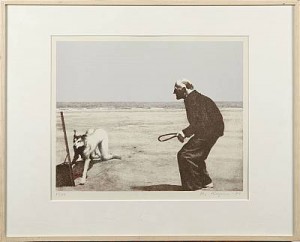 Price SEK 4,000 (€457)
Estimated SEK 1,500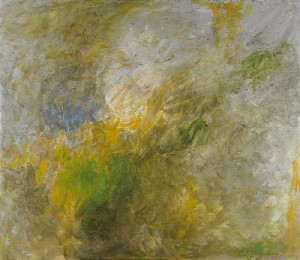 Price SEK 200,000 (€21,256)
Estimated SEK 180,000–200,000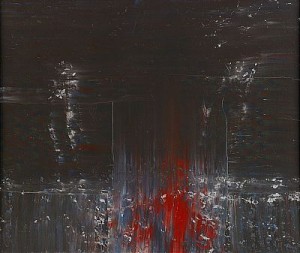 Price SEK 120,000 (€12,754)
Estimated SEK 80,000–100,000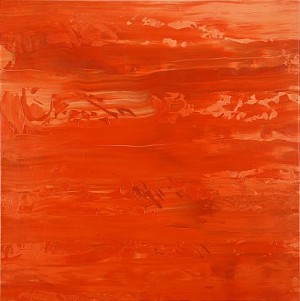 Price SEK 150,000 (€16,292)
Estimated SEK 150,000–175,000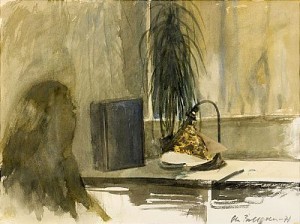 Price SEK 18,000 (€1,955)
Estimated SEK 12,000–15,000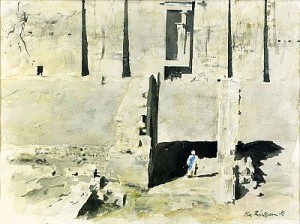 Price SEK 18,000 (€1,955)
Estimated SEK 8,000–10,000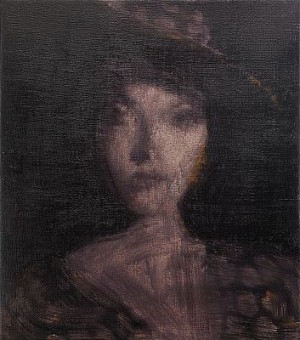 Price SEK 170,000 (€18,437)
Estimated SEK 100,000–125,000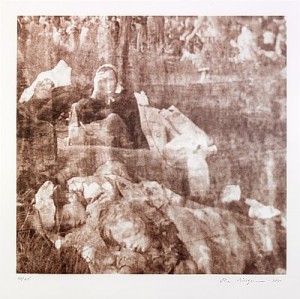 Price SEK 7,500 (€813)
Estimated SEK 5,000–6,000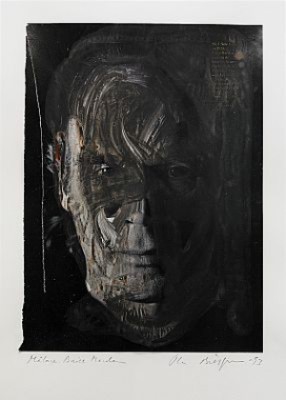 Målaren Brice Marden
(-93)
Price SEK 9,500 (€1,030)
Estimated SEK 12,000–15,000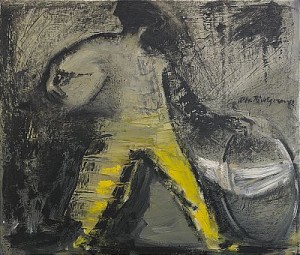 Price SEK 32,000 (€3,470)
Estimated SEK 30,000–40,000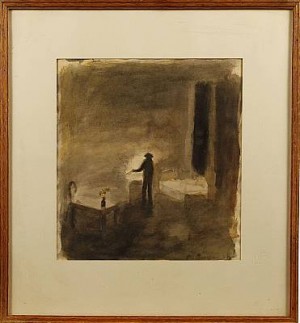 Price SEK 2,000 (€205)
Estimated SEK 3,000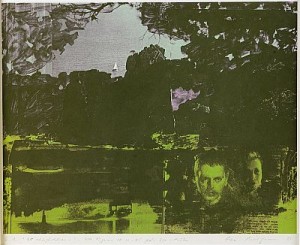 Ett Skärgårdsdrama
(1981)
Price SEK 4,200 (€419)
Estimated SEK 1,000–2,000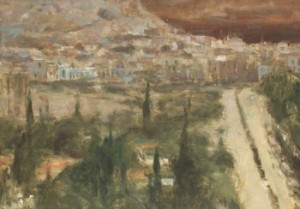 Price SEK 60,000 (€5,739)
Estimated SEK 80,000–100,000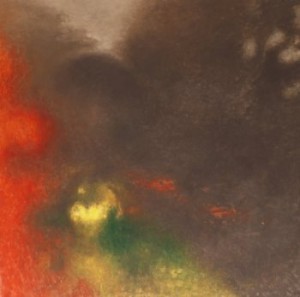 Price SEK 220,000 (€21,043)
Estimated SEK 175,000–200,000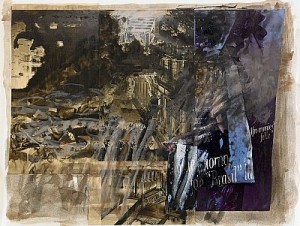 Price SEK 20,000 (€1,932)
Estimated SEK 15,000–18,000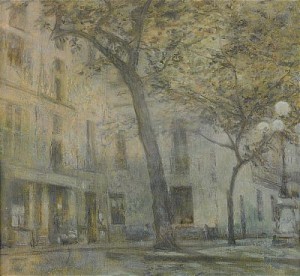 La Place Du Furstenberg I
(1992)
Price SEK 180,000 (€17,384)
Estimated SEK 125,000–150,000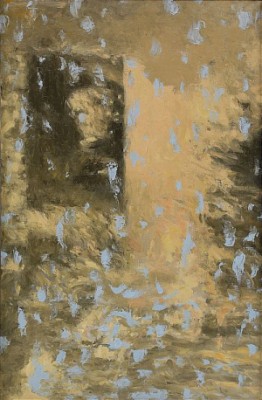 Price SEK 130,000 (€12,555)
Estimated SEK 80,000–100,000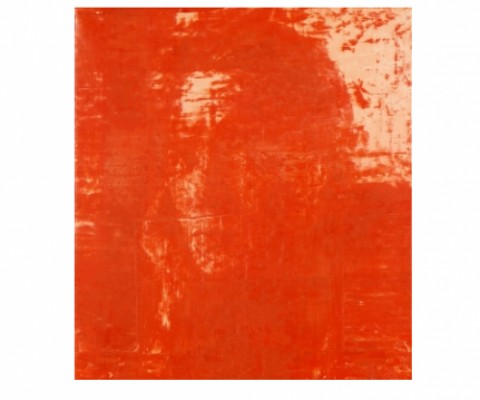 Price SEK 0 (€0)
Estimated SEK 125,000–150,000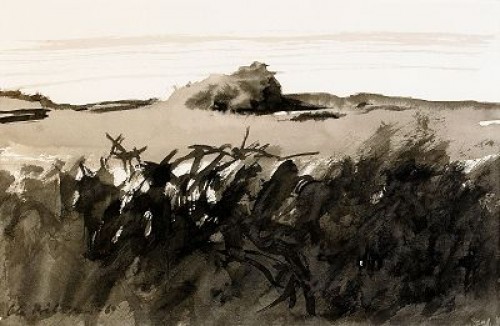 Den Bästa Lavering Jag Gjort
(1969)
Price SEK 16,000 (€1,495)
Estimated SEK 6,000–8,000