Olga NYBLOM

1872–1955, Sweden
Also known as: Lundberg
Olga Nyblom biography:

Olga Nyblom (born lundberg) studied in Gothenburg. She has made study trips to France and Italy. She has done drawings and paintings, mostly landscapes and portraits.
Represented:
National Museum and Prince Eugene Waldemarsudde in Stockholm, Sweden.
Source: Art Signature Dictionary
Olga Nyblom biografi:

Olga Nyblom (född Lundberg) studerade i Göteborg. Har företagit resor till bl.a. Frankrike och Italien. Hon har tecknat och målat främst landskap och porträtt.
Olga Nyblom var gift med konstnären Lennart Nyblom, son till Carl Rupert Nyblom, skald och professor i litteratur- och konsthistoria i Uppsala, och hans hustru Helena Nyblom, en av Prins Eugens närmaste vänner, samt bror till författaren Holger Nyblom. Olga och Lennart Nyblom var bosatta från 1906 och livet ut på Ängsvägen 24 i Storängen i Nacka i en villa, ritad av Ivar Callmander. Som grannar hade dom Richard Bergh och Gottfried Kallstenius. Hon studerade vid Valands målarskola för Carl Larsson 1891-92 samt för Georg Pauli 1894-95. 1896-97 vistades hon i Paris och Florens samt 1904-06 tillsammans med sin man i Paris, Berlin, Dresden och Wien. Hon arbetade med landskap, interiörer och porträtt och textilier.
Representerad: Nationalmuseum i Stockholm och på Prins Eugens Waldemarsudde.
Source: Art Signature Dictionary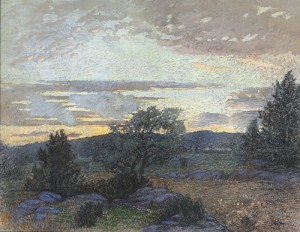 Afton I Skärgården No 2
(1912)
Price SEK 6,600 (€700)
Estimated SEK 4,000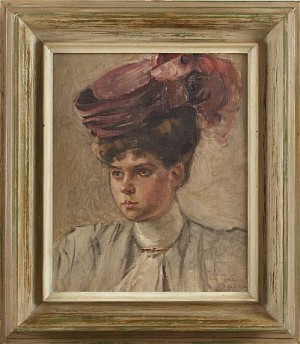 Price SEK 2,400 (€276)
Estimated SEK 1,500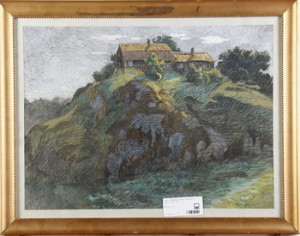 Motiv Av Hus På Berg
(1915)
Price SEK 200 (€22)
Estimated SEK 800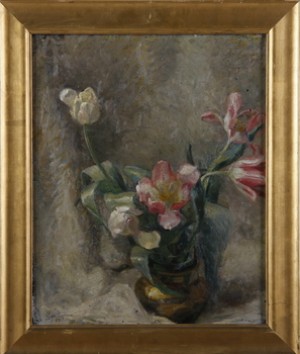 Price SEK 2,500 (€248)
Estimated SEK 800