Olle LANGERT

1924, Sweden










Oil on canvas, 37x51, signed O Langert. The artist Olle Langert have seen a photograph of this painting and stated that it is not painted by him, and that the signature is a clumsy attempt to imitate his signature from the 40's. The painting is signed in lower right corner, where it seems that the text has been washed away. The overlying signature is confused and clumsy written. The painting is an amateur's work from the first half of the 1900s. District Court: The painting, which gives the impression of being carried out by Olle Langert, is a forgery and not signed by Olle Langert.
Oäkta förfalskningen. Oljemålning på duk, 37x51, signerad O Langert. Konstnären Olle Langert har sett ett fotografi av denna målning och uttalat att den inte är målad av honom samt att signaturen är ett valhänt försök att imitera hans signatur från 40-talet. Målningen är signerad i nedre högra hörnet, där det verkar som om det tidigare stått något med röd färg som tvättats bort. Den ovanpå liggande signaturen verkar diffus och är klantigt skriven. Tavlan är ett amatörarbete från första hälften av 1900-talet. Den saknar kvalitet och liknar s.k. Hötorgskonst. Tingsrättens bedömning: Tavlan, som ger sken av att vara utförd av Olle Langert, är en förfalskning och ej signerad av Olle Langert.
Name
Olle, Nils Olof LANGERT
Nils Olof (Olle) Langert studerade på Valand, i Frankrike och Italien. Han har utfört figursaker och landskap. Han har även arbetar i olika tekniker, med allt från måleri, grafik till skulpturer.

Separatutställningar:
Konsthallarna i Göteborg och Skövde, samt i Stockholm.

Offentliga utsmyckningar:
Skulpturer och reliefer i betong, plast och plåt i bostadsområden i Göteborg. Kronofogden i Rosenlund, polykrom aluminium. Dekorativa arbeten i Östra Sjukhuset, Göteborg. Statens Industriverk i Stockholm. Postterminalen i Göteborg.

Representerad:
Nationalmuseum i Stockholm, Göteborgs Konstmuseum, Borås museum, Statens Konstråd, Nationalmuseum, Borås, Malmö och Rønne muséer.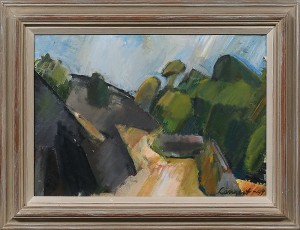 Price SEK 450 (€48)
Estimated SEK 1,500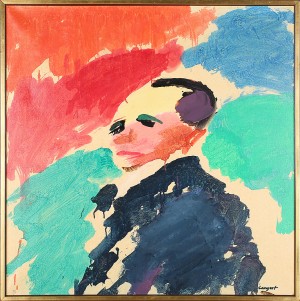 Porträtt
Price SEK 900 (€96) Incl. buyer's premium
Estimated SEK 2,000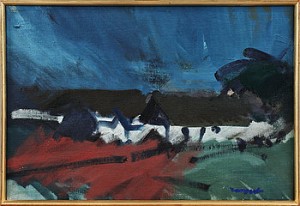 Bondgård Bornholm
Price SEK 400 (€44)
Estimated SEK 1,500